Consumer confidence reaches 110.5, the highest level since September 2016
Retrospective look on home value jumps 7.3 points – the highest monthly increase since February 2013
Outlook on house prices at highest level in three years at 125.7
Expectations for household finances highest on record at 105.3
Business activity hopes deteriorate somewhat but remain high
Are these the roaring '20s economists have predicted? With the UK economy set to grow at the fastest rate in over 70 years, consumer confidence continues to rise, according to the latest analysis from YouGov and the Centre for Economics and Business Research (Cebr).
In April, Britain's consumer confidence index improved by 2 points to 110.5 – the highest in almost five years. Any score above 100 means more consumers are confident than not. Britons' feelings about house prices and their personal finances were the biggest drivers of positive sentiment.
YouGov collects consumer confidence data every day, conducting over 6,000 interviews a month. Respondents answer questions about household finances, property prices, job security and business activity, both over the past 30 days and looking ahead to the next 12 months.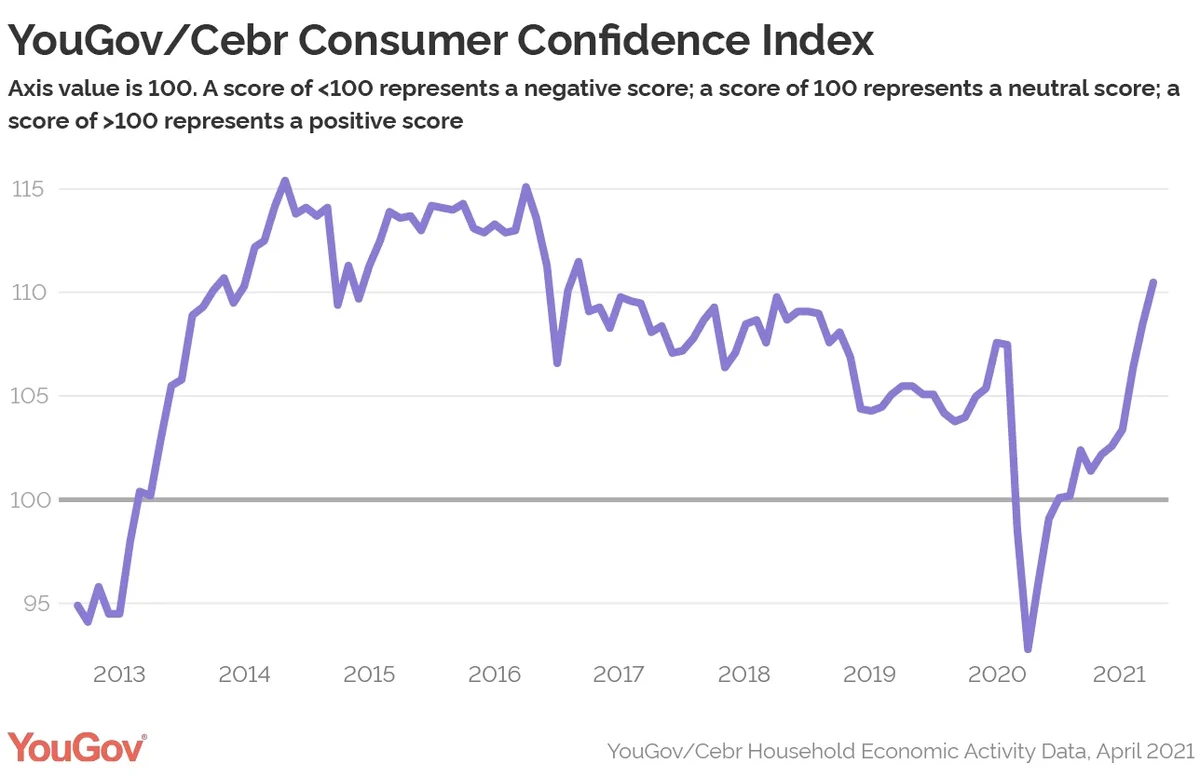 More homeowners than not believe that their property went up in value in the last month, prompting the house value metric to rise a staggering 7.3 points to 118.7. This is the highest it has been since June 2018, and comes as house prices reached another record high in April.
Despite the stamp duty holiday ending on 30 September, homeowners remain optimistic that the value of their home will keep rising. The outlook for home value over the next 12 months increased by 4.9 to 125.7 in April.
Britons are also feeling increasingly hopeful about their personal situation in the next year, with the outlook for household finances improving by 3 points to 105.3. This is the highest score ever recorded for this metric. Normally more households than not expect to be worse off in a year's time, but with a successful vaccine programme and the economy predicted to bounce back, Britons appear to feel there's room for optimism.
The number of households who say their finances improved in the past 30 days was also higher in April than the previous month, bringing the metric to 96 (+1.8). This is on level with February 2020 (96.1).
The expectations among workers for business activity in the next year have dampened somewhat, with a decrease of 2.9. At 123.2, it is still among the strongest performing metrics, however, being trumped only by the outlook for house prices. Meanwhile, the number of workers reporting activity rising at their workplace increased in April, with the metric now at 110.1 (+1.7).
While more workers felt their job security declined rather than improved in the past month, at 91 (+0.1) the retrospective index is now level with how it was prior to the pandemic. The outlook for the next year saw a minor fall of -0.4, but remains positive at 113.8.
Darren Yaxley, Director of Reputation Research at YouGov, said:
"April's consumer confidence continues the optimistic pattern of March, with the index score approaching a five-year high. With economists predicting a 'roaring 20s' of post-pandemic recovery and growth, our consumer confidence index indicates Britons are becoming more confident across almost every metric. The largest increases in the score are for house value, reaching the highest point since June 2018 as house prices broke records in April. Despite the fact that stamp duty is due to end in less than six months and concerns that the country is in a housing bubble, the future outlook for house value over the next 12 months remains incredibly optimistic too.
"Job security and business activity over the coming year are the only metrics to decline this month, likely due to the impending end of the furlough scheme and the impact this could have on businesses. Despite these decreases, business activity outlook is still among the strongest performing metrics."
Kay Neufeld, Head of Forecasting and Thought Leadership at the Centre for Economics and Business Research, said:
"The YouGov/ Cebr Consumer Confidence Index rose to a near five-year high in April, further supporting our view that the UK economy will see soaring growth as the lockdown restrictions are eased. Increases in both household finances indicators are an encouraging sign, showing that UK consumers feel confident about their spending power come summer. Meanwhile, the UK housing market continues to show a strong performance as demand for houses outstrips supply, leading to robust growth rates in house prices. The withdrawal of government support to the economy later in the year, including the furlough scheme and the stamp duty holiday, might yet dampen the outlook for 2021. However, the current trend gives reason to hope that by Q4 the economy will be sufficiently strong to stand on its own feet."