Consumer confidence rises to 108.5, the highest level since August 2018
Retrospective business activity jumps up by 5 points as COVID restrictions start to ease
Home value outlook continues to improve to 120.7, up by 3.2 points
Outlook for household finances is positive for the first time since February 2020
Workers feel more secure in their jobs compared with last month, although sentiment is still negative
Consumer confidence rises steadily as the economy starts to reopen, according to the latest analysis from YouGov and the Centre for Economics and Business Research (Cebr).
In March, Britain's consumer confidence score increased by 2.1 points to 108.5. Any score above 100 means more consumers are confident than not. Rising business activity and optimism about household finances and home value provided the biggest boosts to the score.
YouGov collects consumer confidence data every day, conducting over 6,000 interviews a month. Respondents answer questions about household finances, property prices, job security and business activity, both over the past 30 days and looking ahead to the next 12 months.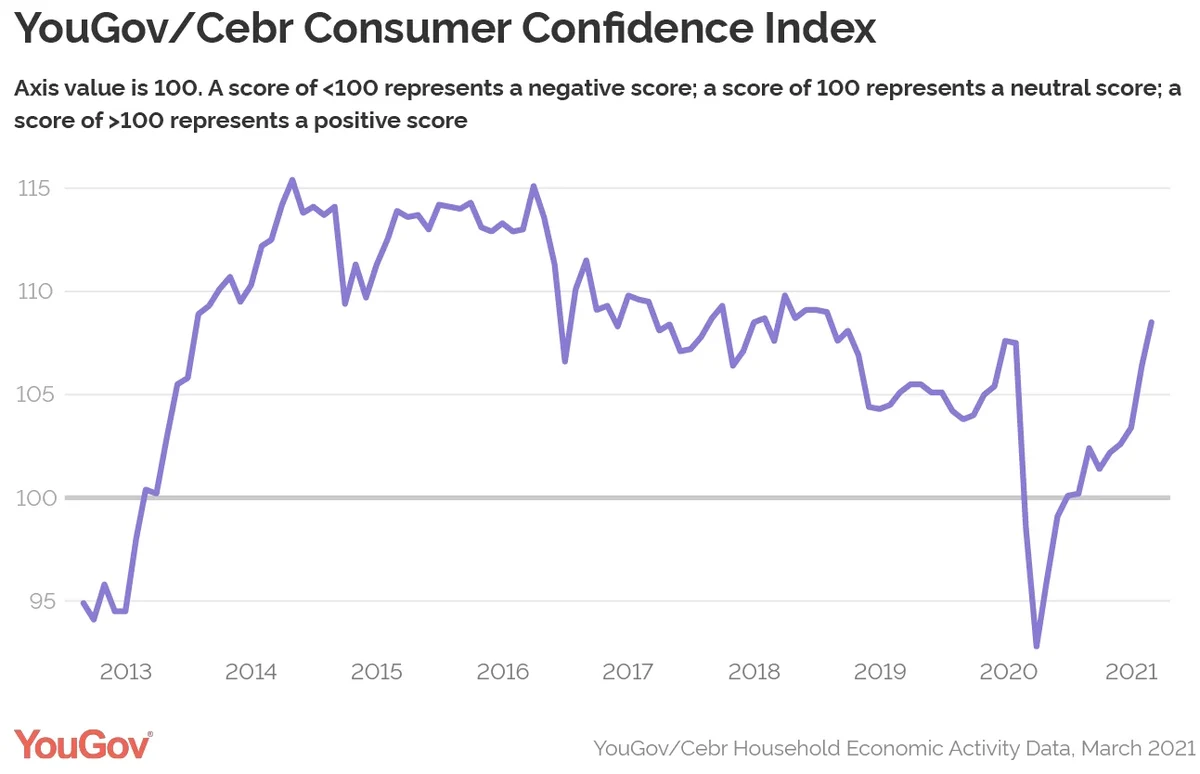 Workers reporting increasing activity at their workplace in the past 30 days drove the largest growth in the underlying metrics, with business activity rising to 108.5 (+5). The outlook for activity in the next 12 months only saw a slight improvement, at 0.8, but at 126 it's by far the aspect Britons feel the most optimistic about.
The outlook among homeowners for the next 12 months also saw a healthy boost of 3.2 points, and remains high at 120.7. Homeowners are also more likely than not to believe their property increased in value in the past 30 days, with the metric seeing a boost of 2.2 to 111.4. This comes despite a slight drop in house prices of 0.2% in March, according to Nationwide.
Elsewhere, for the first time during the pandemic more households than not now believe their finances will improve over the next year, at 102.3 (+3.1). A higher number of families also say their finances improved in the past 30 days compared with in February, with the measure rising by 1.2 points. At 94.1 it remains negative, but is much higher than a year ago (85.9). This comes as the ONS announced that the economy bounced back at a stronger rate than anticipated in the second half of 2020, raising the hopes for a faster expansion this year.
Workers also felt more secure in their job in the past month compared with in February, with the metric rising by 1.8 points. At 90.9, it's approaching pre-pandemic levels – last February it was at 91.5. There was no change in the outlook on job security over the next year, which remains positive at 114.2.
Additional research shows that two fifths of the public (39%) believe the economy will be expanding a year from now – up from 31% last month. The majority (61%) still believe it will be contracting, however.
Darren Yaxley, Director of Reputation Research at YouGov, said:
"Our latest consumer confidence index continues to track Britons' growing optimism, reaching its highest score since August 2018. Mostly driven by confidence in business activity, house values and personal finances over the coming 12 months, March's index indicates that many consumers are hopeful for a swift recovery – indicated by the two fifths who believe the economy will be expanding in a year's time.
"Concern for job security is the predominant cause for any pessimism, with no change seen in the outlook on job security over the next year likely due to the scheduled end of the furlough scheme in September. However, while these scores remain in negative territory, they are approaching pre-pandemic levels and are more optimistic than February's scores."
Kay Neufeld, Head of Forecasting and Thought Leadership at the Centre for Economics and Business Research, said:
"The remarkable increase in consumer sentiment continued in March with the YouGov/Cebr Consumer Confidence Index rising by 2.1 points to 108.5 – the highest value in nearly three years. The latest index reading complements a picture of widespread optimism across most parts of the UK economy - reflected also in the fact that business activity in the workplace over the past 30 days has seen the strongest increase of any single indicator.
"We expect the positive sentiment to translate into a noticeable pick up in economic growth in the second and third quarter of this year, supported by strong consumer spending and higher employment levels. The end of the furlough scheme later in the year is still expected to lead to an increase in redundancies but, for the time being, consumers seem to be focussing on the opportunities ahead as the economy re-opens, starting with outdoor hospitality and non-essential retail this week."