Consumer confidence increases to 102.9 (+0.6) in second month of gains
Outlook for business activity shows the largest improvement at 118 (+2.2)
Job security expectations regress (-0.7) as unemployment continues to rise
Home value index slips (-0.5) as Brexit and end of stamp duty break loom
Households feel more confident about their personal finances than last month (+1.9)
Consumer confidence figures have slowly improved in the latest analysis from YouGov and the Centre for Economics and Business Research (Cebr), with business activity and household finances pushing the measure further into positive territory. Please note that the fieldwork for this month's edition was carried out from 1-18 December before the announcement of the new strain of coronavirus and subsequent tightening of restrictions.
Any score above 100 means more consumers are confident than not, with December's figures at 102.9 – the highest since February. The measure is up 0.6 on last month.
YouGov collects consumer confidence data every day, conducting over 6,000 interviews a month. Respondents answer questions about household finances, property prices, job security and business activity, both over the past 30 days and looking ahead to the next 12 months.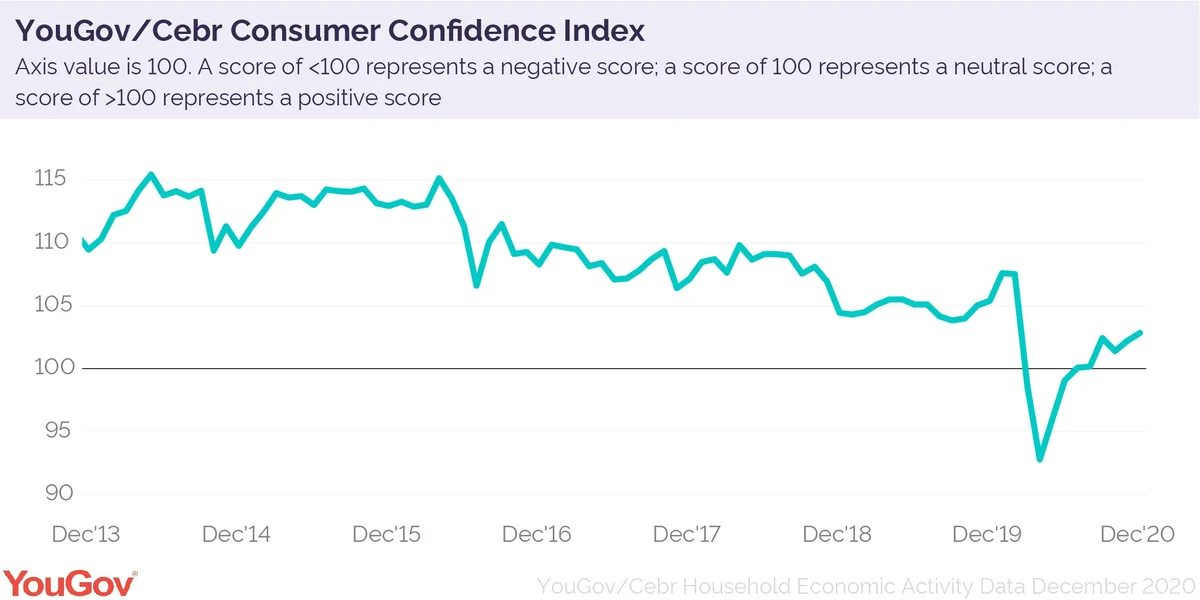 Outlook for business activity showed the strongest improvement among the eight metrics which are used to determine how confident consumers are. It improved by 2.2 points in December, bringing it to 118. The measure asks workers if they think activity at their workplace will increase or decrease in the next twelve months. These latest figures are the highest since November 2018 (118.6).
While this could be a reflection that many businesses are quieter than usual due to COVID restrictions, more enterprises than not also saw an uptick in activity in the last 30 days. The retrospective business activity index is now at 103.9, up 2 points since last month. But with the government ramping up coronavirus restrictions, the rest of December may be less positive.
The index also shows that a greater number of households say their finances improved in the past 30 days compared with the previous period, prompting a 1.9 increase in the metric. But at 90.8, more Britons than not still say they're becoming worse off.
The outlook for household finances in the next 12 months remains gloomy at 92.1, but it has increased by 1.0 points since November. This means slightly more people now say their situation will improve over the next year.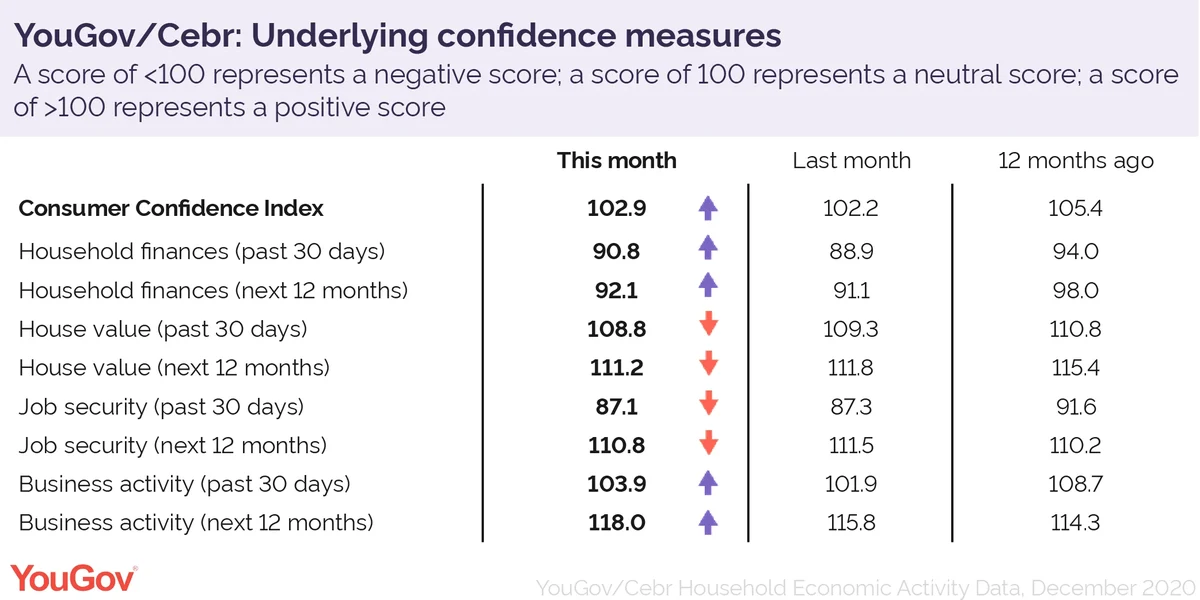 Elsewhere, homeowners are increasingly worrying that their properties are declining in value. The home value index for the past 30 days shows a 0.5 drop, although at 108.8 it is still firmly in the green. The housing market has so far managed to remain unscathed by the pandemic, fuelled by the stamp duty cut which will end in April 2020.
Outlook among homeowners also took a hit in December and fell by 0.6 points. But more Britons who own property still believe the value will continue to increase rather than decrease over the next year, at 111.2.
Workers' expectations for job security in 2021 fell by 0.7 points in the December figures, down from 111.5 last month. While the measure shows that the majority of workers believe they're unlikely to lose their job in the next year, the sentiment for the preceding 30 days is much more doubtful. The retrospective job security index fell by 0.2 points to 87.1, meaning a greater number of workers believe their employment became less secure in the past month. Recent ONS figures similarly show that redundancies are at a record high.
The research also shows that approaching a quarter of Britons (23%) believe the economy will grow in the next year, while 77% expect it to contract.
Darren Yaxley, Director of Reputation Research at YouGov, said:
"YouGov and Cebr's Consumer Confidence Index shows a slow rebound in the first half of December, led by improvements in business activity and household finances. Outlook for business activity next year is the most positive metric, implying optimism among Britons for a time post-coronavirus. Businesses also saw improvements in activity for the past 30 days, however it is unlikely that this will continue after restrictions were increased in the South and South East and for much of the rest of the UK too. Britons also saw their own finances improve indicating more people than not are in a stronger financial position since November.
"While these metrics and the overall index indicate hope towards the end of 2020, home value and job security indicators declined – something that is likely to fall further after the announcement of the new strain of coronavirus and subsequent restrictions before Christmas."
Kay Neufeld, Head of Macroeconomics at the Centre for Economics and Business Research, said:
"The Consumer Confidence Index rose by 0.6 points to 102.9 in the first weeks of December, undoubtedly benefitting from a boost to sentiment as the first doses of the Covid-19 vaccine were rolled out in the UK. It is also encouraging to see that the forward-looking measures for both household finances and business activity ticked up, suggesting that consumers still feel that the economic recovery will continue over the course of 2021. The significance of consumer sentiment, which is an important predictor of consumer spending, has been underlined by the latest figures showing that UK households put away nearly 17% of their incomes in Q3. This has further swelled the nation's savings buffer, which Chancellor Rishi Sunak hopes will be used to kick-start a consumption-driven recovery. Having said that, the latest tightening of restrictions in the South and news of a new coronavirus strain still have the potential to derail consumer confidence over the winter."