Consumer confidence increases to 102.3 (+0.9) after a dip last month
Home value score jumps by 4.6 points as house prices reached record high in September
Outlook for household finances improves by 3.2 points as vaccine news heralds potential end to pandemic
Business activity continues to worsen (-0.8) but remains well above the first national lockdown
Job security remains low at 87.2 but outlook improves slightly (+0.6)
Consumer confidence is rebounding slightly with households feeling more upbeat about their finances and house prices, the latest analysis from YouGov and the Centre for Economics and Business Research (Cebr) shows.
Any score above 100 means more consumers are confident than not, with November's figures just above the line at 102.3. This represents an increase of 0.9 points from October.
YouGov collects consumer confidence data every day, conducting over 6,000 interviews a month. Respondents answer questions about household finances, property prices, job security and business activity, both over the past 30 days and looking ahead to the next 12 months.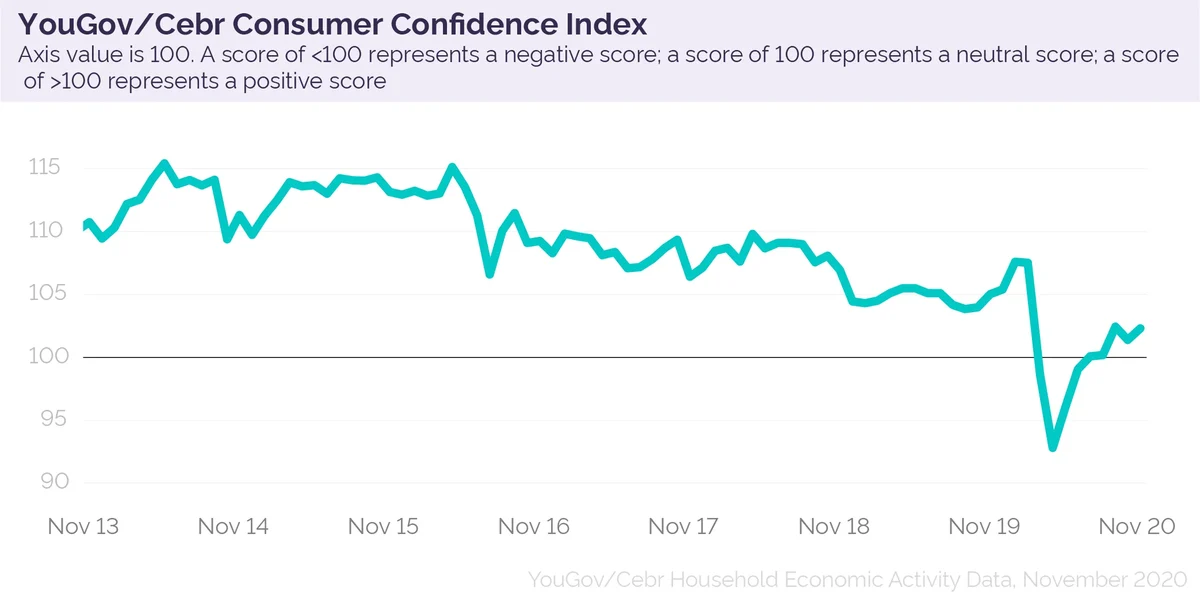 In November, four out of eight metrics showed signs of improving. The home value index recorded the largest increase of 4.6 points, meaning more homeowners than not believe their property increased in value in the last month. At 109.7, the measure is now approaching the level it was a year ago (110.9). The increase comes as the ONS reports that house prices reached a record high in September.
The outlook for home values over the next 12 months is more cautious. At 111.3, the metric saw a modest increase of 0.7 in November. With the end of the stamp duty holiday getting closer (the same day as the furlough scheme ends) sentiment among homeowners is likely to worsen. It is still well below the pre-pandemic average from September 2012 until January this year of 134.8.
Among households, a greater number of Britons say their financial situation worsened than improved in the past 30 days. The measure of household finances fell slightly by -0.3, bringing it further into the red at 90.
But many are increasingly feeling hopeful that their situation will improve over the next year, with the outlook for household finances recording a significant increase of 3.2. While it is still in negative territory at 92.2, it is at its highest since the pandemic began. The jump comes as three manufacturers have announced effective COVID vaccines recently.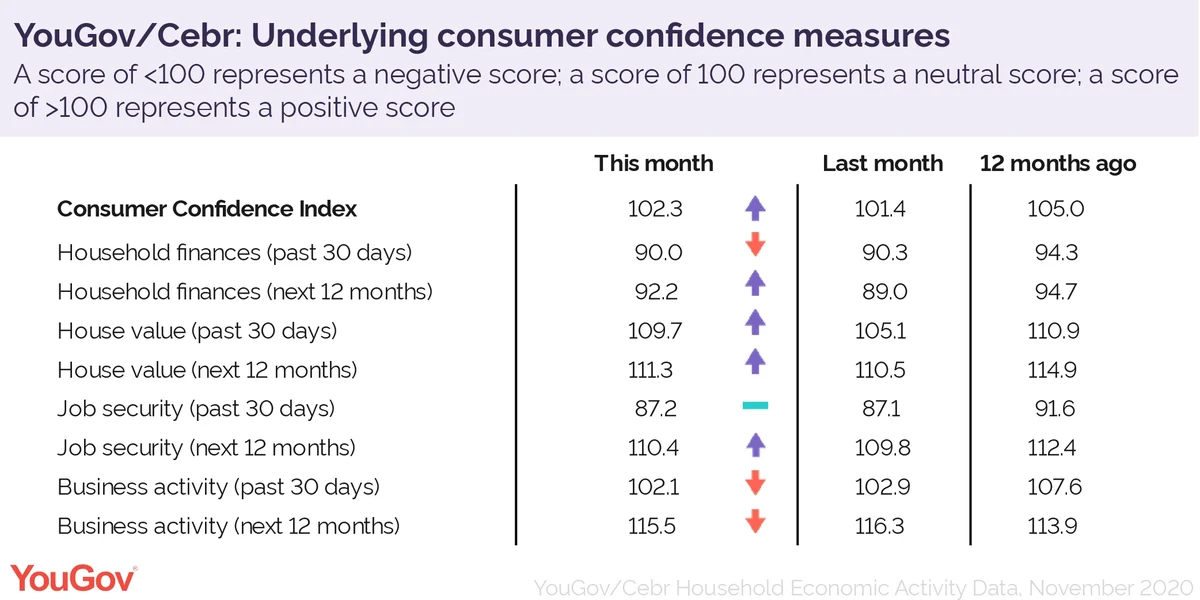 Elsewhere, business activity fell for the second consecutive month and is now at 102.1 (-0.8). This means more workers say activity at their workplace fell than increased in the last 30 days. Considering that all non-essential businesses in England have been closed for three weeks, this is a modest drop and hardly compares to the decrease of -8.2 in March.
Expectations for business activity in the next year also fell by -0.8 but remain positive at 115.5. In fact, they are higher than in November 2019 (113.9).
Sentiment around job security in the next year improved slightly by 0.6, pushing the overall score up to 110.4. This could also be due to the promising news about an effective vaccine.
Despite the second national lockdown, the retrospective metric for job security shows no change this month, remaining at 87.2 – most likely helped by the extended furlough scheme. While this signifies a general sense of insecurity among workers, it is at its highest level since the start of the pandemic.
Additional research shows that a fifth of people (20%) now expect the economy to grow in the next year, a slight increase of four points compared with last month. But four out of five Britons (80%) believe it will shrink.
Darren Yaxley, Director of Reputation Research at YouGov, said:
"November's consumer confidence index shows that despite England's lockdown, Wales' 'fire breaker' and increased restrictions in Scotland, consumer confidence has increased across the UK albeit marginally. After news that three new possible vaccines are showing signs of success, consumers are feeling more upbeat about their finances and house prices in particular.
"Business activity for the last month decreased by just 0.8 points, which considering the 8.2 decrease during the March lockdown is a small decline. Outlook for job security next year is also improving and alongside the 20% of people who expect the economy to grow next year, this shows that while consumer confidence isn't at pre-pandemic levels, the optimism is there."
Kay Neufeld, Head of Macroeconomics at the Centre for Economics and Business Research, said:
"November has been a truly mixed bag for UK households. The month started on a low note with England entering a second national lockdown, forcing non-essential stores and hospitality businesses to shut. The relatively muted falls in the business activity indicators as well as the steady job security score are, however, testament to UK plc having learned to operate as well as possible under the restrictions. While it seems likely that GDP will contract again in the fourth quarter, we also received some decidedly good news later in the month in the form of the vaccine announcements. This means that there is now a realistic exit strategy in place, which has notably lifted spirits and boosted three out of the four forward looking indicators, leading to an overall increase in the Consumer Confidence Index of 0.9 points this month."