Most people have heard of Black Lives Matter UK but many other anti-racism organisations struggle with awareness
With race relations in the UK thrust into the spotlight this year as a result of the Black Lives Matter protests, a new YouGov study looks at how familiar Britons are with the nation's anti-racism organisations.
Four out of five Britons (81%) have heard of Black Lives Matter UK itself, although awareness is slightly lower among people from Black, Asian and Minority Ethnic (BAME) communities, at 75%.
The second most recognised organisation is the Stephen Lawrence Charitable Trust, which half of all Britons (50%) and two in five Britons from BAME backgrounds (39%) know about. Stephen Lawrence was a black teenager murdered in a racist attack in 1993 – the Trust was founded by his mother Doreen in 1998 to tackle inequality and promote a positive community legacy in her son's name.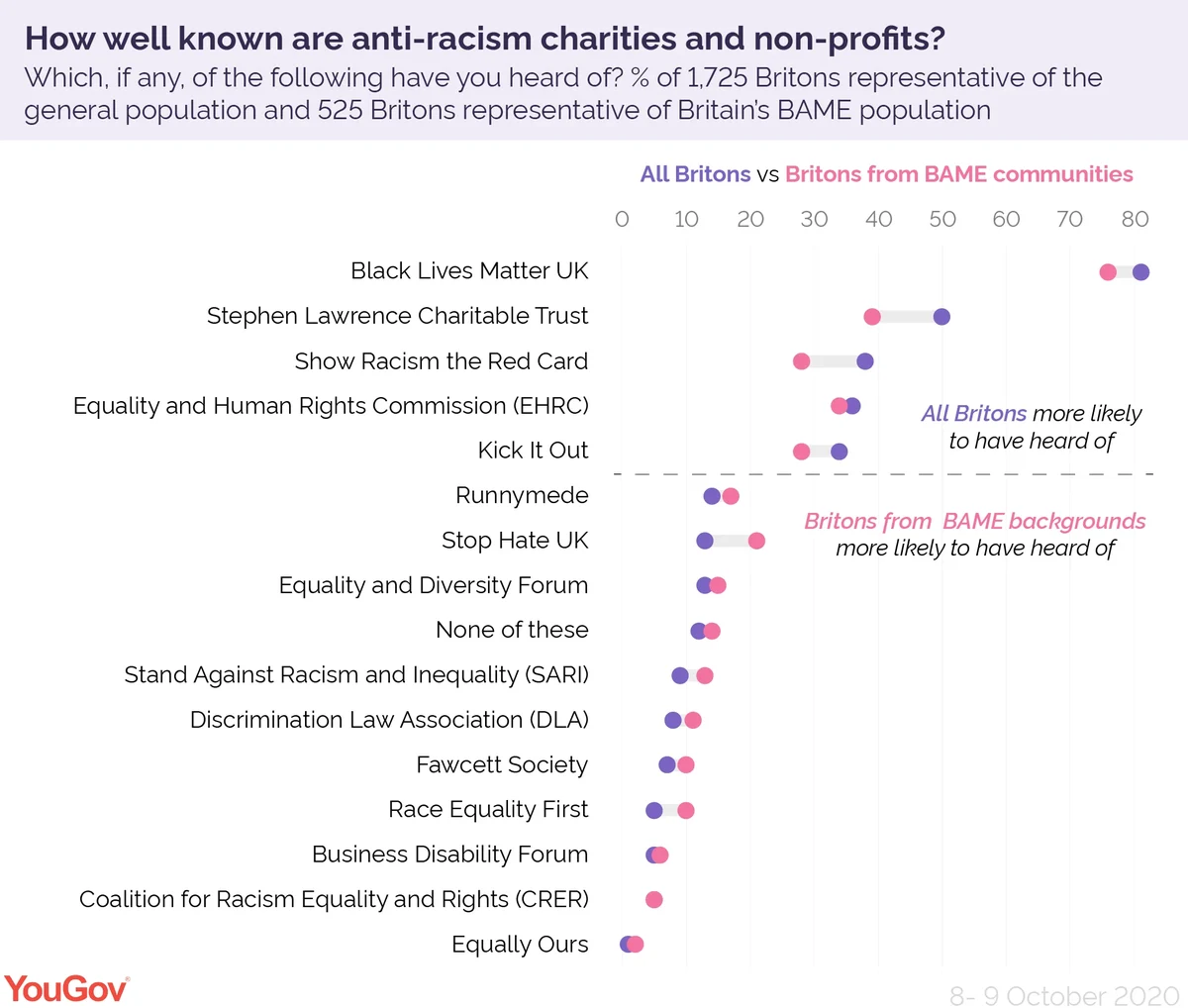 Football-focused charities Show Racism the Red Card (38% of all Britons vs 28% of Britons from BAME communities) and Kick It Out (34% vs 28%) are respectively the third and fifth most recognised organisations.
In both instances, men are more familiar with their work than women. Nearly twice as many men (45%) as women (23%) know of Kick It Out, while the gap is slightly smaller for Show Racism the Red Card, at 43% vs 34%.
Generally, most of the best known anti-racism charities score higher in terms of awareness with the general population than with Britons from BAME backgrounds.
The difference disappears for charities that less than a fifth of the public are familiar with. These have roughly the same level of awareness with both groups or are slightly better known by people from BAME communities.
The charity that BAME Britons are most likely to have heard of when compared to the general population is Stop Hate UK, which was founded to fight racial harassment in response to the murder of Stephen Lawrence. One in five BAME Britons (21%) are aware of their work, compared with only one in eight (13%) of the wider public.