The coronavirus crisis has made people across the world think twice before paying in cash, but in many countries this is seen as a positive development
A YouGov survey of 21 countries across four continents suggests that the coronavirus pandemic has made many people limit their use of cash in favour of electronic payments.
The data finds that Thailand has seen the largest decline in cash use. Over half (57%) of the population has used coins and notes less often in the wake of COVID-19, while one in six (16%) report they have used cash more frequently. Only 11% of Thai people say they mostly didn't use cash before the pandemic and still don't.
Sweden has the lowest proportion of people who have used less cash during the pandemic (11%). The Scandinavian country is expected to become the first truly cashless society in 2023, and three quarters (74%) of Swedes say they mostly didn't use cash before the pandemic and still don't.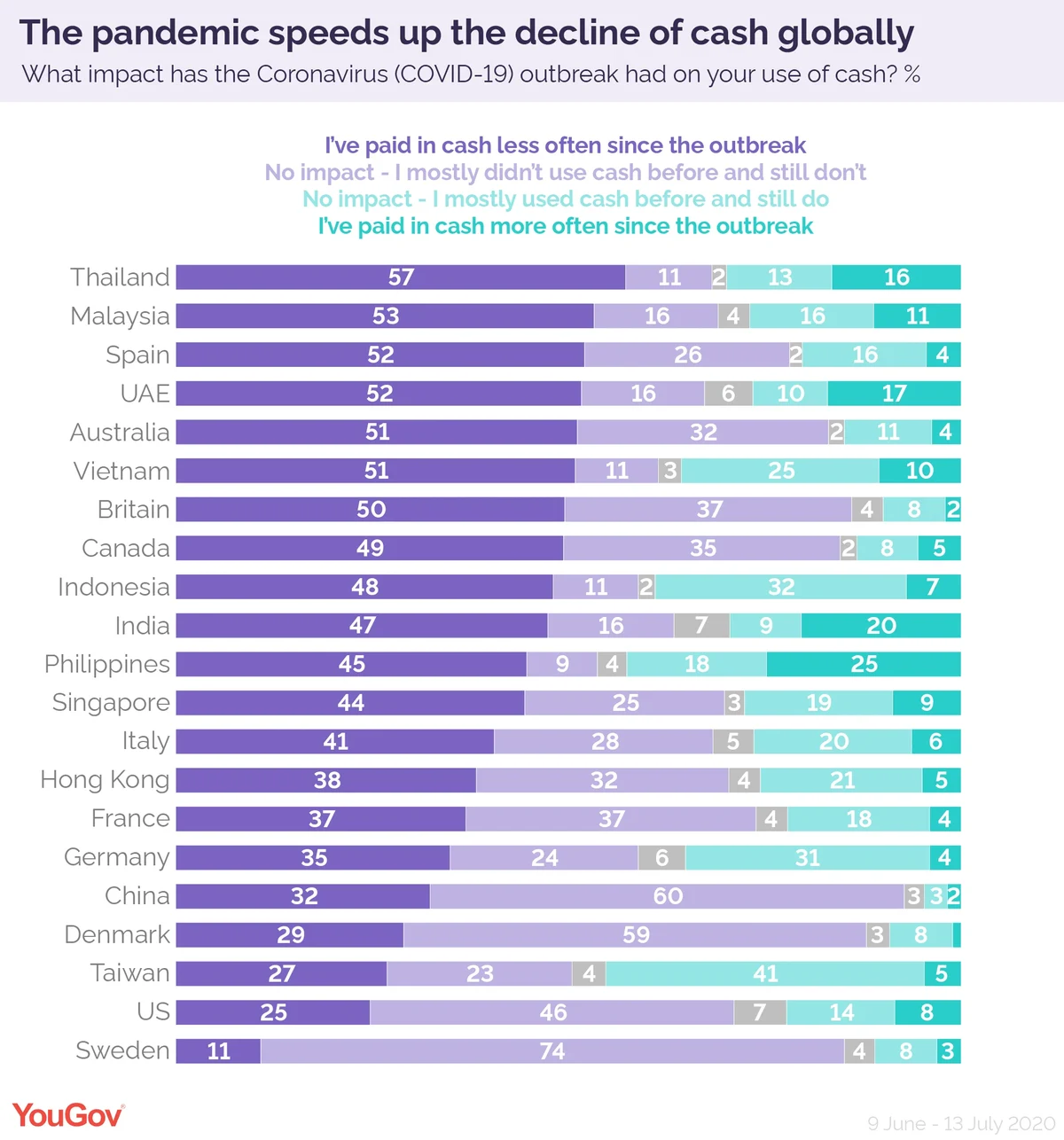 Britain has seen one of the largest declines in cash use because of the pandemic. Half of Britons (50%) used fewer notes and coins as a result of COVID, while 37% already mostly paid digitally. Only 8% of the public who usually pay in cash say their habits remain unchanged.
How attitudes to a cash free society differ globally
Whether the acceleration of electronic payment habits is viewed as a good or a bad thing varies greatly from country to country. In India, four in five people (79%) say that a cashless society would be positive, while one in ten (10%) think it would be negative.
Countries such as Malaysia (65%), the United Arab Emirates (63%) and Indonesia (63%) also overwhelmingly see using electronic payments exclusively as positive.
People in Spain are the most resistant to the idea of a cashless society with about half (53%) thinking it would be negative, while just over a quarter (27%) think it would be good.
Many Britons are not keen either. Close to half (47%) say it would be negative, while a quarter (26%) view going cash free positively.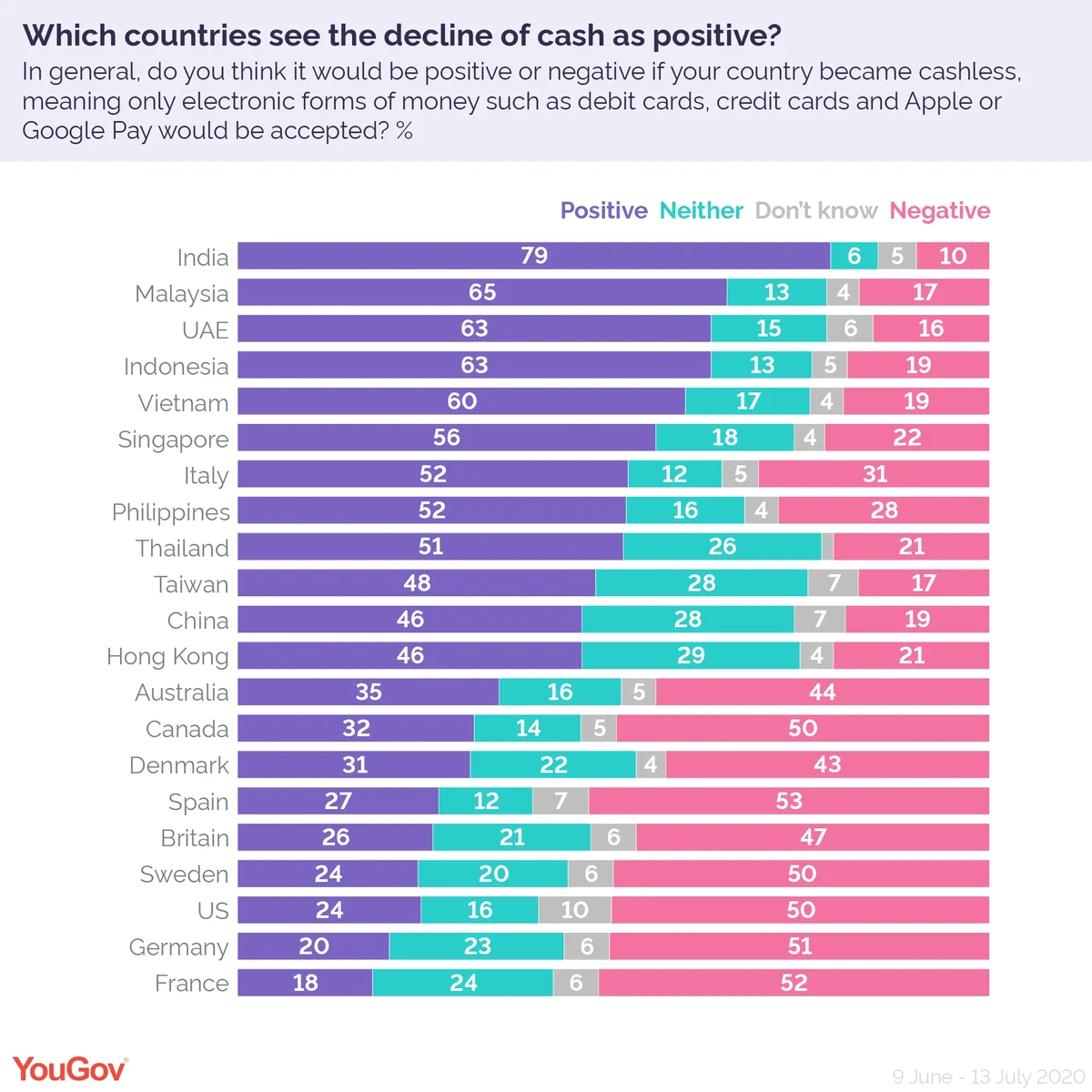 Cash-light countries are more worried about ditching notes and coins
The research suggests that in many countries where cash is still a popular payment method the population is happier about moving away from it. However, in a lot of nations where the move to electronic payments has already gained momentum, people are more opposed to becoming completely cashless.
We asked how often respondents use cash for common purchases ranging from very cheap (such a pack of chewing gum) to very expensive (such as a new electronic device).
Our data shows that cash is most common in the Philippines. There, using a weighted average that puts greater emphasis on more costly purchases, three in five (60%) people mostly pay with notes and coins. But many (a net score of +24) think that if the country became completely cashless it would be positive rather than negative.
The trend is particularly similar in Thailand (48% of the population usually use cash, +31 say going cashless is positive rather than negative), Vietnam (46%, +40) and Indonesia (44%, +44).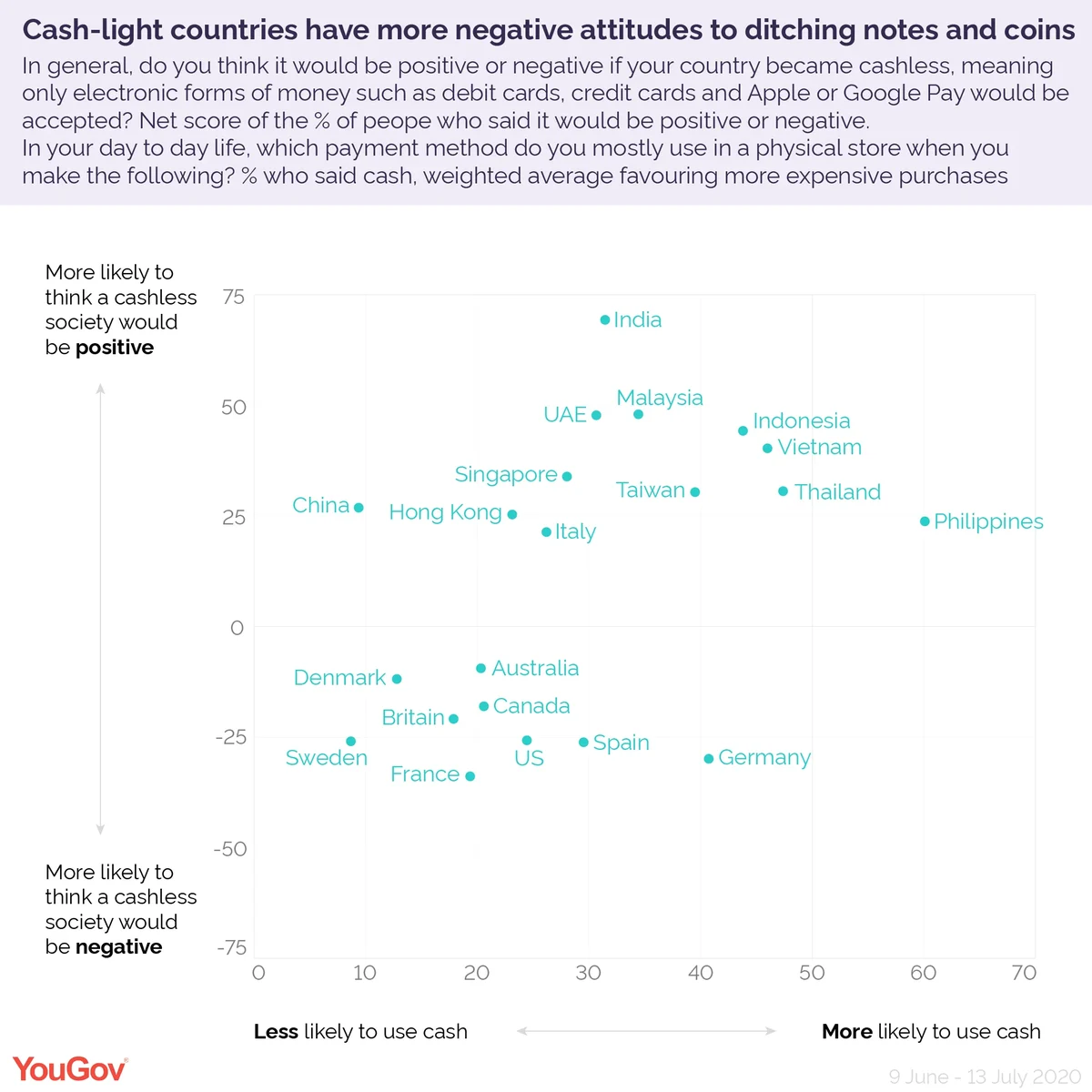 In contrast, only 9% of Swedes tend to use cash, but people are more likely to see a truly cashless society as negative rather than positive (-26). The pattern is similar in France (19%, -34), Britain (18%, -21) and Denmark (13%, -12).
The research suggests that China is a noticeable outlier. While the population's cash use is similar to Sweden (9%), they are more likely to see a cash free society as positive (+27).
Germany also goes against the trend. While cash use is still fairly common (41%), more people view becoming cashless negatively (-30).