Consumer confidence falls to 101.3 (-1.1), ending five months of gains
Outlook for household finances worsens by 5.6 points as increasing parts of the country are now in lockdown
Home value score drops by 3.9 points despite continuing housing market surge
Job security increases by two points to 87.7 in October but remains low
Only one in six people (16%) expect the economy to grow in the next year; 83% believe it will contract
Consumer confidence is starting to slip again as worries about household finances and property value drive down previous optimism, the latest analysis from YouGov and the Centre for Economics and Business Research (Cebr) shows.
At 101.3, the measure is only just in positive territory – down by 1.1 points from September. This is the first recorded drop since April. Any score above 100 means more consumers are confident than not.
YouGov collects consumer confidence data every day, conducting over 6,000 interviews a month. Respondents answer questions about household finances, property prices, job security and business activity, both over the past 30 days and looking ahead to the next 12 months.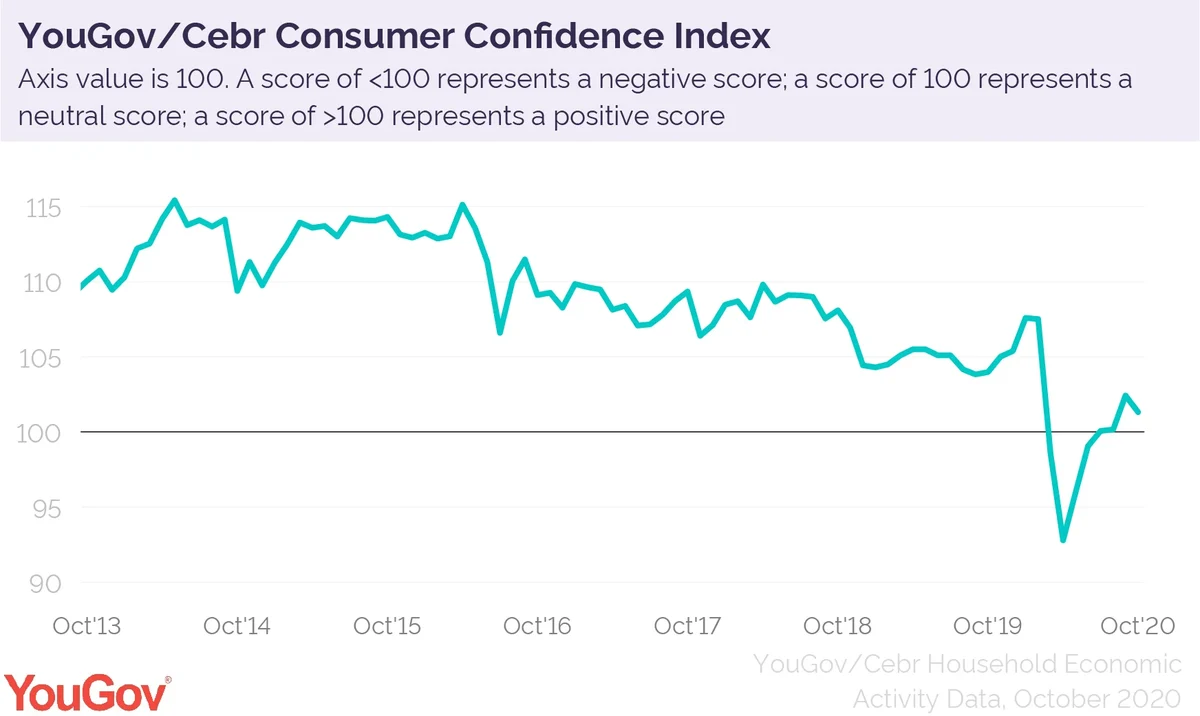 In October, four out of eight metrics fell. The sharpest decline was in the outlook for household finances, which were already negative and decreased by 5.6 points to 86. The measure is compiled by asking households how they think their finances will change a year from now. This is the steepest dip since the onset of the pandemic in March, which saw a decline of 16.5 points.
A greater proportion of households also said their finances had worsened rather than improved in the past month. This means the retrospective metric for household finances dropped by 1 point to 90.6.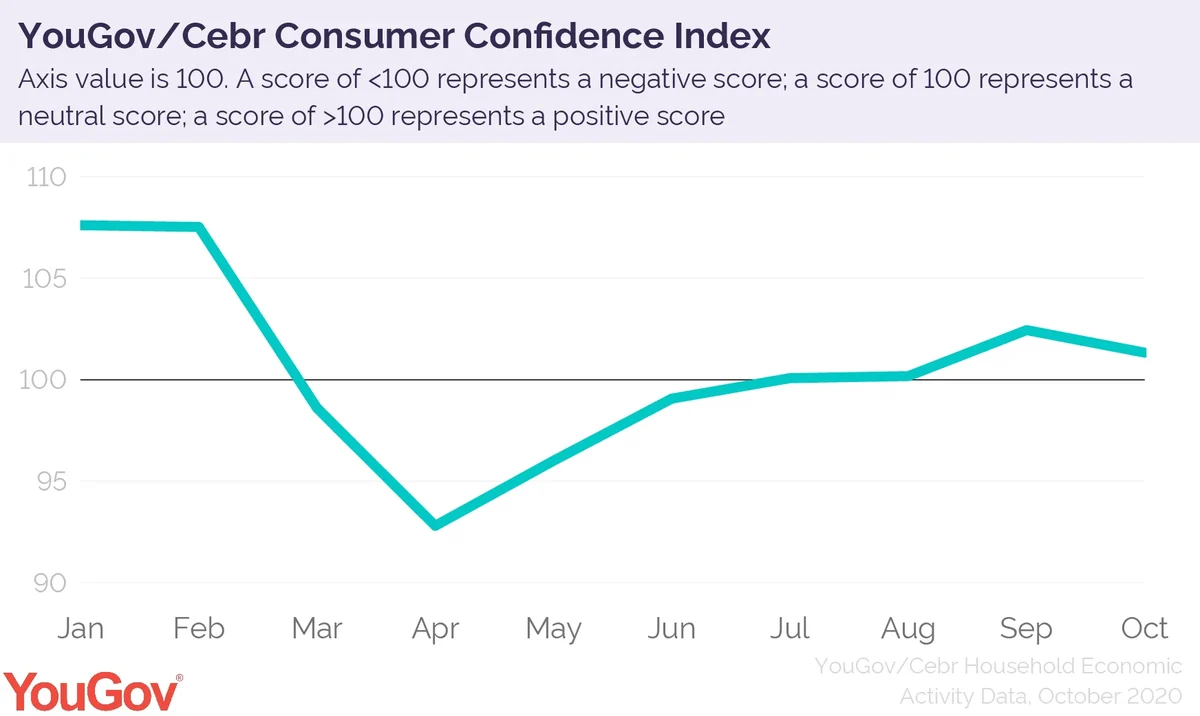 Consumers are also feeling less upbeat about the value of their home than a month ago. While the measure is still in positive territory at 104.1 it fell by 3.9 in October, reversing a five-month upward trend.
The outlook for the next year also fell by 2.3 points to 108.8. While still in the green, the figure is two points below October 2019 levels.
These changes could be an early warning sign that the housing market is running out of steam, which house price data will take longer to reflect given the pace of property purchases.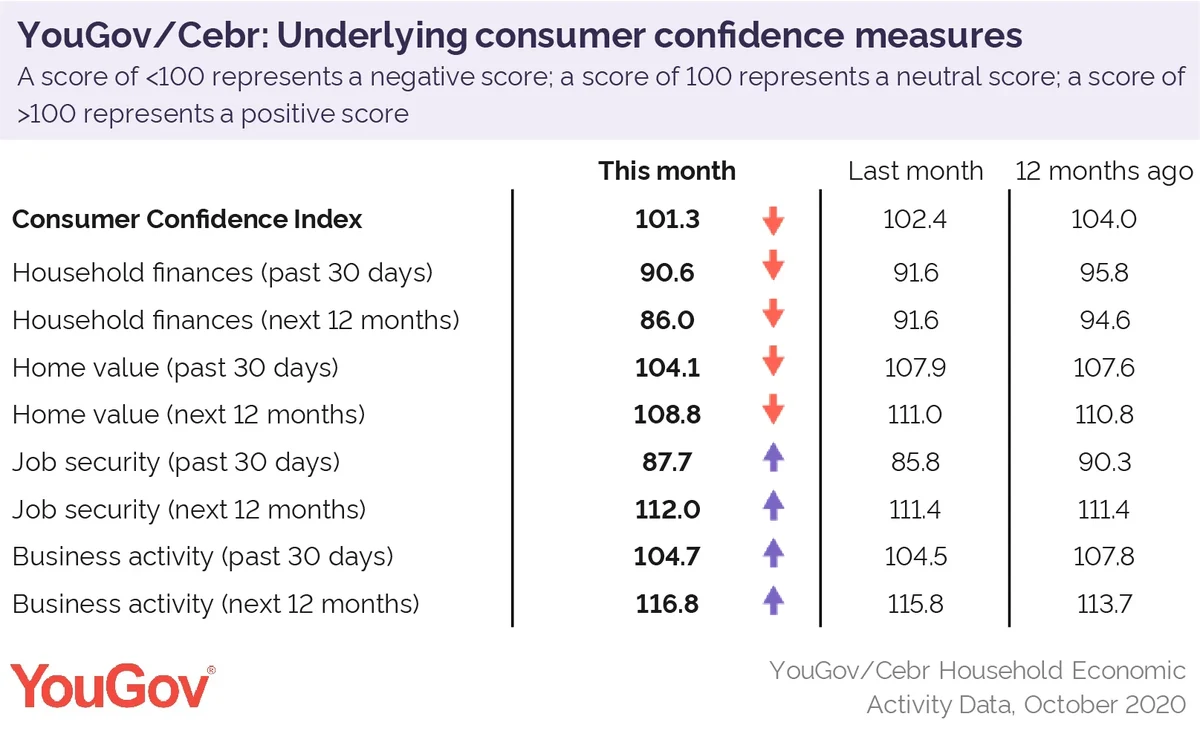 Elsewhere, workers' perceptions of job security improved by 2 points in the past month but the measure is still firmly in red at 87.7. Slightly fewer employees also expect to lose their job in the next year, with the metric picking up slightly by 0.7 points. At 112, it's higher than it was at the same time last year (111.4).
There is little change to business activity compared with September – at 104.7, it's 0.1 points higher than last month. However, despite coronavirus restrictions increasing and a possible no-deal Brexit approaching, employees continue to be optimistic about the level of activity at their workplace 12 months from now. The measure gained 1 point, bringing it to 116.8.
Additional research shows that only one in six people (16%) expect the economy to grow in the next year, while 83% believe it will contract.
Darren Yaxley, Director of Reputation Research at YouGov, said:
"This month's Consumer Confidence Index brings an end to the steady increase in confidence following the initial downturn through February and March. Outlook for Brits' household financial situation and home values saw the largest decreases, indicating that Britons are becoming increasingly less certain about their own finances as we see further restrictions imposed across the country.
"While there were improvements in confidence for businesses activity and job security, these increases are nominal and more than eight in ten actually expect the economy to contract next year. As we enter the winter months, the picture will become clearer as to whether this was just a blip or the start of something more serious."
Kay Neufeld, Head of Macroeconomics at the Centre for Economics and Business Research, said:
"The first fall in the Consumer Confidence Index in six months may prove to be a turning point in consumer sentiment as the reality of a second wave sets in. In reaction to the fast-rising numbers of new infections, the Government has introduced a three-tiered system of local restrictions which are expected to seriously put the brakes on the economic recovery in the last quarter of the year. Many businesses that have just about managed to stay afloat are threatened by the new lockdown restrictions, while at the same time government stimulus is scaled back. Consumers clearly see this as a negative for the outlook of their household finances, though the job security indicators have remained stable this month. The expected economic turbulence has also weighed on expectations for house prices, which could spell the end of the mini-house price boom seen over the summer."