British businesses are the most likely to feel adequately supported among the large European economies – but their outlook is also the most pessimistic
The Chancellor today announced further COVID-19 support to businesses through what he branded the world's most generous short-time work scheme. YouGov data shows that even before the new measures, British businesses were the most likely to say the government had provided enough support during the coronavirus crisis in a survey including France, Germany, Italy and Spain.
About half of businesses in Britain (48%) felt adequately supported before today's announcement. This is significantly higher than in Germany (28%), Italy (28%), France (24%) and Spain (13%).
In contrast, a quarter of Spanish businesses (27%) said the government had not provided any support. This sentiment is also more common in Italy (22%), Germany (17%) and France (16%) compared with Britain (8%).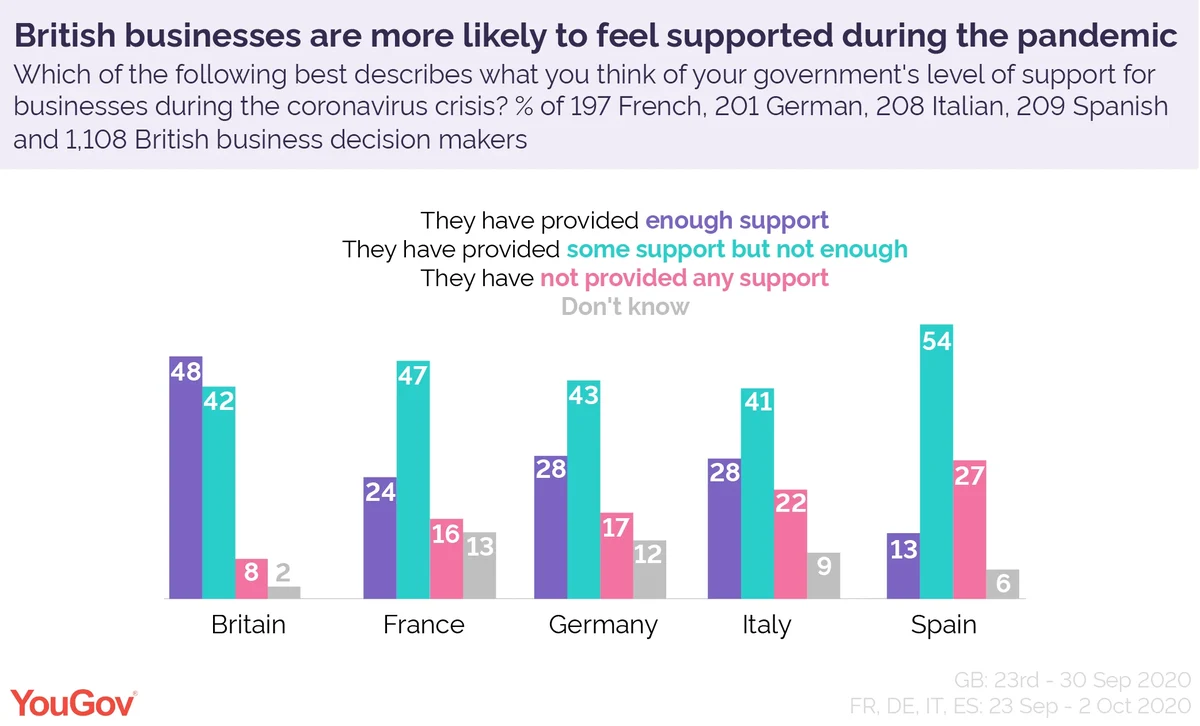 As of 30 September, a quarter of British businesses (27%) were receiving government support, compared with about one in six Spanish (16%) and one in seven French (15%), German (15%) and Italian (14%) companies.
While the coronavirus timelines for the countries vary, British businesses are also more likely to have received support at any point during the crisis (58%). This is nine points above Germany and France (each at 49%), while the figure is 48% in Italy and 42% in Spain.
More support doesn't necessarily equal fewer redundancies
Labour's Shadow Chancellor, Anneliese Dodds, today slammed the Government for announcing the measures after the redundancy deadlines for businesses reliant on the 80% furlough scheme had passed.
The chances are many companies could not afford to wait to lay off workers. Half of British businesses surveyed (52%) were expecting to make redundancies before the end of the year when polled in the last week of September.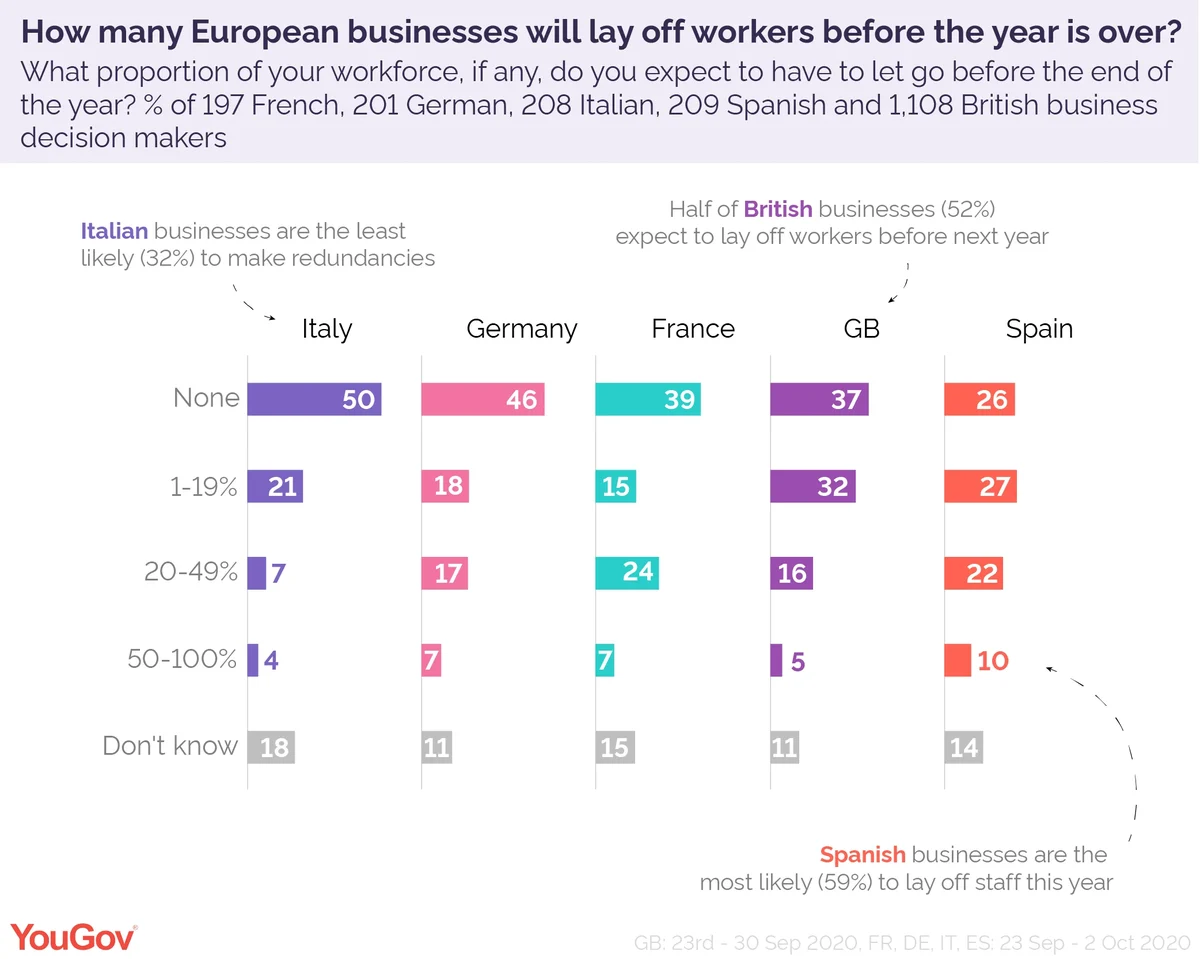 This figure is only dwarfed by Spain where three in five businesses (59%) believed they would have to lay off employees before the new year – including one in ten (10%) expecting to let half of their workforce or more go.
Italian businesses were the least likely to expect redundancies, however a third (32%) still assumed there would be some more layoffs this year.
British businesses expect the slowest recovery
Over two in five British businesses (45%) believe it will take at least a year to recover financially from coronavirus. This is the highest figure among the countries in the survey despite more companies in Britain being content with the Government's support.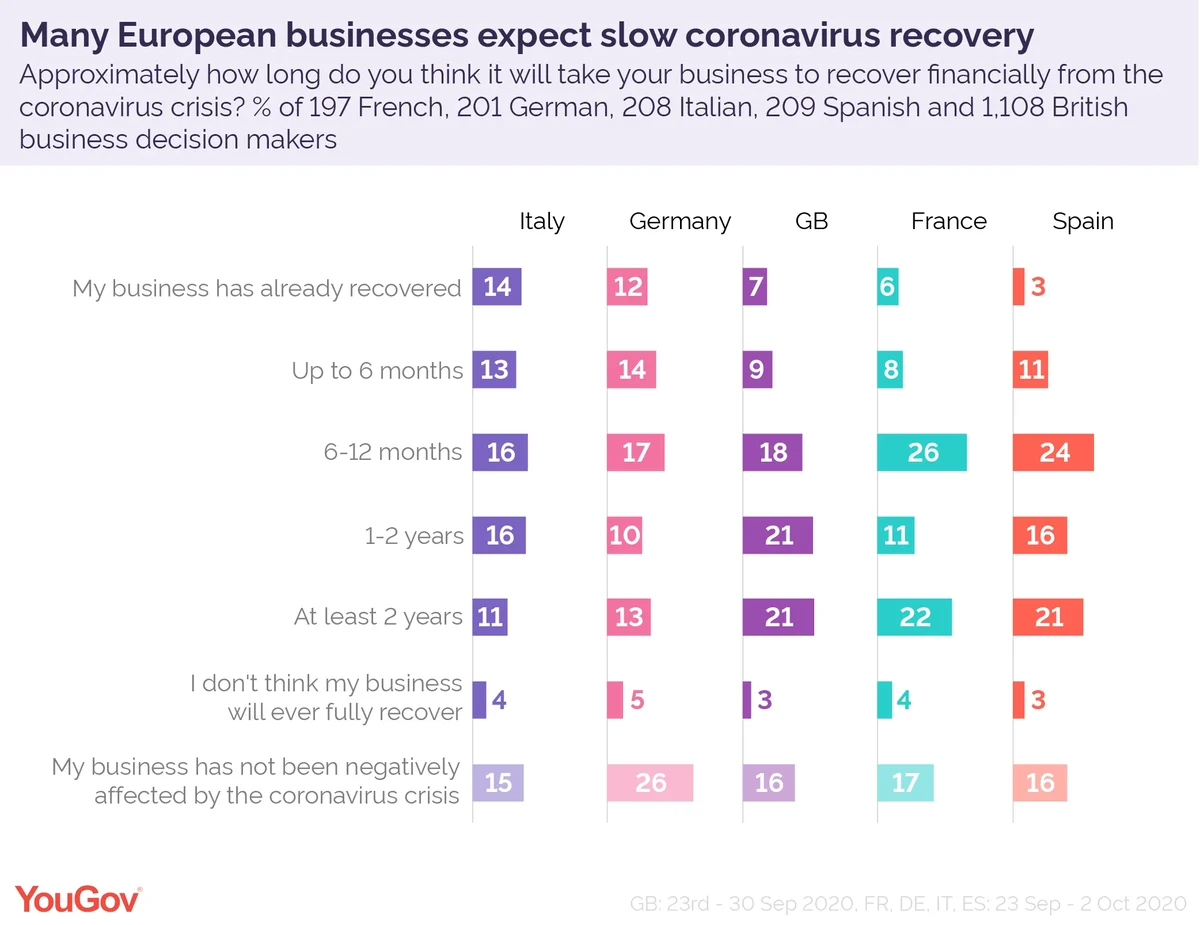 German businesses are the most upbeat. At 28%, they're the least likely to expect recovery to take longer than a year, while a quarter say they've not been affected by the crisis at all (26%).
Italians are also optimistic, with one in seven businesses (14%) saying they have already recovered, and only three in ten (31%) believing they'll need more than a year to bounce back.
See the full results for Britain and Italy, Germany, France and Spain