Consumer confidence rises for third consecutive month, entering positive territory for first time since February
Business activity (+3.8 points) and house value (+2.4 points) drove July's growth
Expectations for job security and finances over the next 12 months remain pessimistic
July's job security 13.6 points below positive territory despite increasing 0.7 points
Eight in ten Britons believe Britain will be in a recession or depression within a year (82%)
Recent retail figures show that the high street has rebounded to near pre-pandemic levels, bolstering hopes that the post-COVID recovery will be V-shaped, rather than a less desirable letter. This tallies with the latest results from the YouGov/CEBR consumer confidence index, which show that business activity is rising as lockdown eases.
Consumer confidence rose for the third consecutive month in July, edging into positive territory for the first time since February, back when COVID-19 was only just beginning to make headlines. Any score over 100 means more consumers are more confident than unconfident and, as the metric rose 1.7 points to 100.8, Britain slides back into positive territory by the skin of its teeth.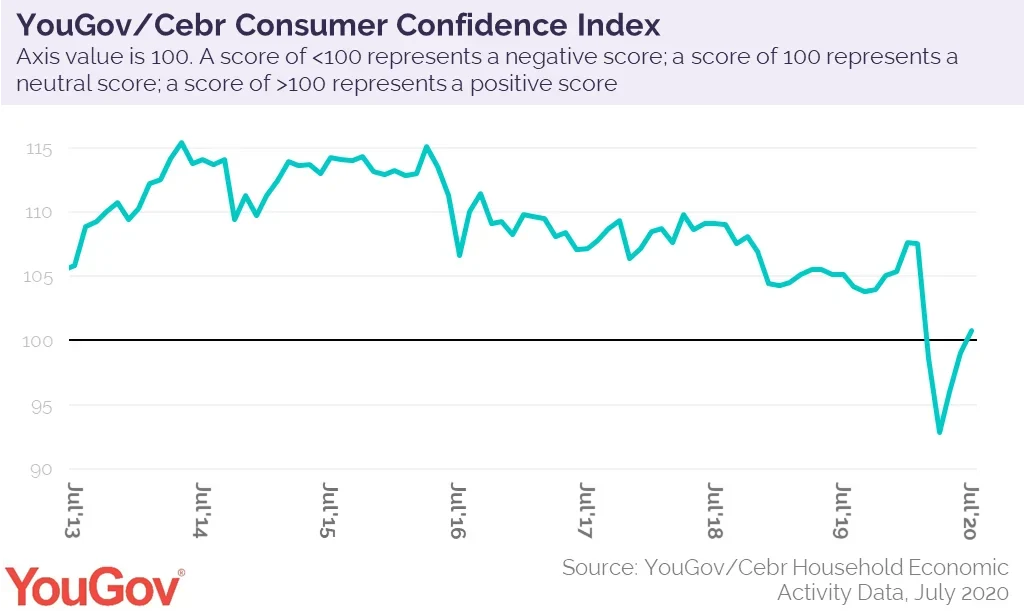 YouGov collects consumer confidence data every day, conducting over 6,000 interviews a month. Respondents are asked about household finances, property prices, job security and business activity, both over the past 30 days and looking ahead to the next 12 months.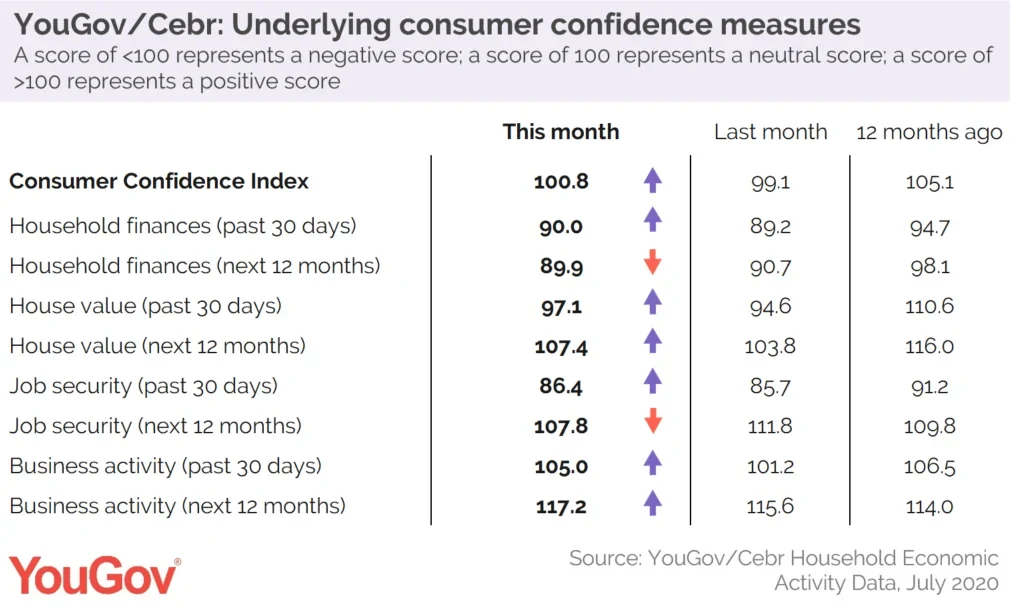 Business activity and house values were the real engine behind this month's growth. Business activity over the last 30 days rose 3.8 points to 105 - the third consecutive rise. And expectations for the coming year marked a fourth consecutive jump, with a 1.6 point boost taking the metric to 117.2.
Home values also contributed to the overall increase, climbing 2.4 points towards the positive, but resting just short at 97.1. Expectations for the coming year were up 3.6 points to 107.4.
But this optimism isn't seen across the board, as it was in May and June when every single metric rose. Job security over the past 30 days edged up just 0.7 points to 86.4, which is still far from neutrality, let alone positivity. And expectations for the coming year, while remaining positive, fell by 4 whole points to 107.8. Not only this, but 92% of people now expect the unemployment rate to rise over the coming year, and only 61% feel it's unlikely they will be laid off during the same period.
Household finances are also under pressure, which is hardly surprising given the huge numbers of redundancies, thousands of furloughed staff and overall reduced earnings. Estimates for the last 30 days were up 0.8 points, but stay negative at 90. Expectations for the coming year now sit just 0.1 points lower than that, having fallen 0.8 points to 89.9.
Regardless of the indications of recovery, some pessimism lingers, suggesting that we still have some troubled waters ahead. Some 82% of Britons believe that the country will be in either recession or depression within a year, which is the same level we saw back in June.
Oliver Rowe, Director of Reputation Research at YouGov, said:
"The shape of the recovery is slowly coalescing into a V, with the high street waking from its slumber. But there is still much to be wary of. Job security is weak and the extent to which the Government's furlough scheme is propping this up is yet to be revealed. Whether we've seen the bottom of the dip is not yet certain."
Kay Neufeld, Head of Macroeconomics at the Centre for Economics and Business Research, said:
"Under the current challenging economic conditions, it is once again the UK consumer who is the driver of the economic recovery as evidenced by the bounce back in retail sales and now also the return to positive consumer confidence in July. The boost from own home values is in line with our forecasts which show UK house prices to show some greater resilience until Q4 2020 though more severe price falls are still on the cards for the next year. The increase in perceived business activity is, in turn, an encouraging sign that the re-opening of the economy is on track. Nevertheless, the fact that 82% of consumers expect the economy to be in recession within a year underlines that Britons are aware of the challenge still ahead of us."