Brits planning to buy within the next year say the coronavirus crisis has changed their priorities, with outdoor space and home offices now more important
Months of lockdown and fears over a second coronavirus wave have prompted Britons looking to buy a new home within the next year to re-evaluate their priorities. A third of buyers (32%) say the pandemic has made having a garden more important to them – the largest increase in the survey.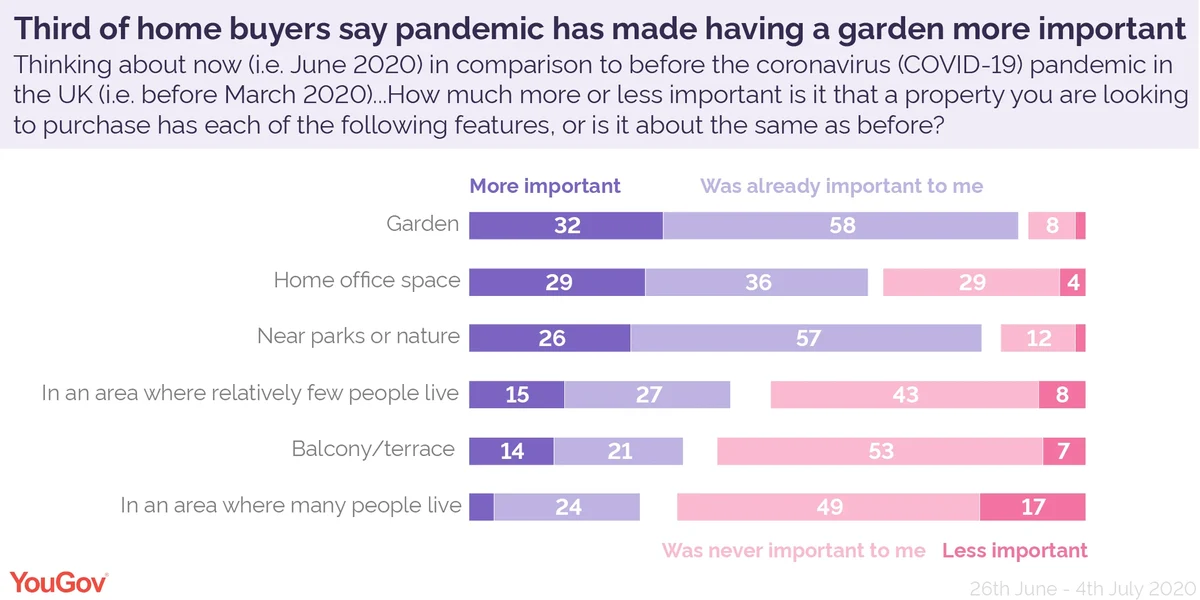 One in seven buyers (14%) also now see a balcony or terrace as more important. This figure is higher among first-timers (18%) who tend to have less spending power than people who already own a property (11%).
Home office space more in demand
With many workers still unable to return to offices, having a suitable workspace at home has taken on new significance. Three in ten buyers (29%) say the pandemic has made it a greater priority - the second largest jump.
The figure is even higher among buyers with young kids aged four and below (37%). First-time buyers are also more likely to prioritise office space as a result of the pandemic (37%) than existing home-owners looking to buy (23%).
A separate YouGov article found that first-time buyers are more likely than the average person to have benefitted financially from the pandemic, which could imply many have been able to work from home and save more during lockdown.
Buyers seek out nature and are less bothered about cities
A quarter of Brits planning to buy (26%) are seeking more green space as a result of the pandemic. There is also some evidence that city-dwellers are longing for the quiet life, with one in six buyers (17%) saying finding a property in an area where many people live has become less important. Only 4% disagree.
Meanwhile, 15% of buyers say purchasing a home in an area with relatively few people is now a greater priority, while 8% say the opposite. This is more popular among homeowners looking to move (18%) than first-time buyers (12%) who are often younger.
Similarly, a fifth of homeowners planning to buy say it's now less important to live in an area with many people while only 13% of buyers hoping to get on the ladder agree.
See the full results here