How badly is the controversy around the organisation's owner affecting its public perception?
Guilt by association may be a fallacy, but it's also a powerful phenomenon. The Health Lottery, a charity that donates a significant portion of its ticket sale proceeds to local health-related causes, may be a prime example of this.
Richard Desmond, the organisation's mercurial operator, has most recently been at the centre of the Westferry Printworks controversy. The Secretary of State for Housing, Communities and Local Government pushed through approval for a property development for his company after the two sat next to each other at a dinner. In the wake of the controversy, The Labour Party said Desmond was not a "fit and proper person" to run the National Lottery, something he was previously ramping up towards.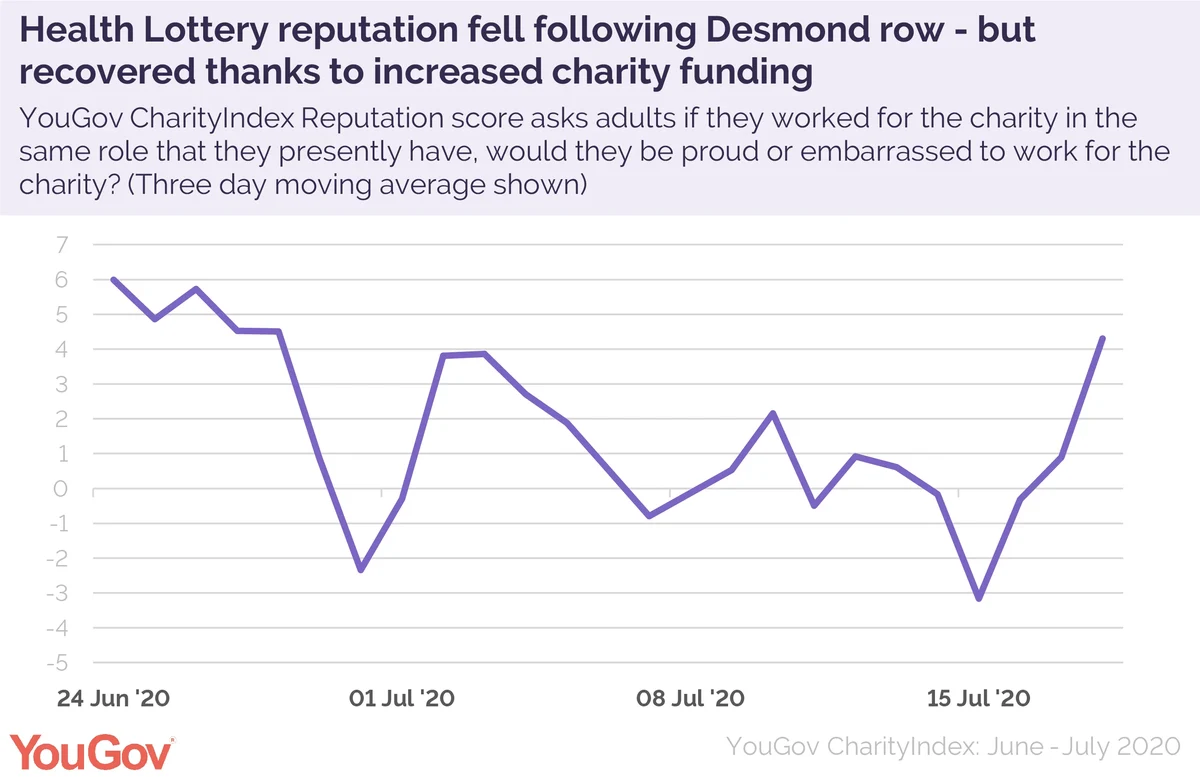 Data from YouGov BrandIndex shows that these recent events may have had an unintended effect for the Health Lottery. On June 24th, its reputation scores were a solid 6, but by June 30th – which was accompanied by a Daily Mail story in which the Health Lottery was mentioned – these scores fell to -2.3. In the period following the publication of a news story about Labour's condemnation of Desmond that mentioned the Health Lottery by name, value scores plummeted from 2.8 to -10.5 and recommendations went from -2.5 to -5.6.
Since the earlier stages of the Desmond/Jenrick row, scores have recovered somewhat. On July 15th, the Health Lottery announced that it would be increasing the proportion of ticket sales that go to charity from 20% to 25%, and as a result, its reputation scores rose from -3.2 to 4.3 in three days (15/07 – 18/07). Satisfaction scores also climbed from 0.1 to 3.5 over the same period.
So it's not all bad news for the Health Lottery, but it may benefit from their boss staying out of the spotlight for a little while. With the bidding for the National Lottery franchise heating up – and with Desmond still in the running – that may be a faint hope.