The challenger bank's BrandIndex scores fell across several key metrics following a 40% drop in valuation – and Tom Blomfield's transition from company CEO to President
Earlier this year we published research indicating that challenger banks faced an uphill battle in the UK – with awareness, uptake, and intent to switch all suffering in comparison to the major players in the sector. The COVID-19 pandemic has only intensified this struggle, as brands that expected to continue growing are now forced to reckon with the economic effects of a public health crisis.
Monzo may well exemplify this struggle. The impact of the pandemic so far has included mass layoffs, a down round that saw the company take a 40% hit to its overall valuation – and a decline in BrandIndex scores across several key metrics.
After redundancies were announced on June 4th, Monzo's reputation halved within a week: going from 9.1 to 4.4. And if the week started badly, it got worse as it went along following reports on June 6th that customers were being locked out of their accounts. These factors contributed to a serious dip in the bank's recommendation scores: from 8.9 to 2.7.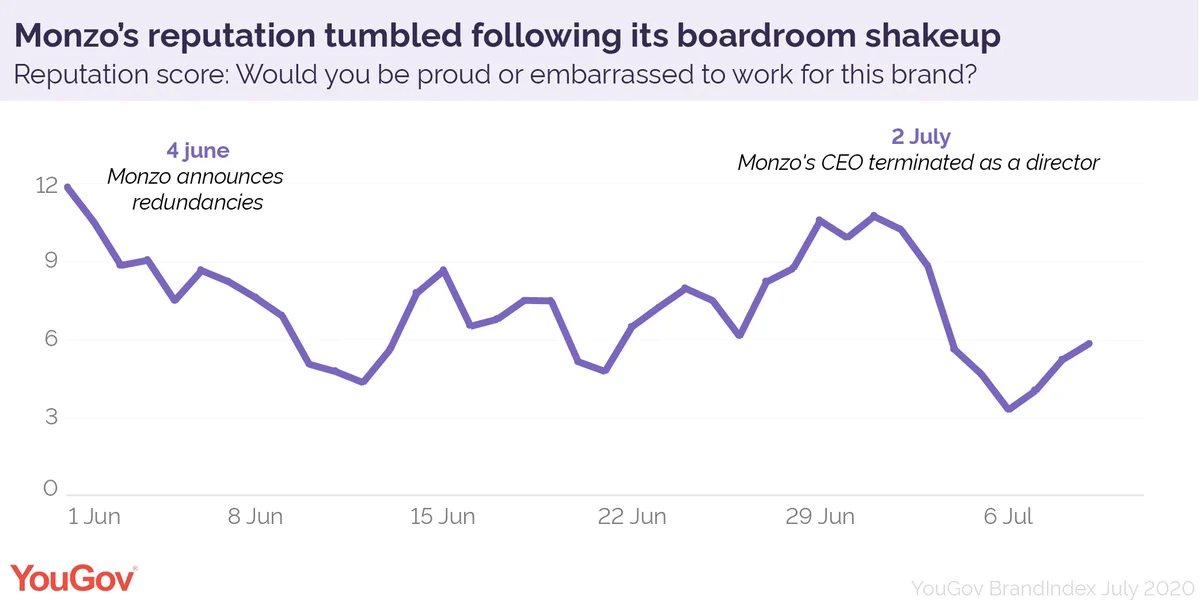 These scores steadily recovered – until it was announced that Tom Blomfield would be stepping down from the company board.
Has boardroom upheaval had commercial consequences for Monzo?
Challenger banks are closely identified with their leaders in a way that traditional banks are not. It's a difference that the app-based providers frequently use to their advantage: a media story about Starling Bank or Revolut, for example, will often be accompanied by a picture of Anne Boden or Nikolai Storonsky. This raises the difficult question of what happens when these driving personalities move on.
For Monzo, Blomfield's departure from the boardroom has had a clear impact. Following media reports that the well-known former CEO would be terminated as a company director, its reputation quickly fell again from 10.2 to a low of 3.3 on July 6th (before rebounding to 5.5 by July 9th), while recommendations fell from 9.1 to 1.5 (also recovering to hit 5.5 by July 9th).
This could have been a by-product of how the media reported this particular story: that Blomfield would be stepping down was known since May, and he is transitioning to the role of "President" rather than leaving the company outright.
But the confusion of this executive upheaval – and how it was communicated – appears to have also had commercial consequences: purchase intent also fell from 4.2 to 0.4 by July 6th (though it regained some ground to hit 2.0 by July 9th) while consideration scores hit a high of 12.0 (July 3rd) only to tumble to a nadir of 6.1 by July 6th.
The recent shakeup will be particularly concerning given the uphill battle challenger banks already face: YouGov's data also indicates that 64% of consumers would only use an established and recognised provider.