Brits who were already struggling to keep up with bills have taken a big blow from the coronavirus crisis, with one in six (16%) defaulting on all regular payments – but others are better off than ever
On the surface many Britons' finances have improved during lockdown; with shops, cafes and bars shut it's hard for some to spend disposable income. The number of people who can keep up with their bills and credit commitments actually increased to 60% in May, up from 47% in February.
Meanwhile, the proportion who struggle from time to time dropped by eight points, and those who consistently battle to keep up with bills - the financially distressed - fell by five points. These are the lowest figures we have recorded.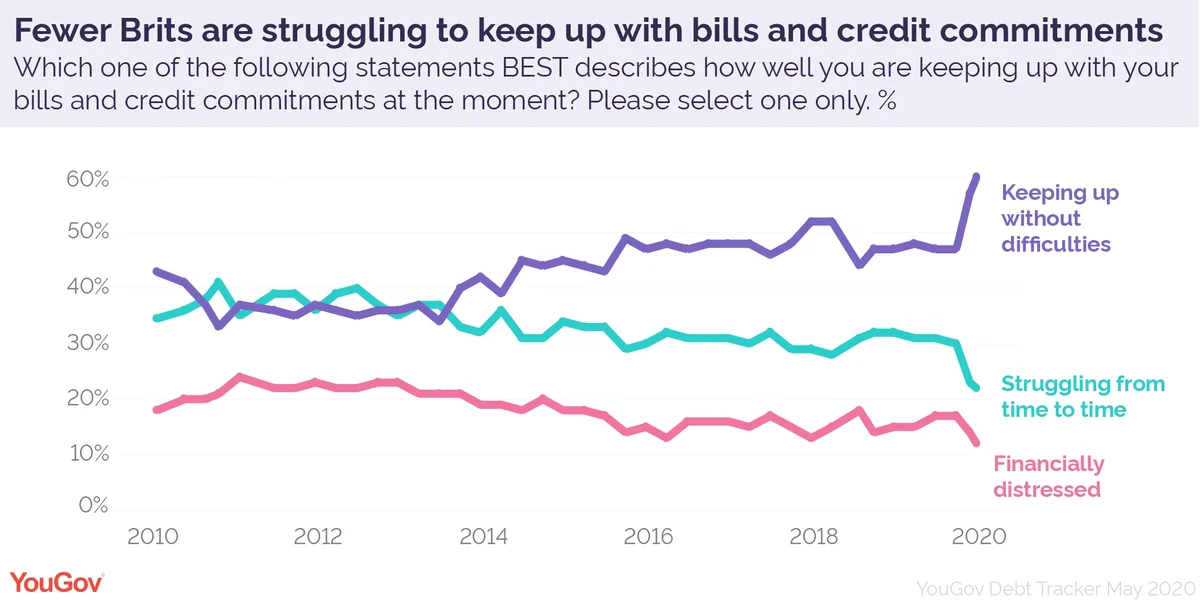 Financially distressed workers more likely to lose income
But the coronavirus crisis is no great leveller. A closer look reveals that while a minority are paying off debts and saving more than usual, those with existing financial difficulties are now in an even worse position.
Financially distressed workers are more likely to have experienced a change in their employment during the COVID-19 pandemic – and therefore their income. Only a third are working from home or as normal (33%), compared with 58% of all workers.
And while a fifth of all workers (20%) are furloughed, this figure rises to 29% among the already financially distressed, meaning they're at greater risk of redundancy in coming months.
Half of all workers have lost some of their income as a result of the coronavirus crisis – up from 39% in April. Among financially distressed employees nearly four out of five (77%) say the same.
And there's more bad news. Already struggling workers, who are now earning less, have also lost a greater share of their income, at 63%. This compares to 57% among all staff who have lost some of their income.
With many Brits seeing a reduction in their pay, growing numbers of people are likely to become financially distressed as the furlough scheme winds down.
People working from home more likely to say their finances have improved
The pandemic has affected people very differently depending on their situation. Among all Brits, a small minority (14%) say it's been positive, while a third (34%) say they've been negatively affected. About half have felt no impact.
But people who work remotely are more likely to say their finances have been positively affected (27%) than negatively (22%). A third say the pandemic has improved their disposable income (35%), a quarter have saved more (27%) and one in seven paid down debts (14%).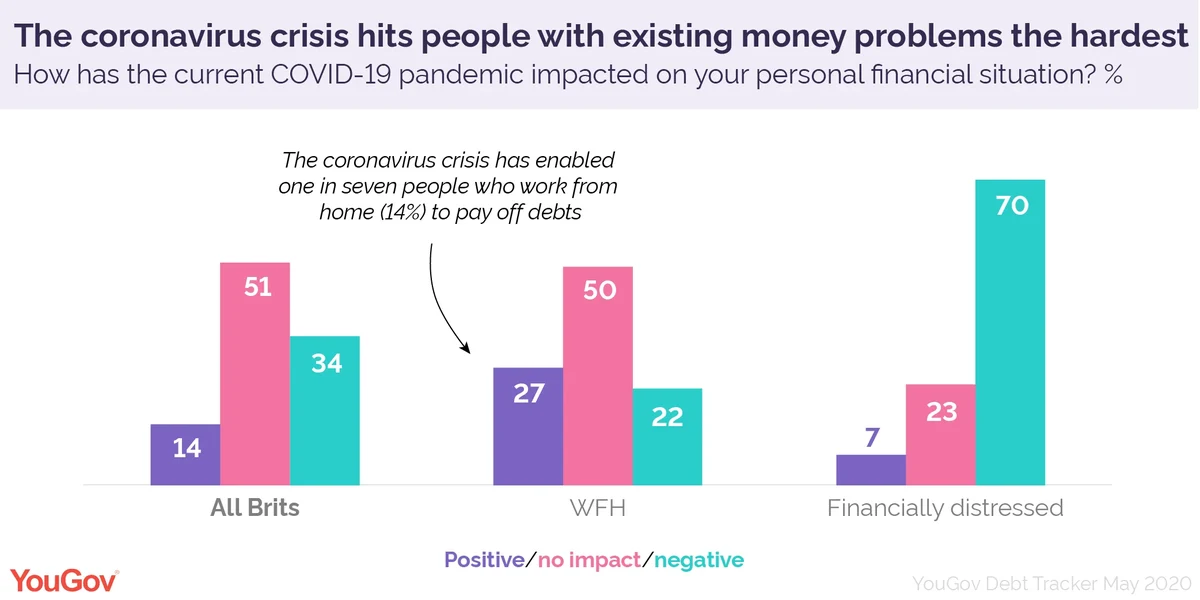 The numbers stand in stark contrast to how the crisis has affected financially distressed Brits. Only one in fourteen (7%) have felt a positive impact, while the overwhelming majority (70%) report their finances being negatively affected. This includes a third (32%) who say the impact has been 'very' negative.
Three in five financially distressed people (59%) say their debts have increased as a result, while over half (54%) say the coronavirus crisis has negatively impacted their savings.
A quarter have borrowed money from family or friends (26%), and a similar number have dipped into emergency savings (23%). Some 16% have not been able to pay any regular bills or payments. And 12% say they don't think their finances will ever recover.
Financially distressed people are also more likely to keep their debts secret. Two in five say they hide some or all of it from close family (39% versus 18% of all Brits). And one in six keep their debts from their partner (16% versus 6% of all Brits).
People with financial difficulties face increased mental health struggles
Many Brits say their mental (53%) and physical health (40%) has declined because of the pandemic. Only a small minority report a positive impact mentally (7%), while a slightly larger number say their physical health has improved (17%).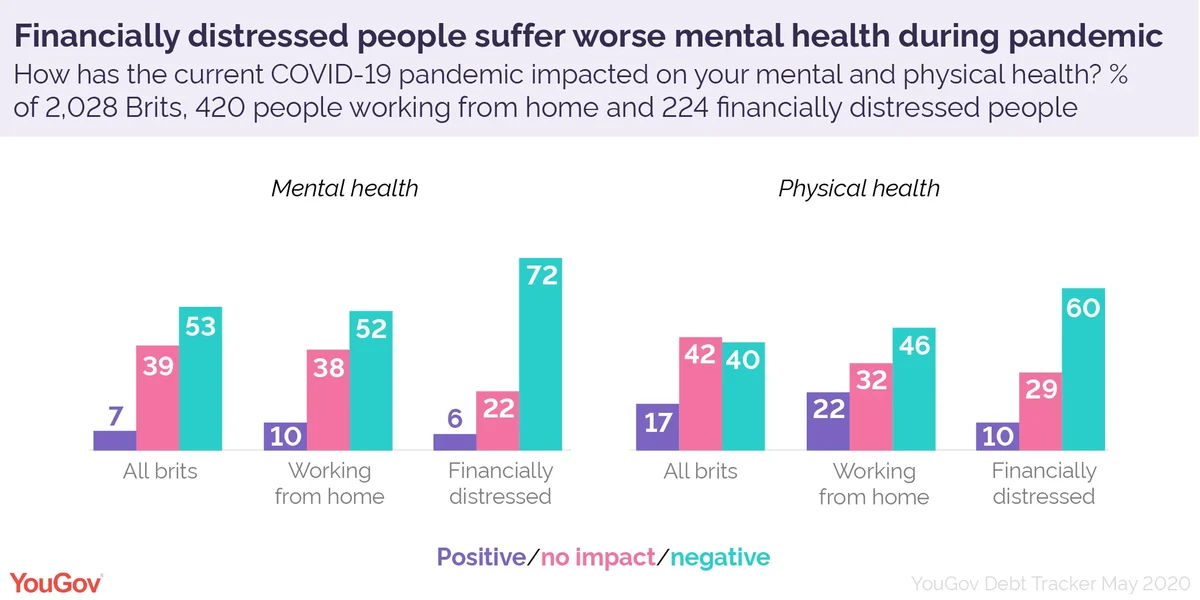 The negative figures are much higher among financially distressed people. Seven in ten (72%) say the pandemic has been detrimental to their mental health, including 29% who say it's had a 'very' negative impact. Similarly, 60% say it has taken a toll on their physical health.
While people who work from home are more likely to say their financial situation has improved during the pandemic, the impact on their mental health is in line with the national average.
A higher number say their physical health has improved at 22% compared with 17% among all Brits. But at 46%, people who work from home are also more likely than average to say the pandemic has negatively impacted their physical wellbeing.