Furloughed workers are more anxious about their finances than other Brits, with two in five (39%) worrying about affording food and other essentials
A fifth (19%) of British workers are currently on the Government's COVID-19 furlough scheme, while a quarter are going to work as normal (24%) and a third are still working, but from home (32%). New figures from YouGov's Debt Tracker show that financial anxiety is highest of all among the furloughed staff.
Two thirds of furloughed workers are either fairly (38%) or very (27%) worried about losing their job. In comparison, only around a quarter of people who are still working as normal or from home just over a quarter are either fairly (19%) or very worried (8%).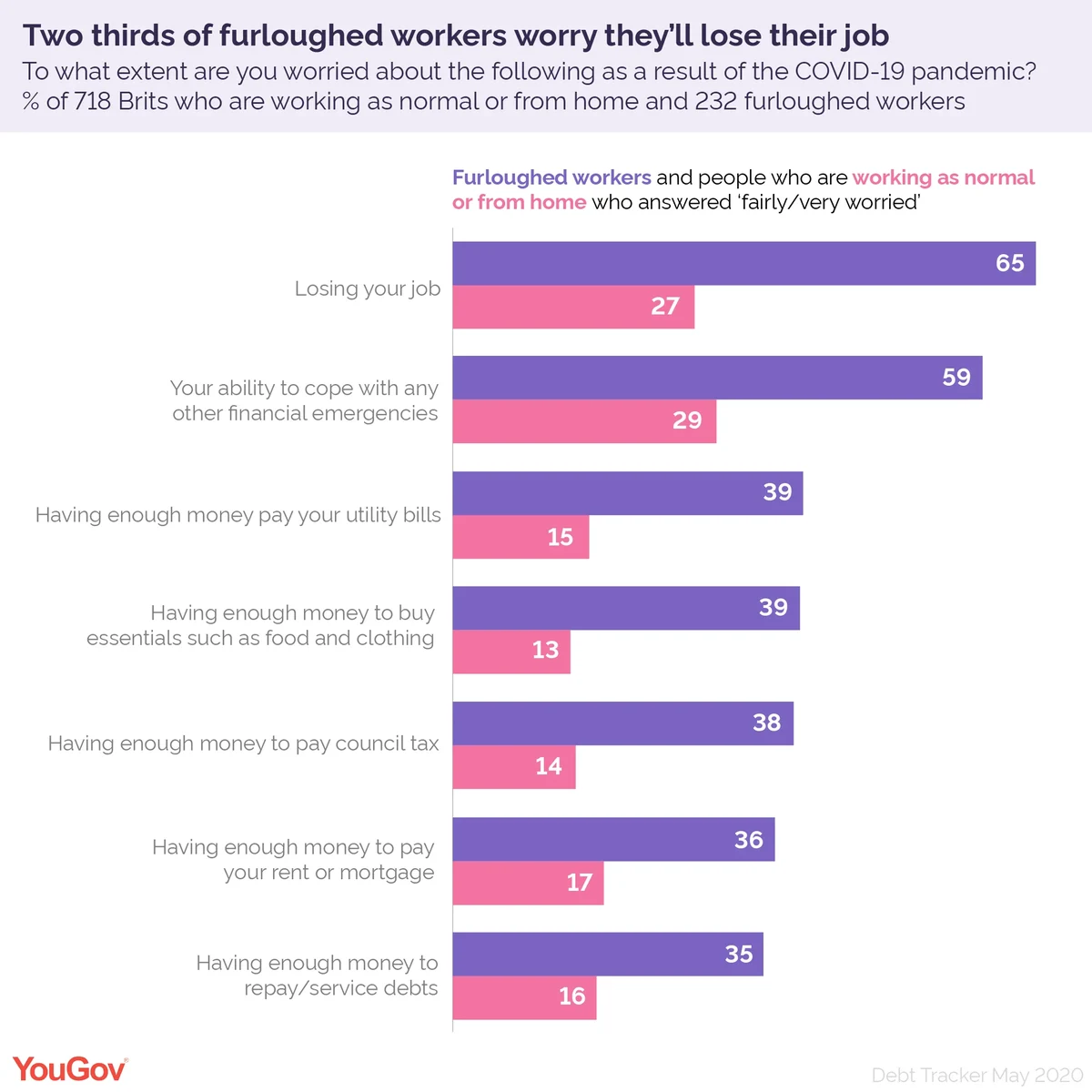 A majority of furloughed workers (59%) are concerned about their ability to cope with a financial emergency, such as the boiler breaking or needing to repair their car. The figure is twice as high as among those working as normal or from home (29%).
Furloughed workers are also more worried about falling behind on their utility bills (39% versus 15% of people working as normal or from home) or struggling to afford essentials like food (39% versus 13%).
Paying council tax (38%), affording rent or mortgage repayments (36%) and defaulting on debts (35%) are also common concerns among furloughed workers.
Furloughed workers' financial anxieties, which are in every instance over twice as high as among those going to work or working from home, bode badly for when the Government's scheme ends in October.
The figures coincide with the OECD's gloomy prediction that the UK economy will suffer the most from the coronavirus crisis among all advanced economies.
Brits are generally feeling anxious about the future
Among all Brits significant numbers also worry about their finances because of the coronavirus. Two in five of all workers (39%) are scared they'll lose their job, while 35% of all Brits fear not coping with unexpected expenses.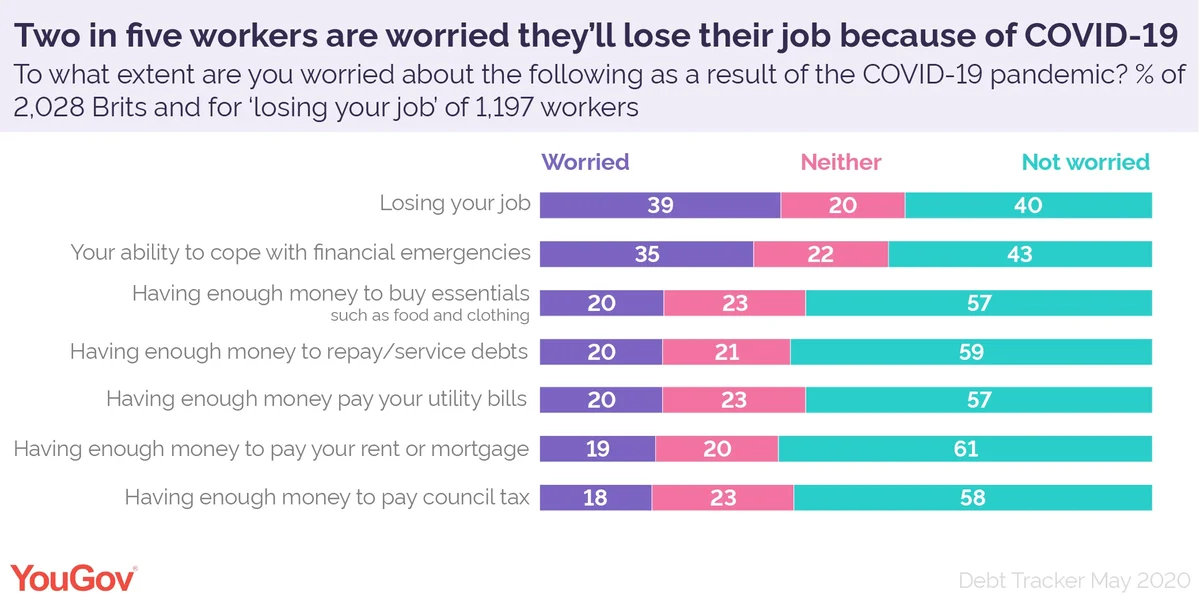 A fifth of the public are concerned about not having enough money for essentials like food and clothing, not being able to pay off debts or affording for utilities.
And similar numbers worry about being able to pay rent or their mortgage (19%) or their utility bills (18%).
The outlook is getting bleaker
Britons' financial expectations have dipped since lockdown, with a higher number now expecting their situation to worsen in the next twelve months.
In February, over a quarter of people felt optimistic (27%) while a slightly lower figure had a negative outlook (23%). In contrast, the most recent figures from May show that nearly three in ten think their financial situation will decline (29%), while fewer people feel positive (22%).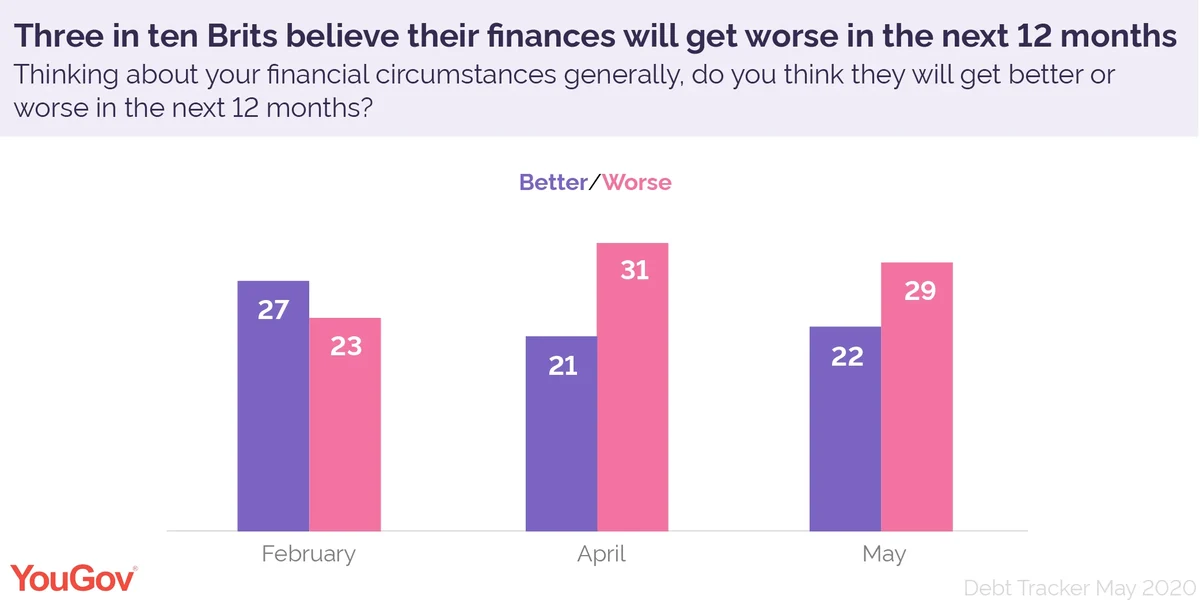 Half of Brits have so far escaped any financial impact from the coronavirus crisis, while a third (34%) have been negatively affected and a minority have benefitted (14%).
Among those who are worse off, a majority (54%) believe it will take at least a year to recover, including 6% who believe the impact be permanent.
In contrast, most people who say the coronavirus crisis has had a positive effect believe it will be short-lived. A fifth believe it will last a few weeks while 40% say a few months.