The Swedish flat-pack giant was open for online orders throughout lockdown, but huge lines formed when the chain reopened its doors in England this month
While non-essential shops had to wait until June 15th, IKEA threw open its doors on June 1st after voluntarily closing in early March due to COVID-19. In-store social-distancing wardens and limits on the number of shoppers did not deter Brits from returning, and snaking queues filled the car parks.
This positive start is backed up by our data; IKEA's Word of Mouth score (whether someone has talked about the brand with friends and family in the last two weeks) has risen strongly among Britons since stores reopened, climbing 8.4 percentage points from 18.6% to 25.1%.
This increase in Word of Mouth score is even greater among English adults who've moved house or brought a new home in the last 12 months. Among this group, those who say they've talked about IKEA in the last fortnight rose from 19.7% on June 1st to 31.4% on June 15th – an increase of 11.7 percentage points in just 15 days.
Will this translate into sales, though? IKEA remained open for online orders during lockdown and our data shows that the brands Consideration score (whether someone would consider purchasing from the brand in future) remained constant for adults across the UK, suggesting that the retailer didn't lose out, despite store closures.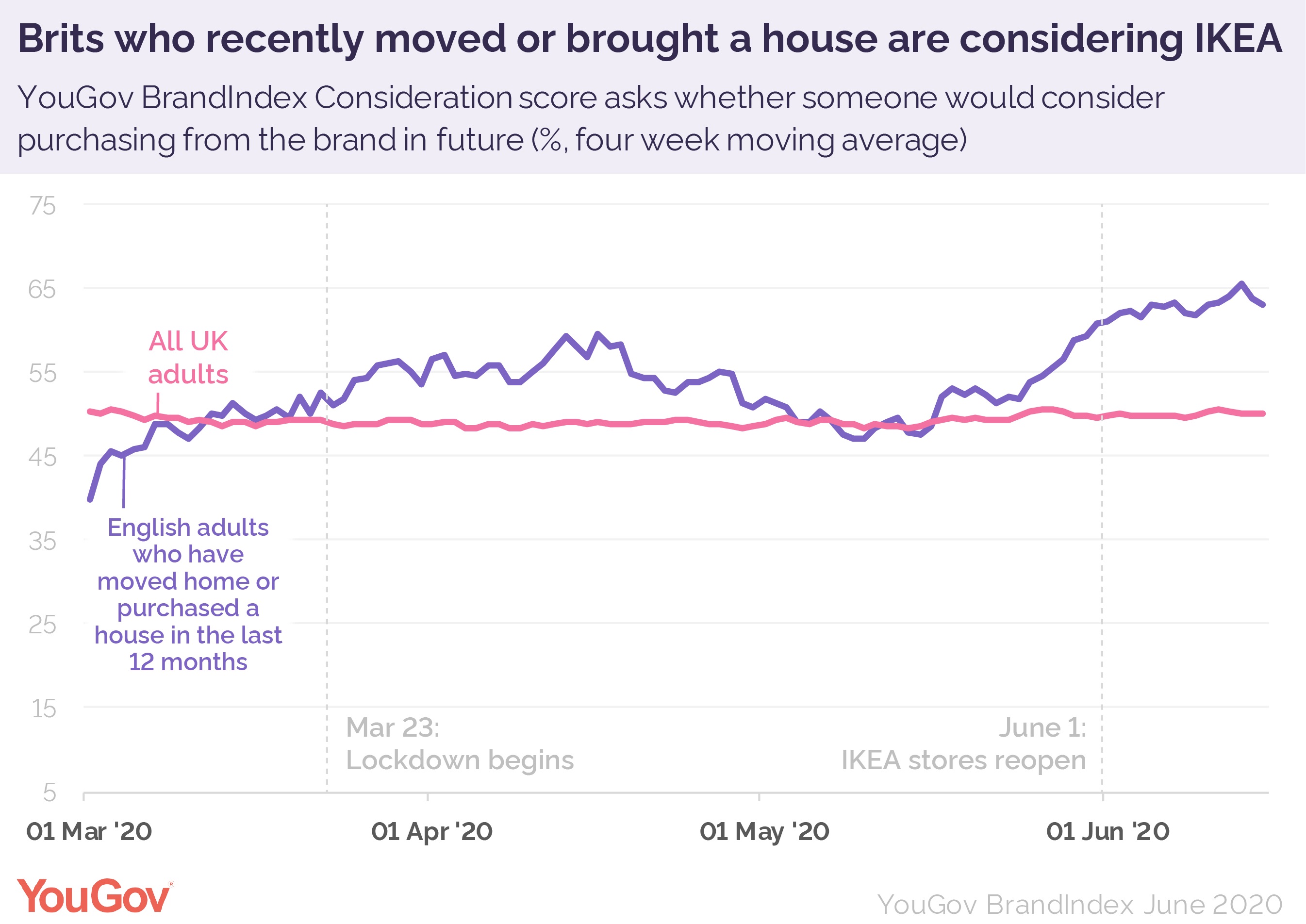 Click to enlarge
However, once again, new home-makers are keen to get their hands on IKEA's goods. Among this group IKEA's Consideration score has risen over 16 percentage points since its lowest point during lockdown on May 9th.
These results aren't too surprising – given that in early May, a YouGov EuroTrack survey of seven European countries revealed that 60% of Brits already own at least one item from IKEA.
Learn more about YouGov BrandIndex here