The coronavirus crisis has taken a toll on critical workers' mental health, with nearly half saying they've experienced anxiety as a result of their work
Working during the pandemic has caused a decline in mental health for essential workers such as teachers, doctors and delivery drivers, according to the latest YouGov research.
Feeling stressed (49%), anxious (47%) and having sleeping problems (37%) are the most common issues. A third of key workers struggle to concentrate (34%), while three in ten feel angry (29%) and a quarter hopeless (25%).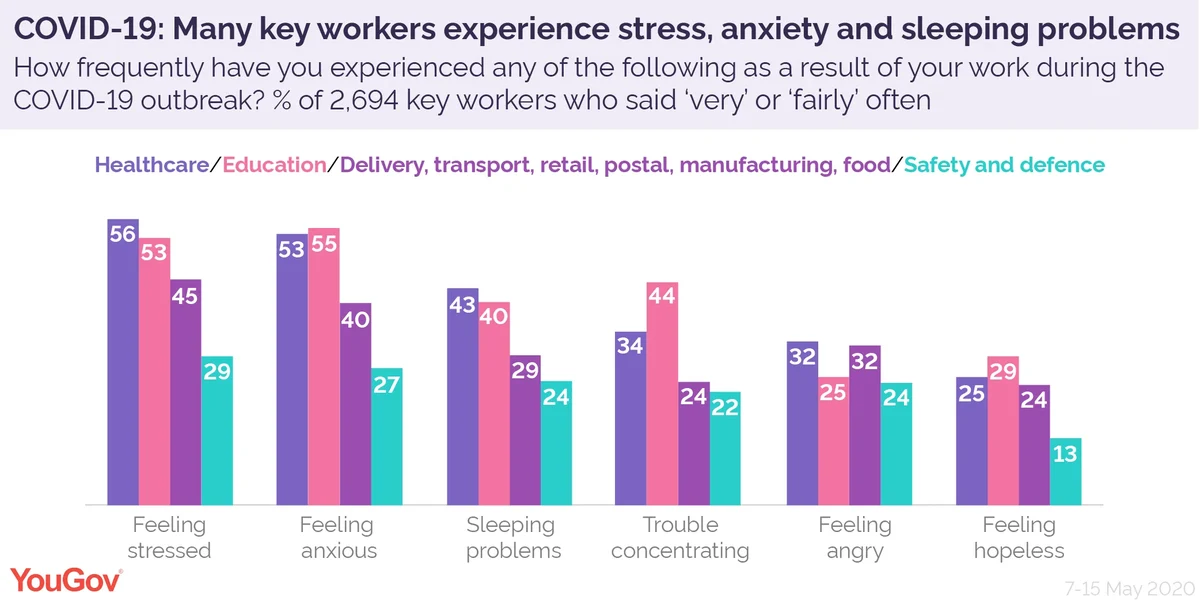 Doctors, nurses and other healthcare staff score highest on stress (56%), sleeping problems (43%) and feelings of anger (32%), and about half have also felt anxious (53%).
Education workers are the most likely to suffer from anxiety (55%), struggling to concentrate (44%) and feeling hopeless (29%) while working during COVID-19. Many also feel stressed (53%) and have sleeping problems (40%).
People who work in sectors like retail, transport and delivery fare a bit better but the figures still make bleak reading. Over two in five have felt stressed (45%), and 40% say they've been anxious. A third have also felt angry which, together with healthcare, is the most of any sector.
Safety and defence employees, which include prison guards and police officers, are the least likely to have suffered mental health problems from working during the coronavirus outbreak. Three in ten have felt stressed, while about a quarter say they've been anxious (27%), angry (24%) or struggled to sleep (24%).
Delivery, retail and transport workers' workloads have increased the most
Workers in delivery, transport, retail, postal, manufacturing and food have seen the largest rise in assignments since lockdown started in March. Over two in five (45%) say their workload has increased, including a fifth (21%) who say it's gone up by a lot. Three in ten say they've had less on during the pandemic.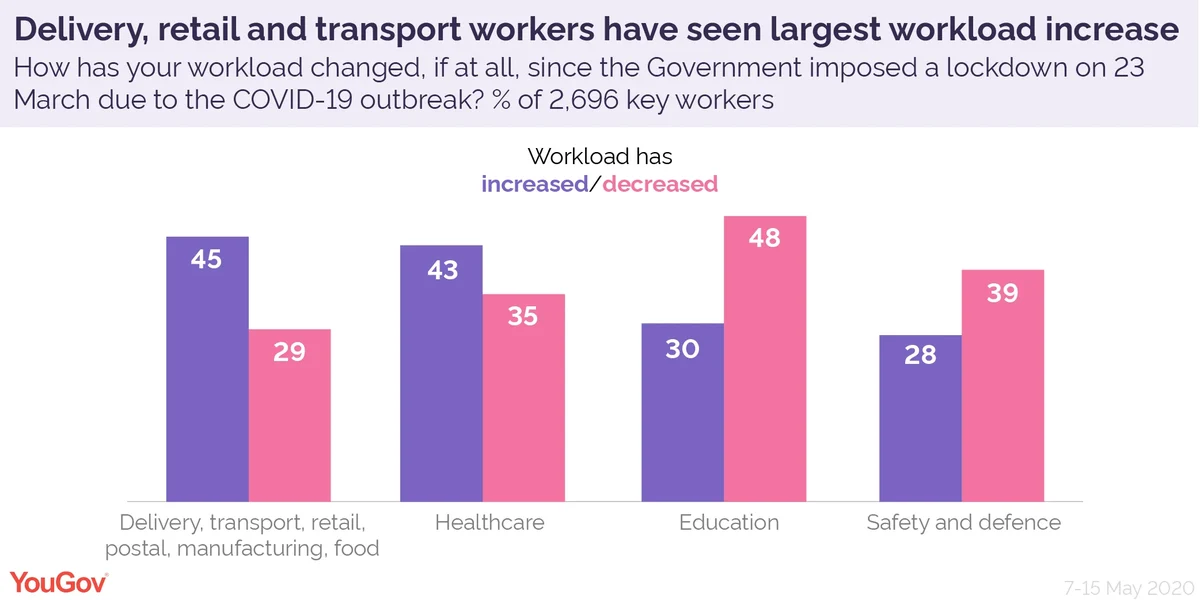 Many healthcare professionals, who report the highest levels of stress during the pandemic, also say their duties have increased somewhat (26%) or by a lot (17%). However, in line with stories about people avoiding hospitals for fear of coronavirus, a third (35%) say they've had less to do.
Nearly half of teachers and other education staff have been less busy as most pupils remain at home, although three in ten workers say their workload has gone up.
Among police officers, security guards and prison workers, two in five have had fewer duties. This may be related to crime dropping sharply at the height of lockdown. Some 28% say they've had more on their plate – the lowest among all critical workers.