Spending on direct marketing, events and sales promotions slashed as companies cut costs during COVID-19 crisis
Kraft Heinz and Procter & Gamble recently indicated that they might increase their respective marketing spends in an attempt to build "momentum" and invest in their brands during the COVID-19 lockdown. At a time of widespread cost-cutting, job losses and reduced economic activity, it's an approach that might be considered unorthodox – especially given global budget cuts that occurred as recently as August 2019.
Data from YouGov Business Omnibus suggests that firms which are increasing their marketing outlay are the exception rather than the rule. In a recent poll of marketing decision-makers, half (50%) said their spend had decreased with a third (35%) saying they were spending "much less". Only 13% are paying for more marketing and advertising.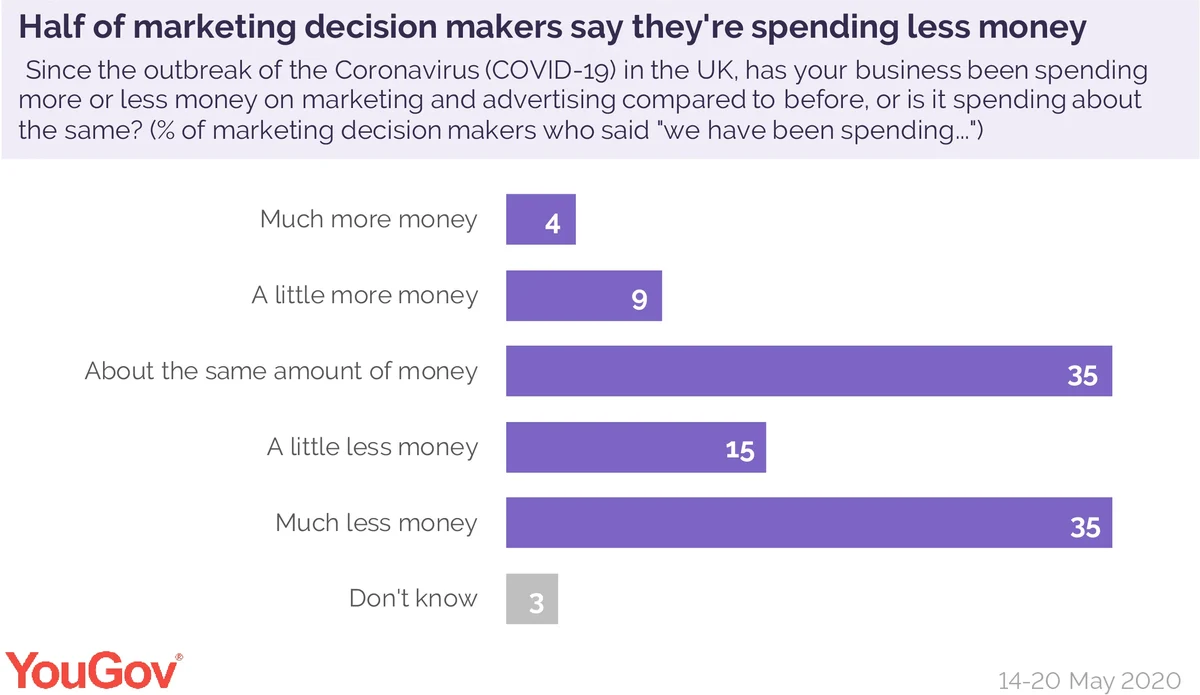 Two-thirds (65%) of decision-makers surveyed said their priorities have changed as a result of the pandemic, with three in ten (30%) saying they have been significantly altered. In terms of how this has changed their day to day marketing, half (50%) of those who are spending less have seen cuts to events – unsurprisingly, given the government's moratorium on large gatherings – and direct marketing (52%), while 42% have limited spending on sales promotions. The latter two activities may be declining in tandem with consumer confidence; if people are less optimistic about their financial situation, they're less likely to embrace the hard sell. Two in five of these marketing decision-makers (40%) are limiting their digital activities while 37% have reduced main media advertising.
When asked why their companies are spending less, over half (53%) of those who've seen budget cuts cite reduced spending across the business due to COVID-19, 37% say marketing's resources have been redistributed to other parts of the business, and a fifth (19%) say the marketing team has been specifically targeted for cuts.
Marketing decision-makers also report some change to the performance of their campaigns. Three in ten (29%) say they've been less effective during the coronavirus outbreak, while only 17% have taken advantage of the new normal and seen an improvement in campaign performance. A third (35%) have noticed no difference and a fifth (20%) claim they don't know either way.