Partial recovery of 3 points negligible after quarterly drop of 14.8
Business activity for May 14.4 points lower than May 2019
Six of eight constituent metrics rose during May; five remain in negative territory and all are below where they were a year ago
Unprecedented measures to slow the spread of COVID-19 caused a huge slump in consumer confidence during March and April. Figures for May reveal a slight rebound, but Britons remain firmly pessimistic.
The latest analysis from YouGov and the Centre for Economics andd Business Research shows that the consumer confidence index rose 3 points to 95.8 this month. But the uptick does little to offset the tremendous cumulative 14.8 point drop over the prior three months. If we disregard last month's figure for a moment, consumer confidence is still at a low not seen since January 2013 (94.5).
Any score over 100 means consumers are more confident than unconfident, so Britain remains mired into negative territory as the British death toll continues to rise and no clear end date for the lockdown is apparent. Bold measures from the Treasury to shore-up businesses and protect jobs have failed to steer the economy back to optimism.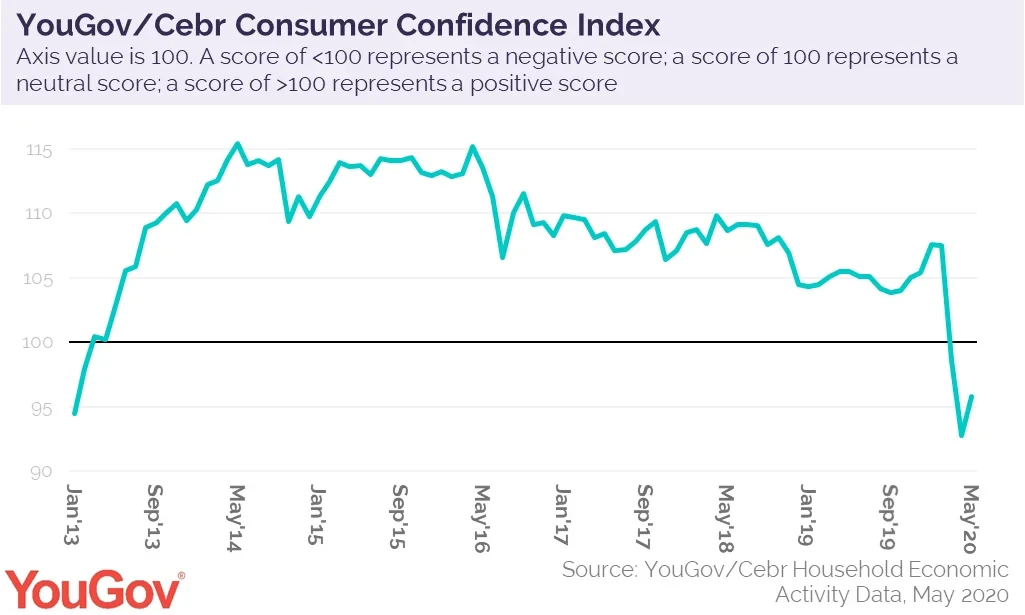 YouGov collects consumer confidence data every day, conducting over 6,000 interviews a month. Respondents are asked about household finances, property prices, job security and business activity, both over the past 30 days and looking ahead to the next 12 months.
During May six of these eight constituent metrics rose however five remained below 100 and all are below where they were a year ago.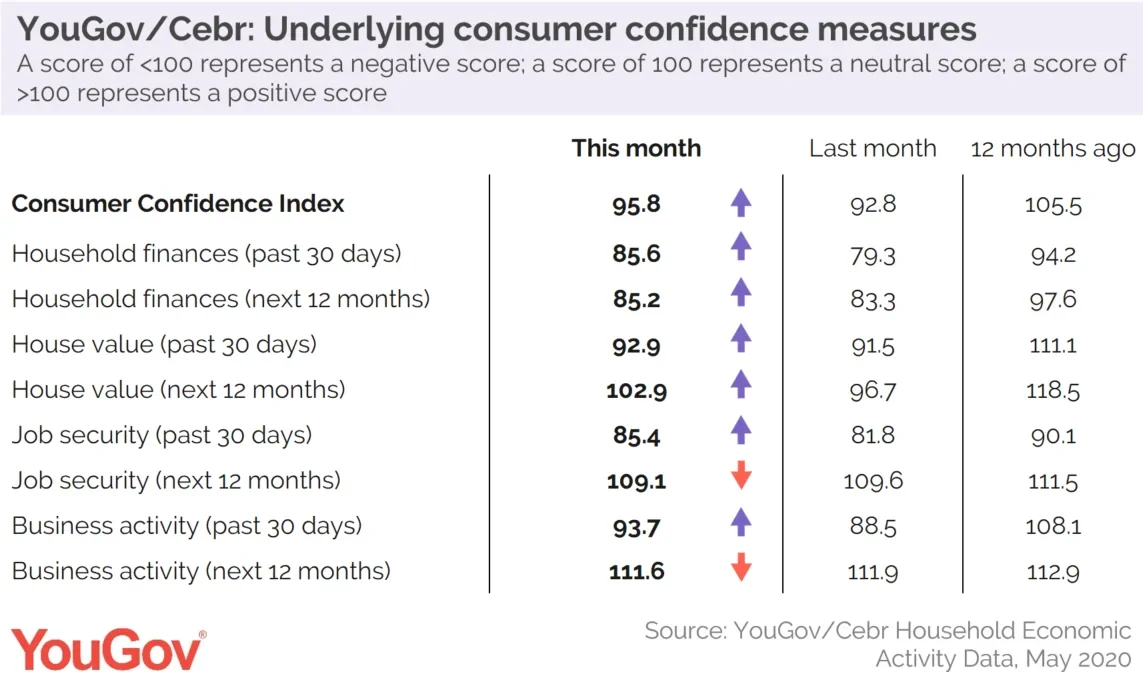 Surprisingly, given the economic impact of the lockdown, business activity over the last month has risen 5.2 points - but remains negative at 93.7. Meanwhile, expectations for the coming year were down marginally by 0.2 but remain strongly optimistic at 111.6.
Job security over the last 30 days has also risen 3.6 points to 85.4. Despite the increase this still sits well inside negative territory, but shows that perhaps the Government's furlough scheme has had some small effect on confidence. The outlook for the coming year is down 0.5 points but sits well into positive territory at 109.1. This metric has not been negative, in fact, since January 2013 - a time when the overall consumer confidence metric was also at a low of 94.5.
Data around home values has also seen a rise this month. Estimates of home prices over the last 30 days is up 1.5 points to a still-negative 92.9, but expectations for the coming year are up by a huge 6.2 points to return to positive territory of 102.9.
Confidence about household finances are also rising, but remain at an extremely low point. Feelings about finances over the last 30 days were up 6.3 points but still sit at only 85.6, while estimates for the coming year rose more modestly by 1.9 points to sit at a similar level of 85.2.
Oliver Rowe, Director of Reputation Research at YouGov, said:
"The recent collapse in consumer confidence has stopped for now. Indeed the slight improvement this month will doubtless offer many businesses a glimmer of hope. However an awful lot of uncertainty remains and there is still trepidation about the economy, with Britons remaining concerned about their household finances in particular. This isn't yet time to celebrate but the easing of lockdown seems to have brought a little improvement in confidence for some though it remains negative overall."
Kay Neufeld, Head of Macroeconomics at the Centre for Economics and Business Research, said:
"In May, the headline consumer confidence index remained firmly in negative territory, despite rising at the fastest pace in almost four years. The uptick in consumer confidence is in line with the broader economic picture which seems to have passed the nadir of the crisis in April. The downward trend in new coronavirus infections and the cautious easing of restrictions have led businesses and consumers alike to take a slightly less negative view about the future. Nevertheless, the coming months will be crucial in determining whether the economy can stage a relatively fast comeback or if we are just at the beginning of a longer, drawn-out crisis. There are still plenty of pitfalls to manage not least the question about how much long-term damage the UK labour market has taken."