N26 is leaving the UK market on April 15 - less than 18 months after its initial nationwide launch. The German challenger bank says that it will no longer be able to operate in the country with its European banking licence after Brexit.
Alongside coronavirus, leaving the EU may well have implications for the financial services sector. But it's worth examining other reasons why challengers might find the UK a particularly difficult market.
Some app-based providers believe that consumers are frustrated with the outdated services of a "dying industry". But recent YouGov research suggests that only 4.8% of Brits say they intend to switch their current accounts in the next 12 months, and evidence suggests that far fewer will actually go on to do so: just 1.4% have changed providers in the last year.
So why aren't consumers particularly motivated to make the jump? Our data reveals that Brits aren't generally aware of neobanks, aren't overly unhappy with 'legacy' banks – and in any case, aren't necessarily inclined to trust the new kids on the block.
Consumer awareness is low
Challenger banks are spending heavily on marketing and advertising campaigns, but our data suggests that this investment is yet to translate into mass awareness or switching intent. When asked, only 9% of Brits could name any challenger bank at all. The best performing brand in terms of spontaneous awareness was Monzo, which was recalled by 5% of respondents.
Prompted brand awareness is considerably higher. Monzo is recognised by over a third of the public (36% vs. 5% spontanteous), Starling is recognised by three in ten (29% versus 3% spontaneous), and Revolut is recognised by 15% (versus 1% spontaneous). However, consideration is significantly lower (Monzo 18%; Starling 12%; Revolut 8%) than awareness – and of course, there's no guarantee that consideration will translate into consumer adoption.
Traditional bank customers aren't overly unhappy
Beyond awareness, a more important concern for challengers is that more consumers are happy with their banks than not.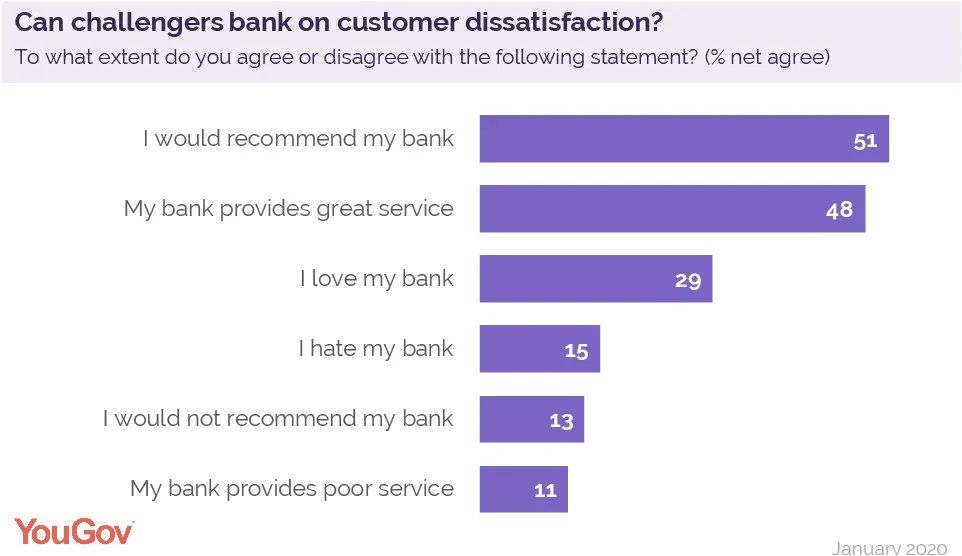 Right now, the evidence doesn't suggest that most Brits are crying out for alternatives. Almost half (48%) say their current provider provides great service versus 11% who say it provides poor service; half (51%) would recommend their current bank versus 13% who wouldn't; and three in ten consumers (29%) say they love their bank versus 15% who say they hate it.
The dissatisfied minority may certainly represent an opportunity for challengers. But to make the most of it, they'll have to overcome another obstacle: namely, that Brits generally trust their traditional banks – and distrust neobanks.
Most Brits don't trust challenger banks – and do trust traditional banks
When asked, almost seven in ten (68%) said they trust their current bank, and less than a fifth (17%) said that challengers are as reliable and trustworthy as traditional institutions. In general, consumers said they'd prefer to use these traditional institutions over neobanks (47% versus 11%).
We also posed the following hypothetical:
Imagine you are shopping around for a new financial services product and both a traditional bank and a financial services 'challenger' brand were offering exactly the same product. Which one would you prefer to take the product out with?
Almost half (45%) said they would choose the traditional bank and fewer than one in ten (7%) said they would pick the neobank.
For challengers, this creates a significant barrier for prospective customers – but it can also make it harder for current customers to fully commit. A commonly-discussed problem for neobanks is that if their audience is keen on savings pots, bill-splitting, and other useful bells and whistles, they're less keen to deposit their salaries.
As the most well-known challenger bank, Monzo may be a notable example of this tendency. YouGov Profiles data indicates that only a fifth (19%) of recent customers used it as their primary current account. For challengers, the concern may be less that consumers won't like them – after all, Monzo users are the UK's keenest brand advocates – and more that they'll only like them up to a point.
The challenge for challenger banks
Some of our findings are more encouraging for neobanks. For example, three in ten Brits (29%) believe they offer "new and truly innovative" services (versus 17% who disagree) and a quarter (26%) believe they'll revolutionise the banking sector. The data also suggests that younger consumers aged 18 to 34 are more open to using them than the general population.
But overall our research reveals the scope of the challenge for the UK's challenger banks.