Over half expect the British economy to be in recession with a year (52%)
Household finances estimate sees largest ever monthly fall
Consumer confidence falls by 4.2 points; largest drop since 2016
All but one of the eight constituent metrics slump
With many countries on total lockdown and others closing shops, cafes and restaurants to prevent the spread of disease, COVID-19 is having a tremendous downward effect on the global economy. Unprecedented measures from the Treasury to shore-up businesses and protect jobs appear to be doing little to protect consumer confidence, despite adding billions to the nation's debt, according to the latest analysis from YouGov and the Centre for Economics and Business Research.
Now almost three quarters expect that Britain's economy will be in depression (19%) or recession (52%) within a year, and just 1% are able to muster up the optimism to believe that the economy will in fact be booming.
Consumer confidence has slumped 4.2 points to 103.3, charting the biggest monthly fall since the wake of the Brexit referendum in July 2016 and a low not seen since 2013. This is the second consecutive fall, which interrupted a short-lived period of recovery that came after Brexit confusion became clarity following the General Election. While any score over 100 means more consumers are confident than unconfident, we are dangerously close to sliding into negative territory in April unless Government can get to grips with the pandemic.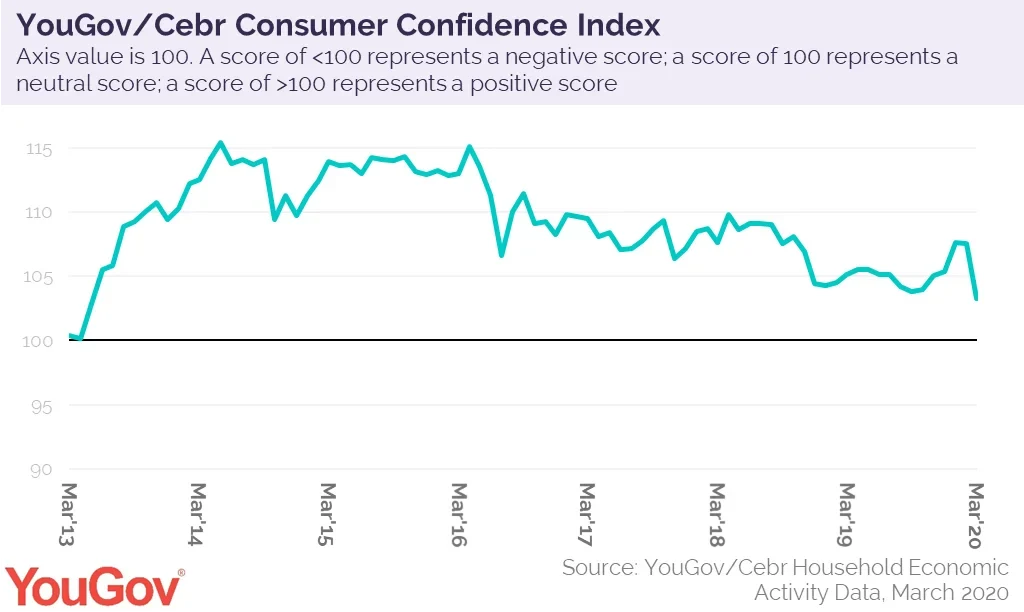 YouGov collects consumer confidence data every day, conducting over 6,000 interviews a month. Respondents are asked about household finances, property prices, job security and business activity, both over the past 30 days and looking ahead to the next 12 months. Over the last month all but one of the eight constituent metrics fell.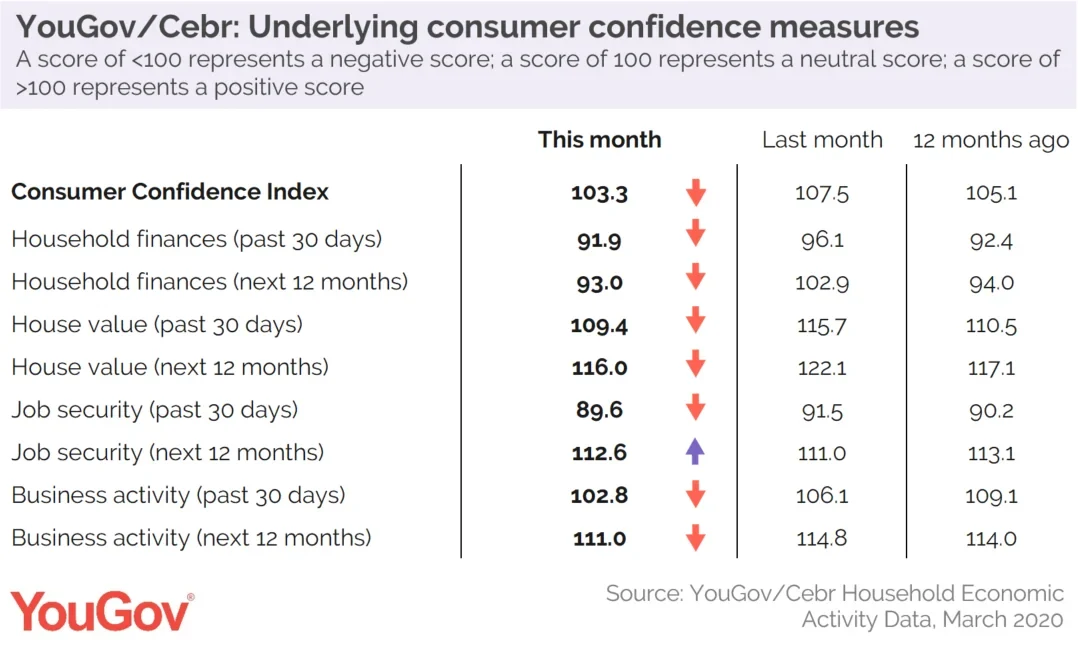 Estimates for business activity over the past month and for the coming year both fell by more than three points, to 102.8 and 111 respectively. The former hitting a low not seen since 2013. Job security over the last 30 days fell by 1.9 points to a two-year low of 89.6. But surprisingly estimates for the coming year rose by 1.6 points to 112.6. Despite this, some 59% expect unemployment to rise during the coming year, with 15% expecting it to climb "a lot".
Home value estimates both dropped by more than six points, but remained in positive territory at 109.4 for the previous month and 116 for the coming year. But the most dramatic fall of all was seen in household finances. The estimate for the previous month dropped 4.2 points further into negative territory, settling at 91.9, but the estimate for the coming year fell by more than any previous month on record: 9.9 points to just 93.
The data also shows that Britons are currently feeling cautious about money, with 49% saying that they would save an unexpected windfall for a later date, and 28% saying they would use it to pay down debts. Just 16% say that they would immediately spend it.
Oliver Rowe, Director of Reputation Research at YouGov, said:
"With unprecedented Government measures to crackdown on the spread of COVID-19 shutting small and large businesses across the country and confining Britons to their homes, it's unsurprising that consumer confidence has been knocked. But with little prospect of a solution in the next couple of months Britons are starting to believe that the economy will slide into recession or depression."
Kay Neufeld, Head of Macroeconomics at the Centre for Economics and Business Research, said:
"The spread of coronavirus has dominated the headlines in recent weeks as Governments across the globe have taken drastic measures to protect their citizens. The data released in the coming days and weeks will show the significant economic costs associated with these measures. Government mandated closures of non-essential shops, pubs, restaurants and other establishments will have a devastating effect on several industries and in particular on the leisure and hospitality sectors. It is now highly likely that the economic crisis will lead to an increase in unemployment and a reduction in household incomes in the coming months, although the Government and the Bank of England are working hard to soften the blow. To limit the economic damage from the crisis, it will be crucial to get the pandemic under control as quickly as possible."