Confidence drops for first time in five months, shedding 0.5 points to 107.1
Three of the eight constituent measures rose, while four dropped
Job security in short and long term badly knocked
After the long-awaited clarity provided by Brexit at the start of the year, February once again felt a little unsteady. Storms Ciara and Dennis brought flooding, coronavirus continued its spread around the globe, Boris Johnson shuffled his Cabinet and Britons waited for the upcoming Budget when they would be able to separate rumour from incoming policy.
Given all this it's unsurprising that consumer confidence wobbled slightly, taking its first drop in five months. The measure of overall confidence in the state of the economy slipped from 107.6 in January to 107.1, according to the latest analysis from YouGov and the Centre for Economics and Business Research.
This is a minor correction though, and certainly does not undo the cumulative rise of 3.8 points we saw over the previous four months. But this buoyant period, in turn, is yet to reverse the long-term downward trend we had been seeing since the EU referendum in 2016.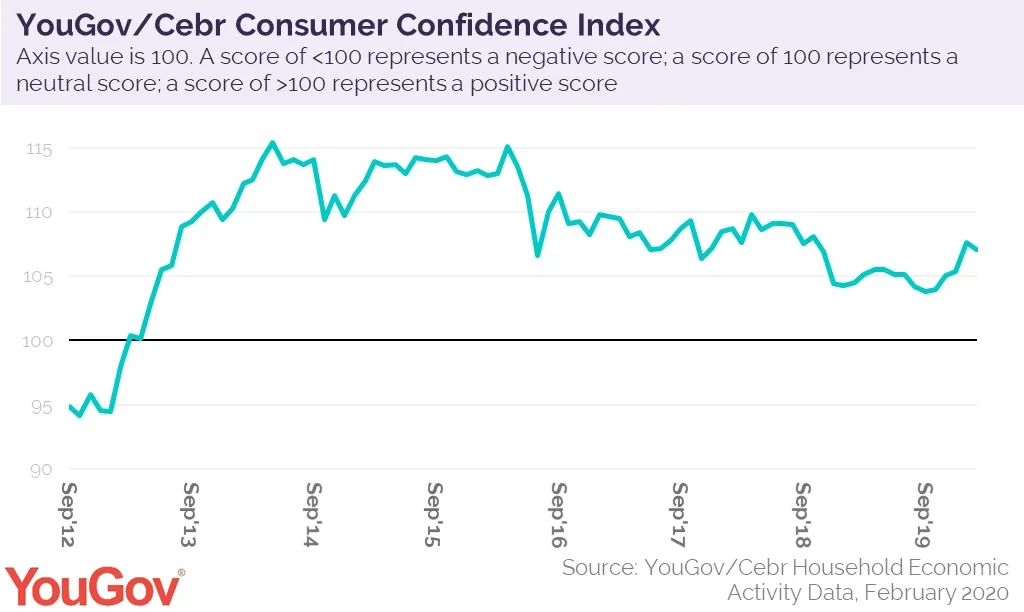 YouGov collects consumer confidence data every day, conducting over 6,000 interviews a month. Respondents are asked about household finances, property prices, job security and business activity, both over the past 30 days and looking ahead to the next 12 months.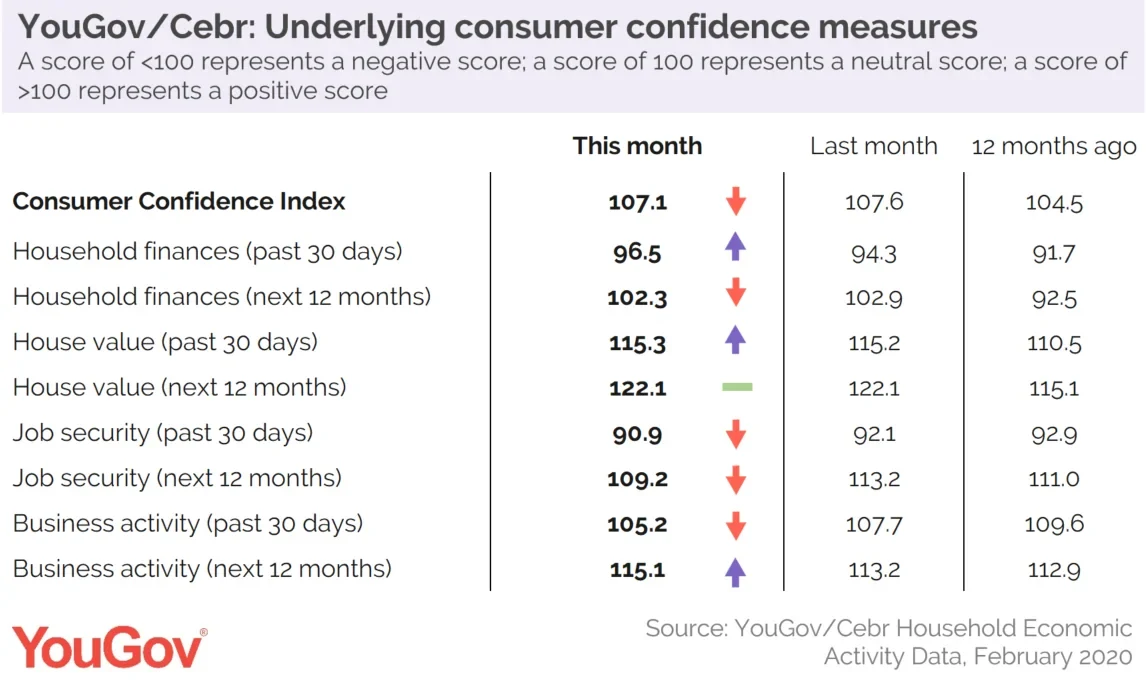 Public assessment of household finances over the last month increased, rising 96.5 and heading towards positive territory. Meanwhile expectations for the coming year slipping 0.6 points but remained in positive territory at 102.3.
House prices remained largely static in the eyes of Britons. Prices over the last month were up a marginal 0.1 points and forecasts for the next year didn't move. Both measures sit firmly in the positive at 115.3 and 122.1 respectively.
Job security has taken a strong dive, with opinion over the last month falling to 90.9 and expectations for the coming year to 109.2. Business activity dropped in the short term, from 107.7 to 105.2, but rose in the long term to 115.1.
Oliver Rowe, Director of Reputation Research at YouGov, said:
"Overall confidence remains positive but has slipped back a little from January's high. The public remain in a positive mood though Storm Dennis and Boris Johnson's dramatic reshuffle may have clouded the horizon slightly this month. We now wait for the new Government's first budget and any impact this may have on sentiment."
Kay Neufeld, Head of Macroeconomics at the Centre for Economics and Business Research, said:
"After four consecutive months of increasing consumer confidence, February sees the first decline in the Index since October 2019. The first data releases for 2020 suggest that the UK economy has recovered some ground following a particularly difficult Q4 2019. However, the decline in the job security indicators shows that Britons harbour some doubts about the UK's economic prospects. Indeed, recent flooding in parts of the UK and the spread of the coronavirus have shown that external and unpredictable factors could quickly derail the fragile recovery."