Those who say their jobs lack meaning tend to be male, work in the private sector and do manual, casual or low-grade work
In his new book, 'A World without Work', British economist Daniel Susskind predicts that automation will soon cause underemployment. One of his concerns is how people will find meaning without an occupation. But new YouGov data shows that 26% of workers already believe their job lacks meaning, including 9% who say their job is 'not meaningful at all'.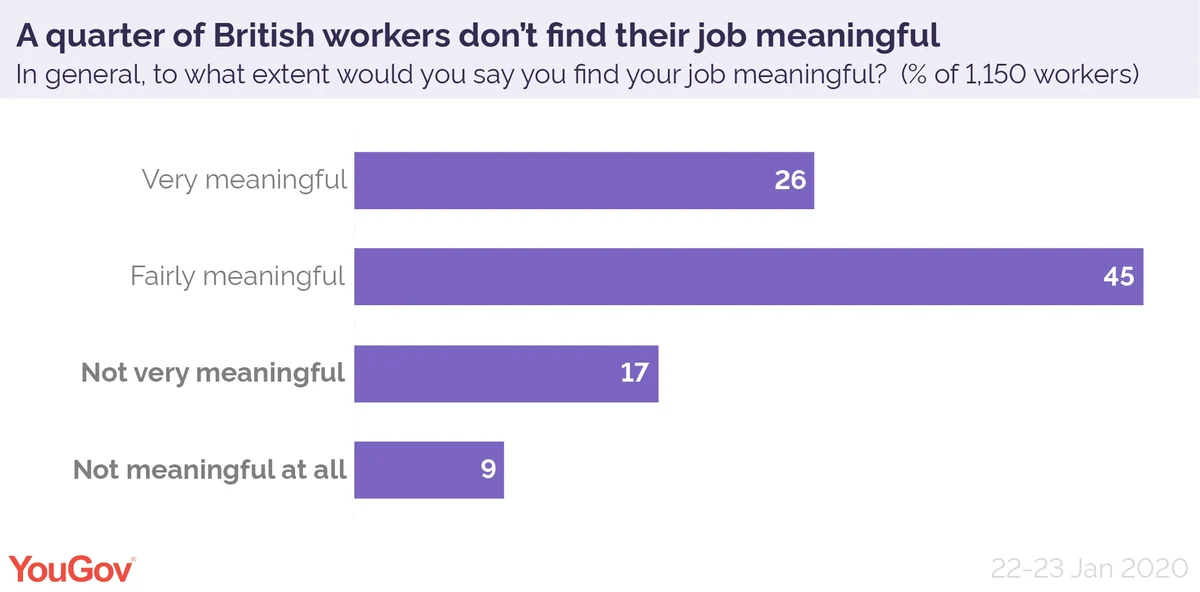 People who work in the private sector in particular struggle to see the value in their occupation, with a third saying their job is not meaningful. In contrast, the figures are much lower for public sector employees (17%) and third sector workers (11%).
Similarly, there's a divide between workers in ABC1 occupations, such as managerial, administrative or professional roles, and those in C2DE occupations, which include manual, casual and lowest grade work. C2DE workers are more likely to say their job lacks meaning at 30%, compared with 24% of people in ABC1 roles.
Gender also plays an important role. About a third of male workers say their job is not meaningful, compared with a fifth of female workers. Women and men have different working patterns, which might help explain some of the divide. For example, women are more likely to work in the public or third sector and a greater proportion work part-time.
Most people want a meaningful job – but that's not the whole story
Most British workers want a job that feels purposeful, with 44% saying it is very important to them and another 43% saying it's somewhat important. A minority of 11% are less bothered, including 3% who say it's not at all important.
A fifth of workers who care about doing something meaningful think their own job lacks purpose, including 6% who say it's not meaningful at all. This figure is higher for men at 25% compared with 16% of women.
Similarly, the divide between different sectors is in line with the general trend. Nearly a quarter of private sector workers who want a meaningful job believe their current employment lacks meaning. The figure is much lower for public (13%) and third sector workers (11%).
The difference is less glaring when comparing ABC1 (19%) and C2DE (23%) workers who want a meaningful job.
A closer look also reveals that people's priorities vary depending on their gender and circumstances. While men see less meaning in their work, they generally also care less about finding it meaningful. One in seven male workers (15%) say it's not important, compared with only one in seventeen female workers (6%).
There's no shortage of headlines about millennials and how they're driven by passion and purpose. But across all age groups a similar number of people want a meaningful job – indicating that the desire to do something meaningful is not generational.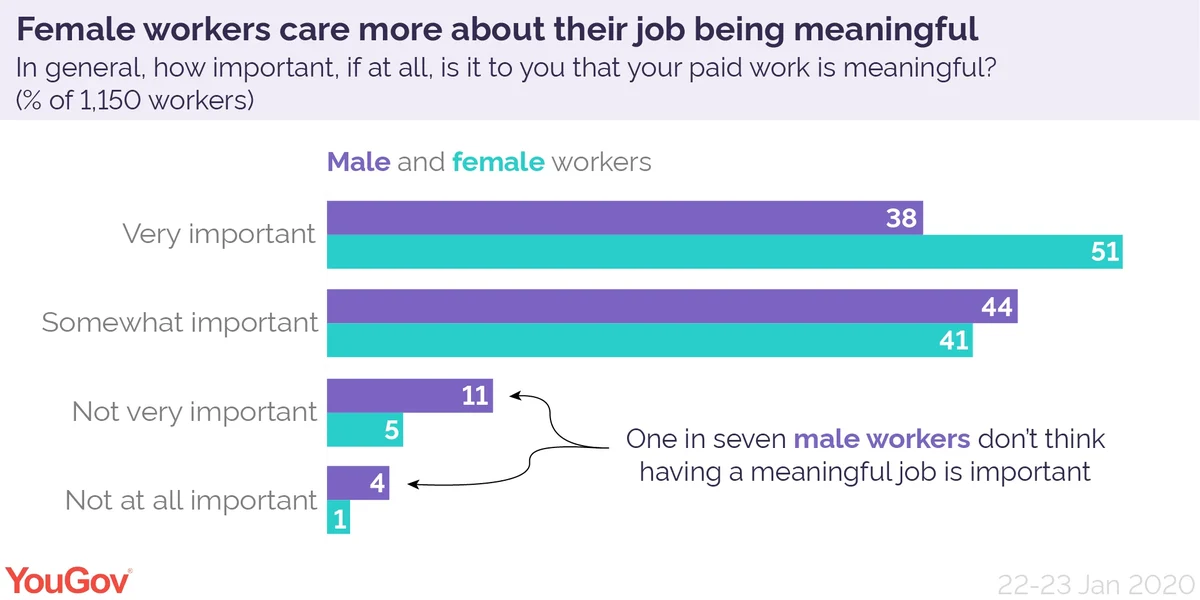 How does work impact happiness?
Several studies have found a direct link between happiness and work performance, with poor mental health costing the economy up to £99 billion annually. Experts have even proposed improving the happiness of the workforce as a solution to the UK's stagnating productivity.
YouGov research shows that many British workers' overall happiness depends on how they feel at work. Over half (54%) say their job impacts their happiness 'a lot', while 36% say a little and only 9% says it has no effect.
The wellbeing of ABC1 workers depends more on their job, with 59% saying it impacts their happiness a lot, compared with 46% of C2DE workers. Only 7% of people in ABC1 roles say it has no impact, in contrast to 11% of those in C2DE occupations.
The figure is also higher for women at 58% compared with 50% of men.
Another factor is age. Three in five employees between 25 and 34 say work impacts their overall happiness a lot, which is the highest of any age group. This figure falls for every subsequent age group, with fewer than half of people aged 55 or older agreeing.