British airline Flybe, known for being the largest independent regional airline in Europe, entered the New Year reporting financial difficulties and that the brand was at risk of collapsing.
Not only would Flybe's demise put 2,000 jobs at risk but many hard-to-reach areas would lose a vital connection to major cities, such as Northern Ireland, Newquay and the Isle of Man, where the company even has a government contract to transfer NHS patients to Liverpool.
According to YouGov Profiles, 17% of Britons who flew with Flybe in the past 12 months live in the South West region, 16% in Scotland and 14% in the West Midlands. In contrast, only 4% live in London and 3% in the East of England.
Last week Government ministers agreed a rescue deal for Flybe by allowing a short-term extension to allow the brand to settle its debt, much to the anger of British Airways and EasyJet bosses who have drawn comparison to the decline of Thomas Cook, which was not bailed out.
A YouGov snap poll at the time showed a majority (54%) of Brits agreed with the government's decision not to intervene and save Thomas Cook. However, in a snap poll yesterday, 41% of Britons felt that the government was right to delay tax payments owed by Flybe in order to prevent it going bankrupt. This clearly demonstrates the public's difference of opinion in regards to which airline should receive Government help.
YouGov BrandIndex data shows that although public perception of Flybe struggled at the beginning of the year, buzz scores (a net measure of whether consumers have heard anything positive or negative about the brand in the last fortnight) were increasing and on a trajectory to enter positive numbers. However, consideration scores (whether someone would consider purchasing from the brand in future) had been on the decline since September, despite a brief respite in November.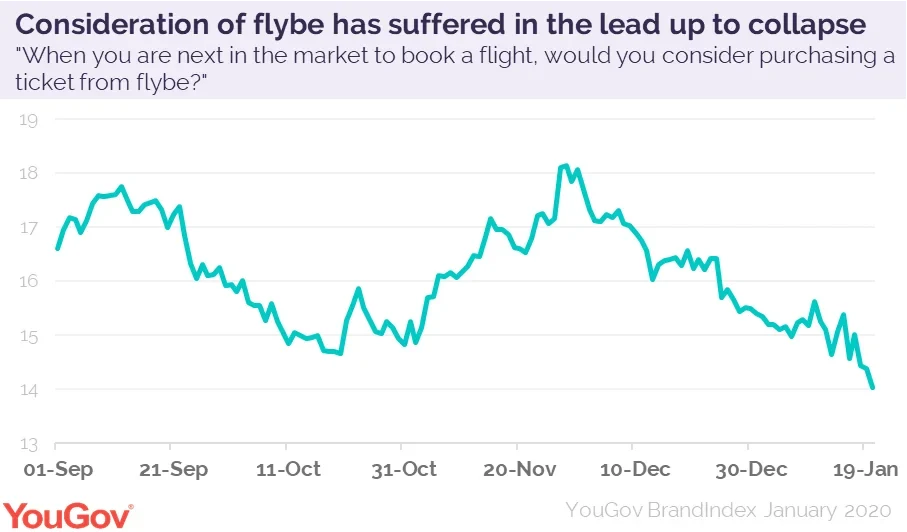 For a company that mostly relies on cheap, domestic flights, Air Passenger Duty tax made flying regionally with Flybe an uneconomic option. Temporarily delaying this tax may help Flybe in the short term but it doesn't solve the problem long-haul.
This article previously appeared in City A.M.