Fewer than one in ten Brits have gone "digital-only" – and a quarter say they're uncomfortable with online banking
In the past few years, mobile-only challenger banks have attempted to take on traditional financial institutions. Using a combination of technology, quirky, millennial-friendly branding, and a pile of VC money, they've earned considerable hype from the media, unsettled a nearly 400-year-old industry – and won rave reviews from customers.
But as YouGov tracker data from the past six months shows, the "fintech revolution" has only been a partial success. Fewer than one in ten Brits (8%) are using mobile-only banks to manage their money, and a third (35%) don't use mobile banking to interact with their main provider at all. And while most of the public do manage their money digitally, they're typically using technology provided by traditional institutions: around half (53%) use their bank or building society's app, with a similar proportion using their online banking services (48%).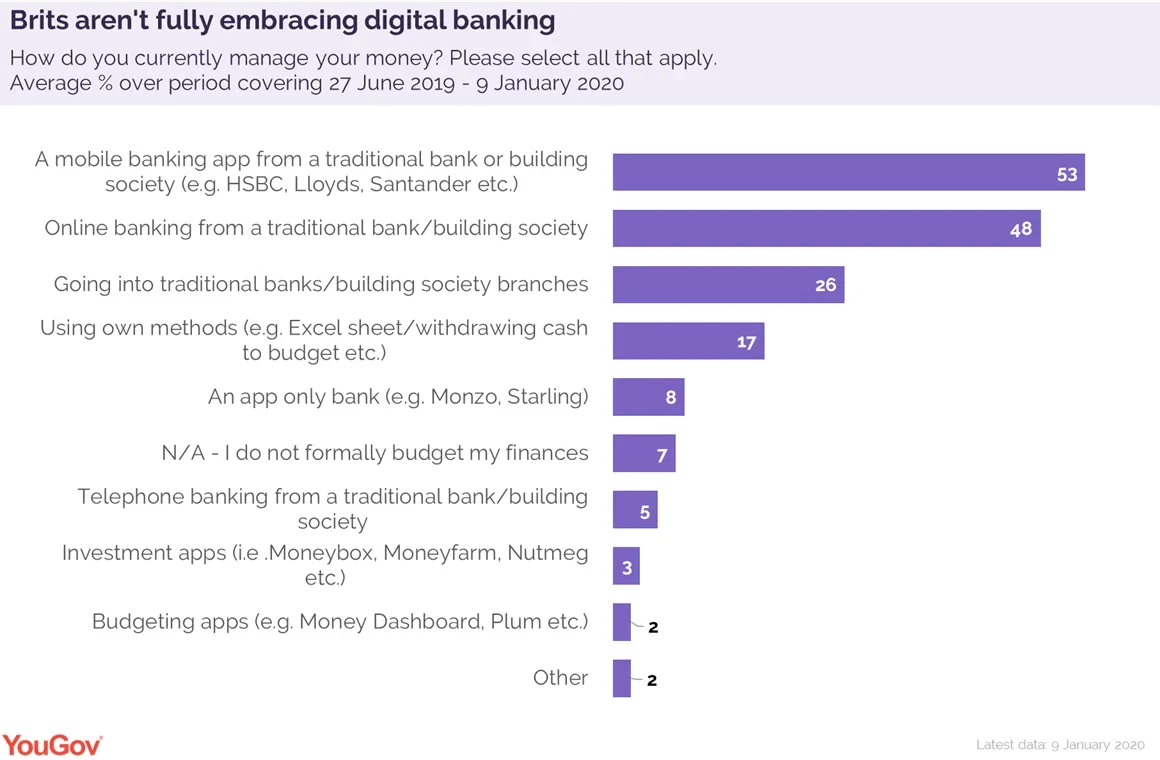 Almost a quarter of Brits are "uncomfortable" with online banking
It's worth pointing out that digital banking is an established technology, and most of the public use it regularly. Over half of Brits (53%) use smartphone apps to interact with their main provider at least once a month, and of this group, a fifth (18%) do so once a day – and over a quarter do so once a week (27%). Two-thirds (67%) use online banking services monthly, with a third (34%) logging in once weekly and 13% doing so once every 24 hours.
But if most Brits use these services, data from YouGov Profiles reveals that a significant minority (23%) are uncomfortable with them. It's not too surprising: in an age of digital innovations, over a quarter (26%) still manage their money by popping into their local bank branch, and only 8% say they "never" visit in-person. A greater proportion of Brits say they "never" use their institution's online service (12%) to interact with their main provider, and (as mentioned) a far greater number avoid mobile apps (35%).
If most of the public uses digital banking in some form, many still value the in-person experience – and only a small proportion have gone fully online. When it comes to apps and digital services, Brits heavily favour those provided by established institutions and building societies.
The fintech market is not fully mature, and this could certainly change. For the moment, though, it appears the main beneficiaries of the mobile banking revolution are the "legacy" banks it was meant to overthrow.
You can explore YouGov trackers here
Image: Getty