Consumer confidence down to 102.8 in October from 103.8
Confidence has fallen or stagnated for six consecutive months
Consumer confidence hovers perilously close to negative territory - a foreboding milestone it has avoided for six years - according to the latest analysis from YouGov and the Centre for Economics and Business Research.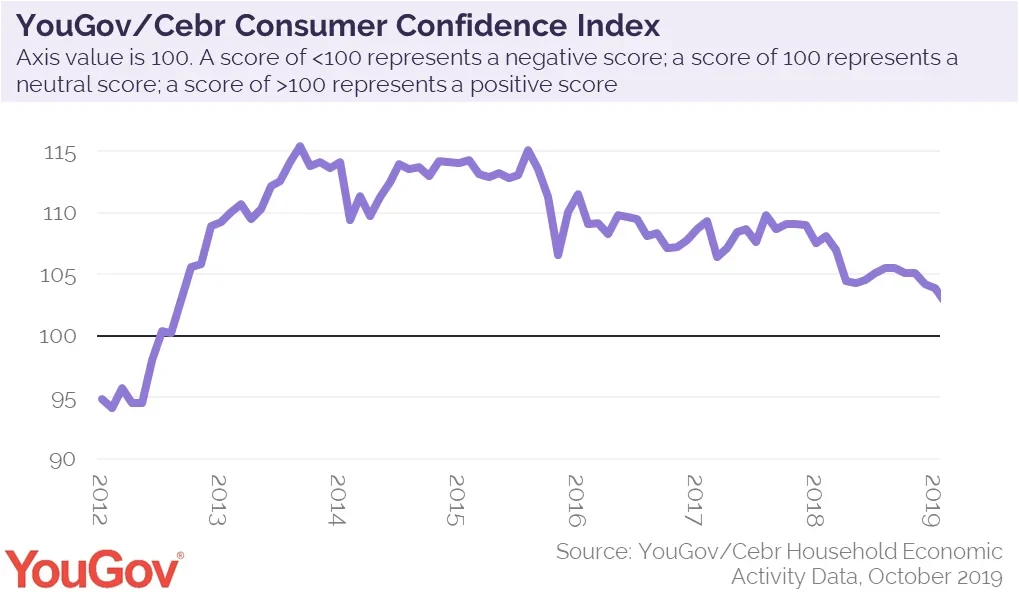 There is no end in sight to the Brexit saga, as Boris Johnson stumbled while attempting to push his deal through Parliament and looks set to blow past his October 31st deadline. Consumers are increasingly taking a pessimistic view of the near-term economic future, causing the headline confidence score to drop a whole point in October to 102.8 from 103.8 in the previous month.
The latest slip is but a continuation of a long-term downward trend over recent years. While any score over 100 means more consumers are confident than unconfident, the index is still notably below where it was before the UK voted to leave the European Union in 2016. In fact, you have to trace the history of YouGov's tracker back to April 2013 to find lower confidence, when it recorded a figure of 100.2.
Confidence has either fallen or stagnated for six consecutive months, and has fallen for three consecutive months.
YouGov collects consumer confidence data every day, conducting over 6,000 interviews a month. Respondents are asked about household finances, property prices, job security and business activity, both over the past 30 days and looking ahead to the next 12 months.
Six of these eight constituent metrics fell in October.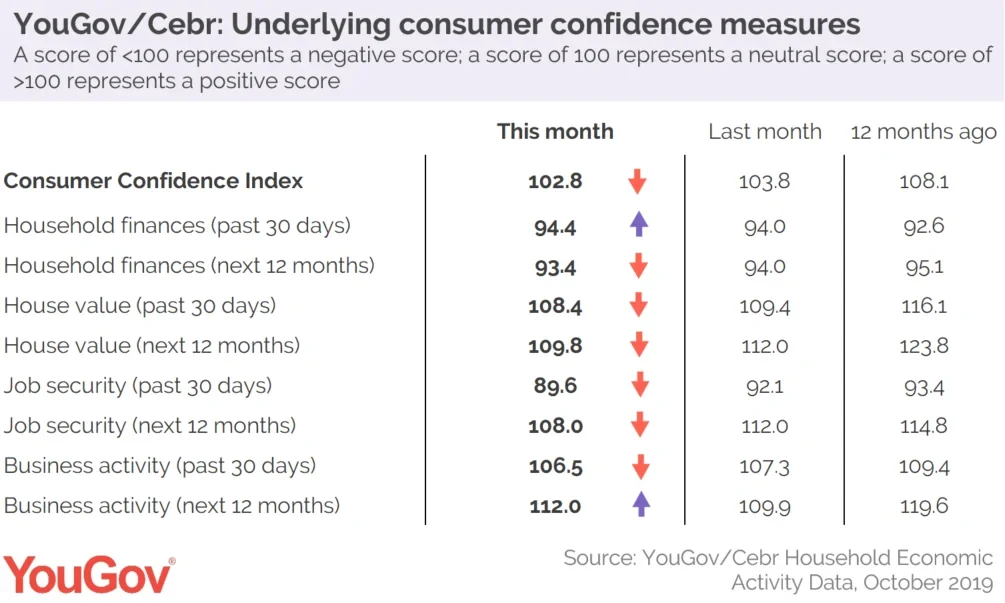 The public's expectations for their household finances over next year slipped from 94 to 93.4, remaining firmly in negative territory. Opinion on house values also appear troubled by the current economic uncertainty. Estimates of house values over the last month slipped from 109.4 to 108.4, and predictions for the coming year dropped from 112 to 109.8.
Job security also continues to be badly hit. Over the last month the score fell from 92.1 to 89.6, while predictions for the coming year dropped from 112 to 108. Business activity over the last month also saw a decline in confidence, from 107.3 to 106.5
Just two metrics rose during October. Household finances over last month were up from 94 to 94.4, which is still deep into the negative, and business activity over the next year rose from 109.9 to 112.
Oliver Rowe, Director of Reputation Research at YouGov, said:
"This is the third month in a row that consumer confidence has fallen and the score is now getting dangerously close to negative territory. With the Christmas shopping season already underway for many households, retailers and consumer manufacturers will be desperately hoping sentiment gets a bounce next month, possibly driven by Parliament passing a workable Brexit deal."
Nina Skero, Chief Executive at the Centre for Economics and Business Research, said:
"Consumer confidence hasn't climbed in six months and is unlikely to do so any time soon as the country continues along the messy Brexit path and possibly heads for an election. With the forward looking job security and household finances measures both declining in October, it looks like many households are set to tighten their purse strings in the coming holiday season."