Just 25% have never outsourced any part of their business
British businesses face complex, wide-ranging challenges – and many don't have the time, the budget, or the desire to handle them in-house. New research from YouGov reveals that outsourcing has become a common response to these challenges, with 70% of B2B decision-makers saying they've handed off key services to third parties. Only a quarter (25%) say they've never done so in any area of their organisation.
So which functions are British businesses most keen to outsource, and why?
What are British businesses outsourcing?
The most frequently outsourced function is IT support: over a third of British businesses (34%) want to hand it over to outside suppliers. It's none too surprising: most companies will have IT requirements, but most won't need a technician on-hand at all times. Paying a contractor or a managed services provider will often make more sense in terms of budget and performance.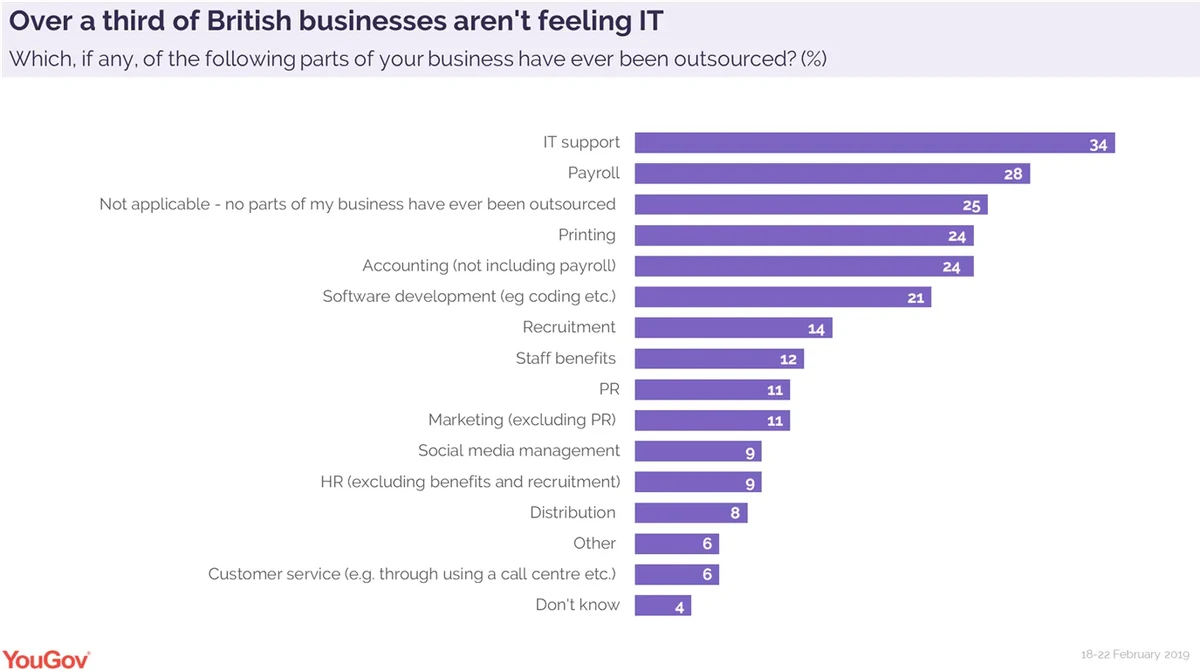 This is reflected in their main motivations for outsourcing the function: almost half (48%) say they do so because they don't have qualified/relevant staff, and three in ten (30%) do so because it delivers better results. The same proportion outsource IT because it's cheaper (excluding staff costs), while 29% cite lower staff costs and 28% say it's more efficient.
Financial business areas are also commonly outsourced: 28% of decision-makers let third-parties take care of payroll – with over two-fifths (41%) saying they can't afford to do it in-house and over a third (34%) say they don't have qualified/relevant staff.
London loves business outsourcing
London businesses use more third-party suppliers for certain business services and in general: only 17% have never outsourced any function compared to 26% across the rest of the nation. In many cases it's not too surprising. The capital's enterprises could be more likely to engage third parties for IT and software development for example, because the capital has a larger technological ecosystem than the rest of the country. There's more choice, and with more choice come more opportunities to outsource.
Businesses in London are also more likely to allow external suppliers to handle staff benefits, and again, this may be due to the city's singular circumstances. The capital's employment market is more competitive, so better perks can be an essential differentiator for jobseekers – and with so much of its workforce comprised of commuters, there's a greater need for remote work and flexibility.
In the capital and elsewhere, outsourcing has become a fact of life for most British businesses: if they need websites, they won't necessarily need web developers; if they have to file tax returns, they won't always want to open a finance department – and when they don't have the right expertise, they're often willing to buy it.