More than a race to the bottom: policyholders unhappy with level of cover as well as cost
Insurance is supposed to provide a little bit of certainty in an uncertain world. It's there to protect people from the financial consequences of the unexpected.
But if the British public relies on insurers, insurers can't necessarily rely on the British public. YouGov's new whitepaper, Better safe than sorry, asked policyholders if they intended to switch providers – and almost three-quarters (73%) said they were actively shopping around.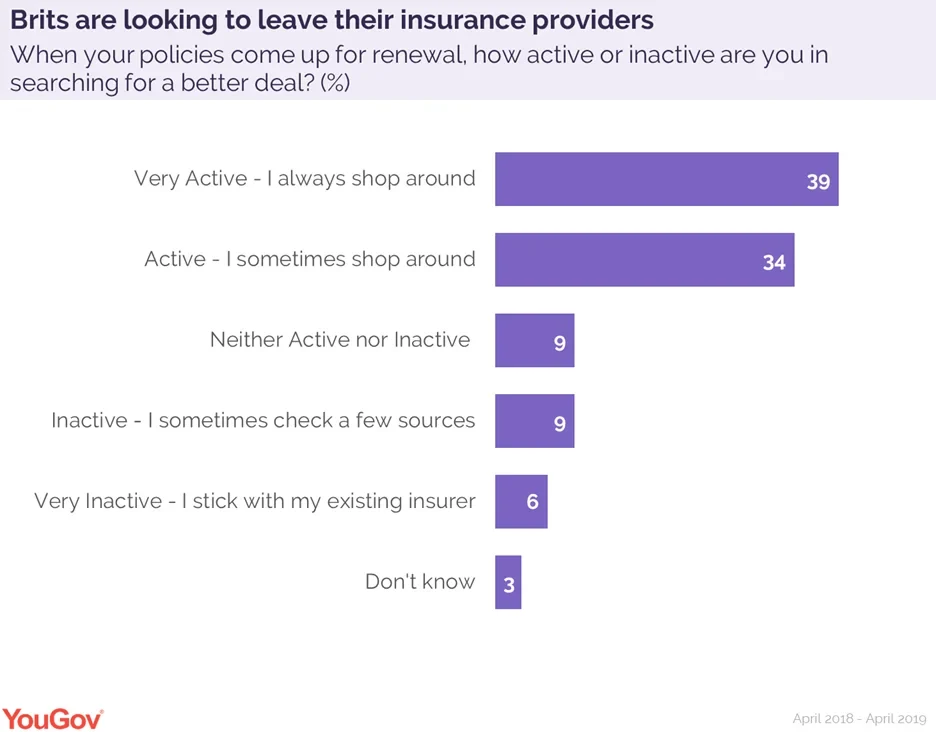 So what's motivating so many Brits to leave their insurers?
Race to the bottom?
Word of mouth is commonly considered the most effective selling tool, but when it comes to finding new providers, the first choice seems to be price comparison sites: 87% and 92% respectively of policyholders who are actively and very actively looking to switch insurers use them, compared to 14% and 25% who rely on friends and family. Given a choice between the cold hard numbers and Dad's favourite insurer, most go for the former.
But while price matters, we can't describe the insurance market as a simple race to the bottom.
Brits judge insurers by their cover
Comprehensive motor insurance and joint building/contents insurance are the most commonly held insurance products, and policyholders in these groups are also the most likely to switch: almost a third (31%) of both intend to make a change in the next twelve months.
Cost ranked as the second most important factor driving their decision to switch, but level of cover was deemed the top priority for both groups – and across every category of insurance policyholders. Brits with building/contents insurance were also more concerned with their insurer's reputation than the likelihood of a payout.
Price matters, but it isn't everything: a number of British policyholders clearly aren't getting the cover or the peace of mind they want from their providers.
Pet policy priorities
Take pet owners. Cost isn't even a top three concern: level of cover, confidence of payout and having the very best cover are their main priorities. They're also most likely to file a claim – half (50%) have done so in the last year – and care less than any other group about consistent premiums.
It's not too surprising: beyond routine costs such as check-ups, jabs, and medication, it's hard to know what's ailing a pet – and nobody wants to be blindsided by an expensive surgery or an avoidable death. All dogs may well go to heaven, but we can't blame dog owners if they want to put it off for as long as possible.
Insurance is complex and emotional as well as financial: it reflects anxieties people have about their possessions, loved ones, and lives. Brits might use price comparison sites when shopping around, but trust, reputation, and above all, level of cover also factor into their decisions.
Image: Getty
Download the full whitepaper