The holiday plans of thousands of Britons have been put at risk by the threat of strikes by British Airways and Ryanair staff.
British Airways pilots are set to strike on various dates throughout September over a pay dispute, after the airline lost an appeal to block the action. This led to customers spending hours on the phone over the bank holiday trying to rebook flights.
Ryanair pilots are also striking over pay and conditions throughout September, having starting their first action last week. Ryanair insists most flights have taken off as scheduled despite the protest.
YouGov data shows that public opinion of strike action is negative; half of Brits feel that it's an ineffective way of achieving change (50%) compared to just a third (32%) who think it can work. So how has public perception of both airlines suffered due to these strikes?
Since strike talks began in July, public perception of British Airways and Ryanair has dipped, with the former suffering slightly more. Buzz scores (a net measure of whether consumers have heard anything positive or negative about the brand in the last fortnight) were at +2.7 at the start of July and fell to -36.4 on the 14th August – a massive 39.1 point drop. Scores for British Airways have since recovered to -12.8, before beginning to decline again as action continues.
Ryanair's scores haven't fared much better, falling steadily from -15.6 to -32.0 over the period (16.4 point drop).
However, although British Airway's perception has suffered more than Ryanair's, it still comes first for customer contentment with a Satisfaction score (whether someone is a satisfied or dissatisfied customer) of 29.8 over the past 12 months. All other major airlines all score less than British Airways. Comparatively, Ryanair's score is -9.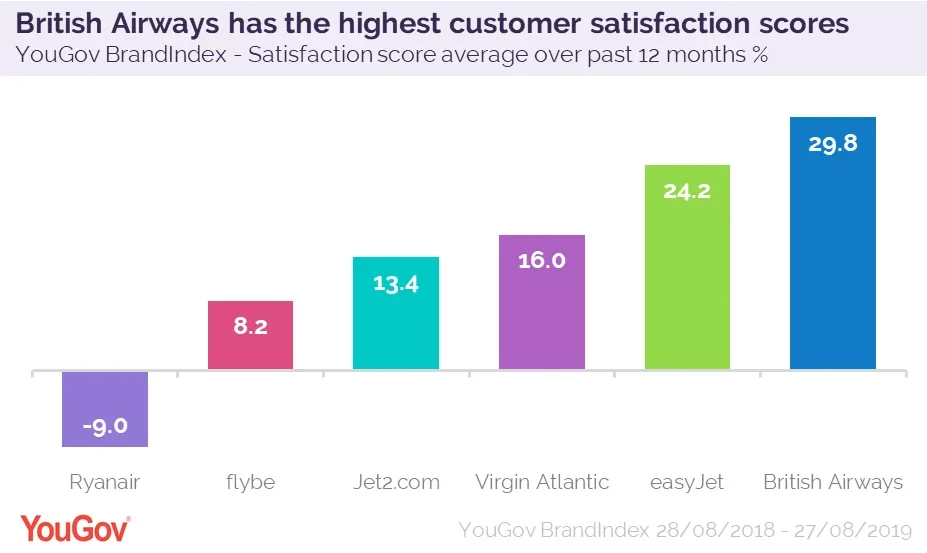 Although the latest strike action has undoubtedly impacted British Airway's perception, customer satisfaction of the brand was already much higher, meaning that they should feel the impact of these strikes less than Ryanair. If this pay dispute can be resolved then customer perception should rebound quickly.
Image: Getty
This article previously appeared in City AM