Confidence falls to 104.4 and hovers just 0.1 points from a six-year low
All but one of eight constituent metrics also fell in June
House price estimates for past month were only area to see a rise
Back in April European Council President Donald Tusk granted Britain another Brexit extension and urged politicians: "Please don't waste this time." Yet the House of Commons is currently occupied by a Tory leadership campaign that brings a Brexit solution no closer.
Now the latest analysis from YouGov and the Centre for Economics and Business Research shows that consumer confidence slipped 1.1 points to 104.4 during June - the first negative move since January.
It has now hit a low not seen since the start of the year, and is just 0.1 points from hitting a low not seen since May 2013.
While any score over 100 means more consumers are confident than unconfident, the index is still notably below where it was before the UK voted to leave the European Union in 2016.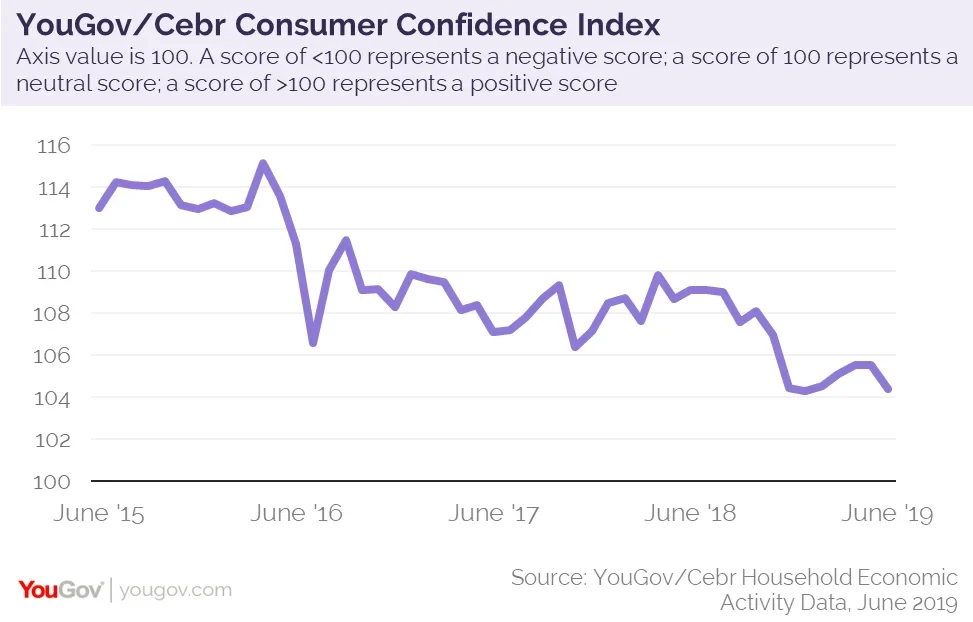 YouGov collects consumer confidence data every day, conducting over 6,000 interviews a month. Respondents are asked about household finances, property prices, job security and business activity, both over the past 30 days and looking ahead to the next 12 months.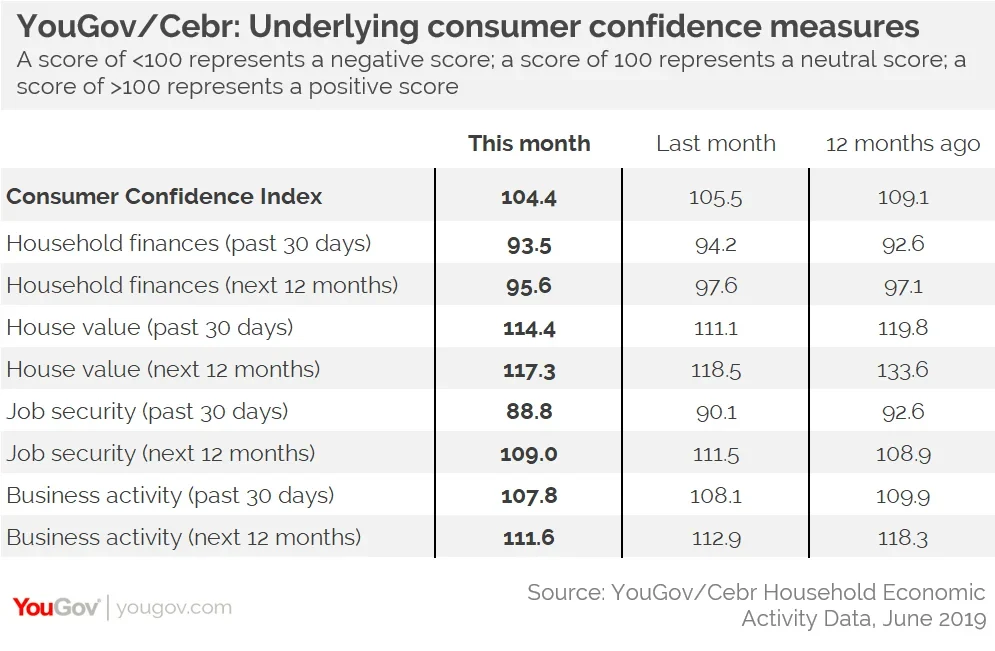 Respondents to the survey revealed a dip in confidence relating to household finances, both over the last month and the coming year, falling from 94.2 to 93.5 and from 97.6 to 95.6 respectively.
Feelings around job security also took a turn for the worse, with already negative views on job security over the last month falling from 90.1 points to 88.8 and for the coming year from 111.5 to 109.
Business activity was similarly affected. Respondents reported that activity over the last month had dipped from 108.1 to 107.8 and expectations for the coming year slipped from 112.9 to 111.6.
Estimates for house prices over the coming year were lower in June, dropping from 118.5 to 117.3 but the outlook for prices over the last month was the only metric to climb over the last month: rising from 111.1 to 114.4.
Nina Skero, Director and Head of Macroeconomics at the Centre for Economics and Business Research, said: "In recent months, many labour market headlines have focused on record low unemployment and accelerating wage growth. Yet, the latest YouGov/Cebr Consumer Confidence Index paints a more mixed picture. With forward and backward looking measures declining across the household finances and job security measures, it is clear that many households continue to face challenges – something which may be masked by buoyant statistics."