Confidence rises for third consecutive month in April to 105.5
Job security hits level not seen in over a decade
Four constituent metrics rose, while three fell and one remained flat
Consumer confidence has risen for the third month running, ticking up 0.4 points to a 2019 high of 105.5, and job security has risen to a level not seen since last decade.
Brexit uncertainty still lingers, but an extension safely secured from Brussels offers momentary respite and kicks the can some way down the road.
Any score over 100 means more consumers are confident than unconfident and three consecutive monthly rises shows that sentiment is clearly improving, but the move does little to reverse the long-term subdued trend: only four months since the beginning of 2014 have seen a lower consumer confidence score.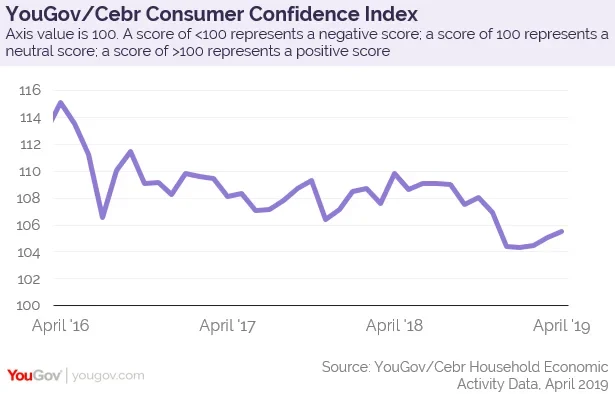 YouGov collects consumer confidence data every day, conducting over 6,000 interviews a month. Respondents are asked about household finances, property prices, job security and business activity, both over the past 30 days and looking ahead to the next 12 months.
Four of the eight metrics which combined create the headline metric were up in April (versus six positive moves last month), while three fell and one remained flat.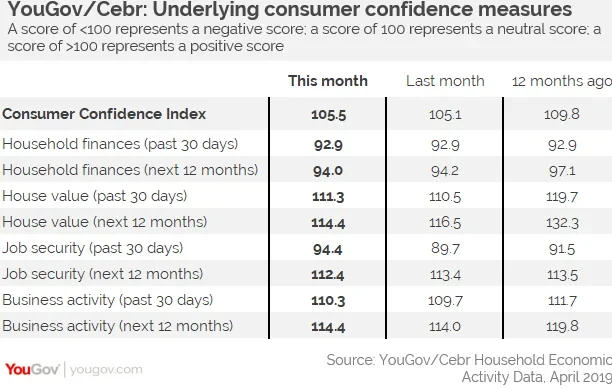 House values rose 0.8 points over the last month to 111.3 as the Brexit extension gave some short-term stability, but the figure is still some way short of the 119.7 seen this time last year. Expectations for the coming year - during which we will meet yet another Brexit deadline - were more subdued and slipped from 116.5 to 114.4.
Job security has similarly risen in the short term, from 89.7 to 94.4 - a level not seen in over a decade - but estimates for the coming year became slightly more pessimistic and slipped from 113.4 to 112.4.
Sentiment around household finances remained flat, with responses regarding the last month holding steady at a negative 92.9 and expectations for the coming year dipping 0.2 points to 94.
Business activity expectations rose in the near and long term by 0.4 points, to 110.3 and 114.4 respectively.
Kay Neufeld, Managing Economist at the Centre for Economics and Business Research, said: "Consumer confidence continued to edge up in April as the UK and EU agreed to an extension of the Brexit negotiations until 31st October. The extension surely allayed some of the worst fears of a disorderly Brexit in the short term and boosted consumer sentiment. Another factor that has likely lifted spirits was the long, sunny Easter weekend that UK consumers enjoyed this month. With sentiment around current household finances remaining steady, households used the bank holiday weekend for shopping and eating out giving a boost to retail sales and the wider economy."