Confidence makes first positive move in four months, rising to 104.7
Only three component metrics were down month-on-month
But headline figure was lower in just two months since start of 2014
Despite the looming Brexit deadline and the lack of a deal that can pass a Commons vote, consumer confidence actually ticked up slightly over February, according to the latest analysis from YouGov and the Centre for Economics and Business Research. But the picture is significantly less positive if we zoom out to look at a longer timescale.
Any score over 100 means more consumers are confident than unconfident, and February's rise of 0.4 points to 104.7 is the first positive movement in four months. But it must be pointed out that only two months since the beginning of 2014 have seen a lower consumer confidence score.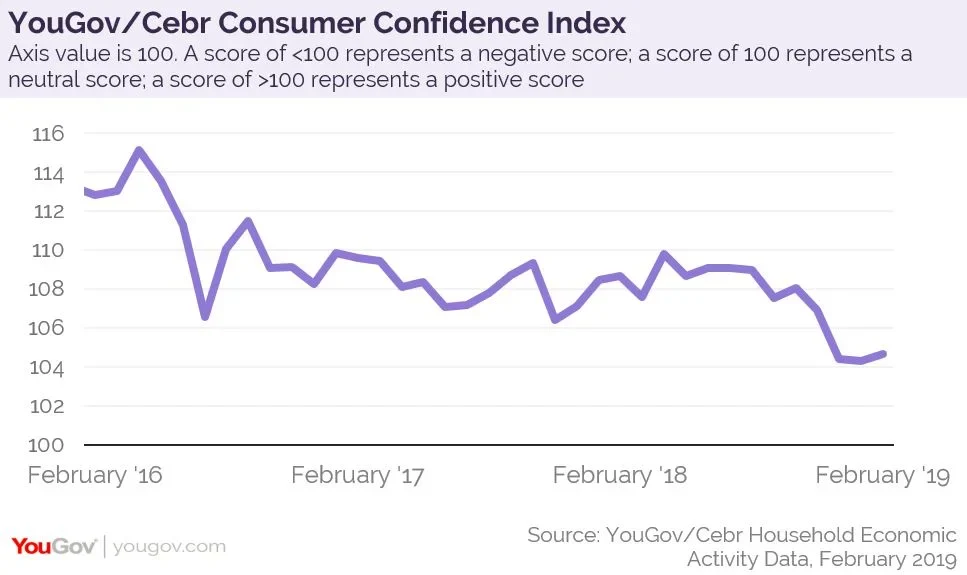 YouGov collects consumer confidence data every day, conducting over 6,000 interviews a month. Respondents are asked about household finances, property prices, job security and business activity, both over the past 30 days and looking ahead to the next 12 months.
House price expectations for the coming month remained steady at 110.3 during February, but the metric fell last month to a low not seen since June 2013. Just a year ago this measure of public confidence was a full 8 points higher. Expectations for the coming year also fell 1.5 points to 115.3 last month. Household finances over the next 12 months also slipped to 92.6 from 94.4 in February, and the only other metric to fall last month was business activity over the next 12 months, which dropped just 0.1 points to 112.8.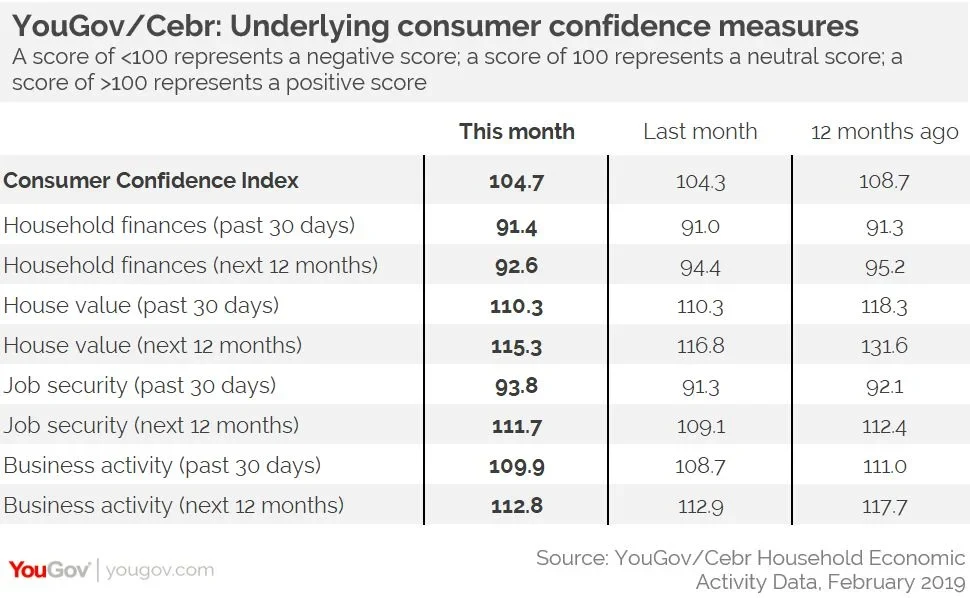 Aside from this, four metrics actually saw modest rises last month, which was enough to shift the headline metric which is composed of the eight individual scores in a positive direction: household finances and business activity over the last month, as well as job security both looking backwards and forwards.
But the size of the individual rises, and the overall measure, have done little to reverse the long-term downward trend of recent years.
Nina Skero, Director and Head of Macroeconomics at the Centre for Economics and Business Research, said: "Although the YouGov/Cebr Consumer Confidence Index climbed in February, there is little cause for celebration.
"Even after the most recent improvement, the index remains at its third lowest point in five years and forward looking measures for household finances, business activity and house values all declined compared to last month. The continued prospects of a no-deal Brexit or a Brexit delay, which would prolong the economic uncertainty, continue to cast a long shadow over consumers' views of the future"