A few weeks ago I discussed the immediate fallout from United Airlines' PR disaster, and now is a good moment to see how the brand has begun to recover, as well as how other airlines are faring under increased scrutiny.
Our brand tracking data indicates that on both sides of the Atlantic United Airlines' Impression score (whether you have a favourable impression of a brand) has bottomed out and is now slowly starting to move upwards again. Among the general public in the US, its score dropped from +18 just before the scandal to -40 immediately after, though it has now risen slightly to -34.
It's a similar story in the UK – a drop from +3 to a nadir of -37, before an upwards movement to -26, where it is currently.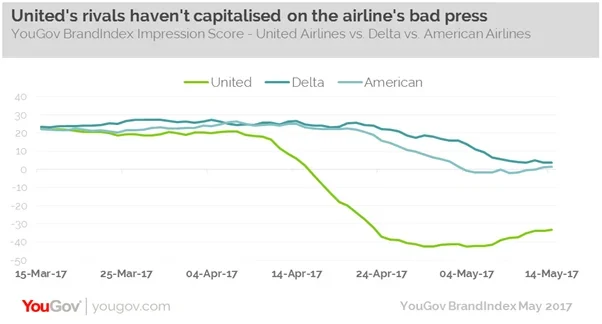 However, while rival airlines would have been hoping to capitalise on United's problems, some have managed to become embroiled in their own controversies. Instead of taking steps to guard against damaging stories that are particular likely to go viral in the current news climate, some have engaged in similar behaviour to United.
For example, an American Airlines crew member was filmed aggressively taking a buggy off a passenger who was holding a baby. Following the incident the brand's Impression score in the US dropped from +22 to 0.
Similarly, Delta Airlines' Impression score has dropped from +19 to +4 among American consumers following an incident in which a family claimed they were removed from a flight for refusing to give up one of their children's seats.
In both cases, it appears as through the carriers failed to appreciate how quickly and easily the United story spread – first online and then elsewhere.
All airlines implicated in these incidents will have to work to reassure current and prospective customers that their approach to customer service has softened, or else it will be a long time before trust is fully regained. Looking at the United example, the negative impact of such headlines on brand perception can last a fair while.
This article originally appeared in City A.M.
Image: PA Images