Sainsbury's vs Tesco: Sainsbury's takes the lead in supermarket face-off
Sainsbury's is having a good week. The supermarket giant reported a 6.3% surge in sales, which caused its share price to hit a two-year high. Sainsbury's coming out clean in the horsemeat scandal, as well as the strong performance of its convenience store and online businesses are being cited as reasons for the rise in sales.
High-profile Sainsbury's boss Justin King isn't taking anything for granted, however, and this week lashed out at rival Tesco for its new 'price promise' promotion, which will compare prices at the till and issue coupons if customers' shopping would have been cheaper at any of the other 'Big 4' supermarkets (Asda, Sainsbury's and Morrisons). But Mr King dismissed the promotion as misleading, claiming that Sainsbury's own-brand products are a cut above the "cut price versions" at Tesco and therefore direct price comparisons between the two are meaningless.
Using YouGov BrandIndex, which tracks consumer perception of brands daily, we see that Sainsbury's far outstrips Tesco on Buzz, which measures whether people have heard anything positive or negative about the brand in the media or through word of mouth. At present Sainsbury's Buzz score sits at a healthy 14, while Tesco is way behind at -13.9.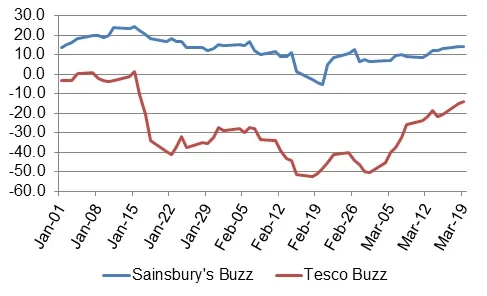 BrandIndex also tracks consumer perception of value, and on that measure Tesco also has a lot of catching up to do. Today Sainbury's Value score is 25.6, while Tesco's is a respectable (but still far behind) 11.9.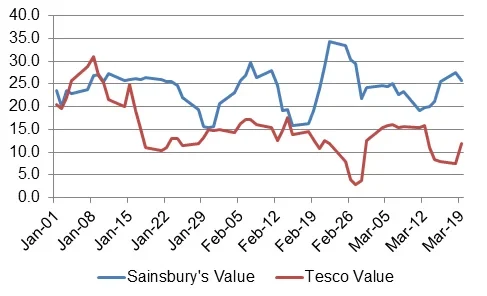 Tesco's price promise was only announced on Monday, however, so we will have to wait and see what impact it will have on customers' perception of whether Tesco is good value. Will it revive consumer confidence in the brand? Watch this space!
For more BrandIndex updates, follow @YouGovBiz on Twitter
Click here to learn more about BrandIndex