Takeaways have a special place in the culinary heart of the UK, and many of us have enjoyed occasionally reaching for the phone to order dinner in rather than slaving over a hot stove. Domino's Pizza recently reported a spike in sales that it attributed in part to the recent spate of wet weather, and the tendency of cash-strapped consumers to stay home and order pizza rather than spending money out (and getting rained on in the process!).
In YouGov's ShoppingLab, we invited you to tell us:
Firstly, the extent to which you like, or are less than fond of takeaways.
And secondly, we got takeaway lovers to imagine they are arguing over which cuisines to order in for a night in with a friend or relative – what is it about your takeaway of choice that makes it enough of a winner to want to takeout?
While those who took part in the discussion tended to be self-declared fans of takeaways, a small proportion said they disliked takeaways because they considered them 'unhealthy', 'overpriced' and 'artificial'.
However, the three most popular among ShoppingLab's takeaway buffs were:
Indian: participants praised its variety, flavour, value for money, and range of vegetarian options.
Fish & Chips: many of you expressed enthusiasm for it satisfying flavour, and its 'quintessential Britishness'
And Chinese: with its range of flavours, relative nutritional value, and inexpensiveness.
"You get so much more with an Indian; a chicken biryani costs £6 and is enough to feed two people and make you feel really full. … You get a better depth of flavour with the Indian as well" Dee D, Yorkshire
"It can be healthy, it is very delicious, and there is something for everyone. You cannot beat papadums and dips as a starter or side dish. It is extremely filling and there is always left overs to save or eat cold for breakfast, which you cannot do with most other takeaways" Anon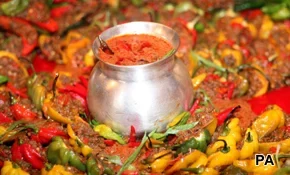 "Tasty, can never make it as good as home as when got as a takeaway, usually very good value" Anon
"Variety of choice, excellent accompaniments, a range of mild to hot to suit everyone's taste, and easily packaged to share or eat by yourself" Anon
"The flavours! You don't get that beautiful full spiciness in any other cuisine!" Anon
"Their vegetarian food tradition is at least 6,000 years old, so if you go to a genuine Indian takeaway you get something really good as a vegetarian, usually at a very reasonable price" Anon
"The finest takeaway available in every town and village in the UK and a real taste of Britain" Paul W, Doncaster
"Love them – the British takeaway. Although I do not regularly eat takeaways we probably have chips at least once every six to eight weeks. The smell is so nice, the salt and vinegar remind me of my youth and the seaside. You must eat it in the paper just to get the best results as it is so naughty but nice" Daz, Cheshire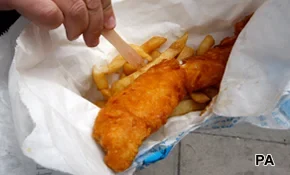 "Nothing can beat fish freshly caught and deep fried in batter with chunky chips, crispy outside and soft centred" Heather, Devon
"I just love fish, so this is naturally one of my favourites. It also reminds me of my childhood and you don't have to be at the table to eat it!" T L Jones, Mid Wales
"Fish and chips is the most unhealthy, grease filled loveliness available" Anon
"Crunchy battered succulent fish, lashings of vinegar and a chip butty – warming, filling, British and usually a lot less expensive than other takeaways" Mary G, London
"Tasty with lots of choice, seems to work well as a takeaway, and relatively good value" Anon
"Chinese always has the most varied menu and selection of possibilities. Whether it's duck pancakes, Kung Po, or Foo Young, there's something for everyone. Furthermore, it is also comparatively very cheap, particularly with regards to an Indian takeaway" Joe, Essex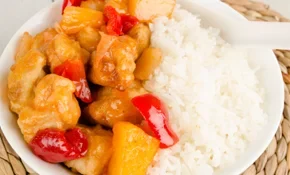 "It's quick and nutritious, excellent value for money and you normally get enough to feed an army. My last Chinese cost me £6 and fed me twice – that's what I call a bargain. With so many flavours, textures, and styles to choose from you will never get bored" Anon
"It is so tasty and there are so many different tastes and flavours. Everyone can find one that suits their palate" Pat J, Leeds
"Not something that I would or can make at home so getting a Chinese takeaway is a real treat" Susan L, North Lincs
"It's a really good meal, you get lots of variety, they are well cooked an very tasty – Mmmmm!" Val S, Bridlington

What's your favourite takeaway?
Is there any food you wish was more available as a takeaway?