Consumer confidence stabilises at 113.2 (+0.1)
Households feel less confident about their finances compared with the month prior (-2.2)
Expectations for business activity dampen somewhat but remain high
The outlook on job security among workers jumps by 4.1 points
Homeowners continue to feel more upbeat about the value of their property
Consumer confidence shows little change but remains high as coronavirus restrictions lift in England, Scotland and Wales with Northern Ireland set to follow, according to the latest analysis from YouGov and the Centre for Economics and Business Research (Cebr).
The index increased very slightly by 0.1 points to 113.2 in July. Any score above 100 means more consumers are confident than not. Job security and home value measures pushed it upwards but the gains were almost completely offset by worsening sentiment around business activity and household finances.
YouGov collects consumer confidence data every day, conducting over 6,000 interviews a month. Respondents answer questions about household finances, property prices, job security and business activity, both over the past 30 days and looking ahead to the next 12 months.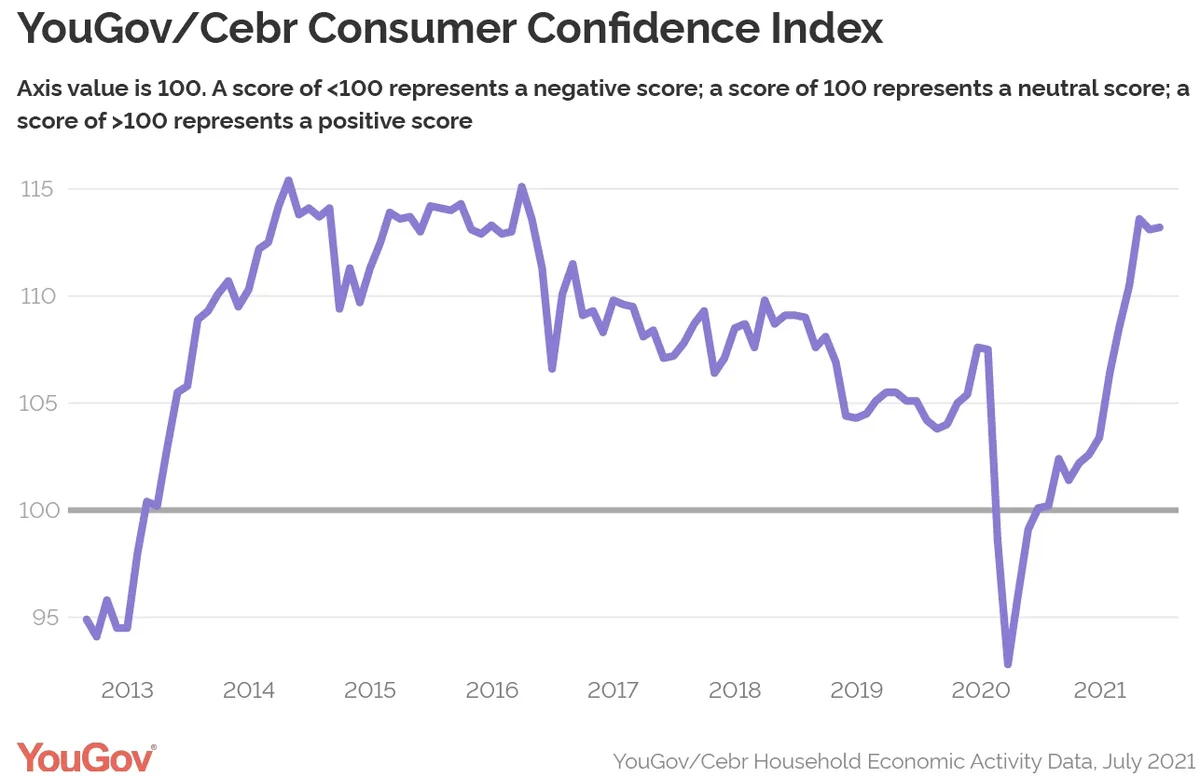 The outlook among workers on how secure their employment will be in the next 12 months saw the largest increase among the underlying metrics. Rising by 4.1 points, it is now at 118.6 – balancing a fall of 4.4 the previous month.
Meanwhile, the retrospective measure of whether employees felt their job became more secure in the past month improved slightly by 0.6 points, but remains negative at 93.1.
The most recent figures coincide with reports of worker shortages in some sectors prompting employers to offer signing-on bonuses of up to £10,000 to carers, chefs and HGV drivers.
Optimism about home value continues to push up confidence among homeowners. July saw a 2.8 point increase in homeowners believing their property increased in value, bringing the metric to 127.9. The expectations for the next year saw a smaller increase of 0.7, as the stamp duty cut is being phased out, but it remains the strongest metric at 132.2.
According to property website Zoopla, a severe shortage of houses for sale is helping to inflate prices as buyers show less interest in flats and search for more space.
Britons are feeling less upbeat about their personal finances than in previous months, with expectations for the next year falling by 2.3 points. But at 101.8, the metric is still in positive territory and shows significant improvements compared with a year ago (89.9).
Similarly, many households feel their finances worsened in July, with the retrospective measure falling by 2.2 points to 94.6.
A separate survey of business costs and pricing shows that inflation has hit its highest point in 25 years, and with energy bills set to rise too, the pressure on households to keep up with increasing costs intensifies. At the same time, banks expect an increase in defaults on unsecured lending such as credit card debt as consumers scramble to pay for the money they borrowed to weather the coronavirus crisis.
The share of workers expecting their workplace to get busier in the next 12 months declined somewhat in July, causing a decline in expectations for business activity of 2.6. But the outlook is still overwhelmingly positive at 126.
There was also a small decline in workers reporting business activity rising in the past 30 days, with the metric slipping by 0.4 points to 111.6, despite most coronavirus restrictions in England lifting.
Darren Yaxley, Director of Reputation Research at YouGov, said:
"YouGov and Cebr's consumer confidence index shows that Britons' improving expectations about job security in the coming year and the increase in house value throughout July has been offset by the worsening sentiment around business activity and household finances. While workers feel that the outlook for employment is secure seeing the largest point increase this month, the retrospective measure for job security for July increased marginally and remains in negative territory.
"Negative sentiment for business activity and household finances are the main reason the index has stabilised after a period of intense growth, with both outlook and retrospective measures decreasing. Despite coronavirus restrictions ceasing in England, the share of workers expecting workplaces to get busier decreased. Rising inflation and consumer debt that has accumulated during the coronavirus crisis could explain why Britons are feeling increasingly worried about their personal finances."
Sam Miley, Economist at the Centre for Economics and Business Research, said:
"Though July's figures suggest that consumer confidence is stagnating, this should not be seen as cause for concern. The reading of 113.2 still stands as the second-highest value since May 2016, suggesting consumers are overwhelmingly positive at present. This was to be expected, given the ongoing economic recovery and return to spending and social opportunities.
Looking ahead, consumers are expected to remain in a net positive position as the recovery continues. Nevertheless, we could see some slight falls in confidence in the coming months, triggered by a slowing rate of growth once the gains from easing restriction measures have been fully exhausted."