A new YouGov BrandIndex Ad Awareness ranking reveals that confectionery brands are leading the pack
As the countdown to the festive break continues, YouGov takes a look at which FMCG brands are catching the eye of Brits with their Christmas advertising.
YouGov compared Ad Awareness scores (whether someone has seen or heard an advert by the company in the past two weeks) for the last 30 days with the previous period, and the results show that confectionery brands are leading the charge into the Christmas period.
Top of the list is Ferrero Rocher, which improved its Ad Awareness score from 7.4 to 15.5, an increase of 8.1 points, more than double the increase of any other brand. This time last year the brand's advertising earned it the top spot for the month overall out of all brands, could it do so again in 2020?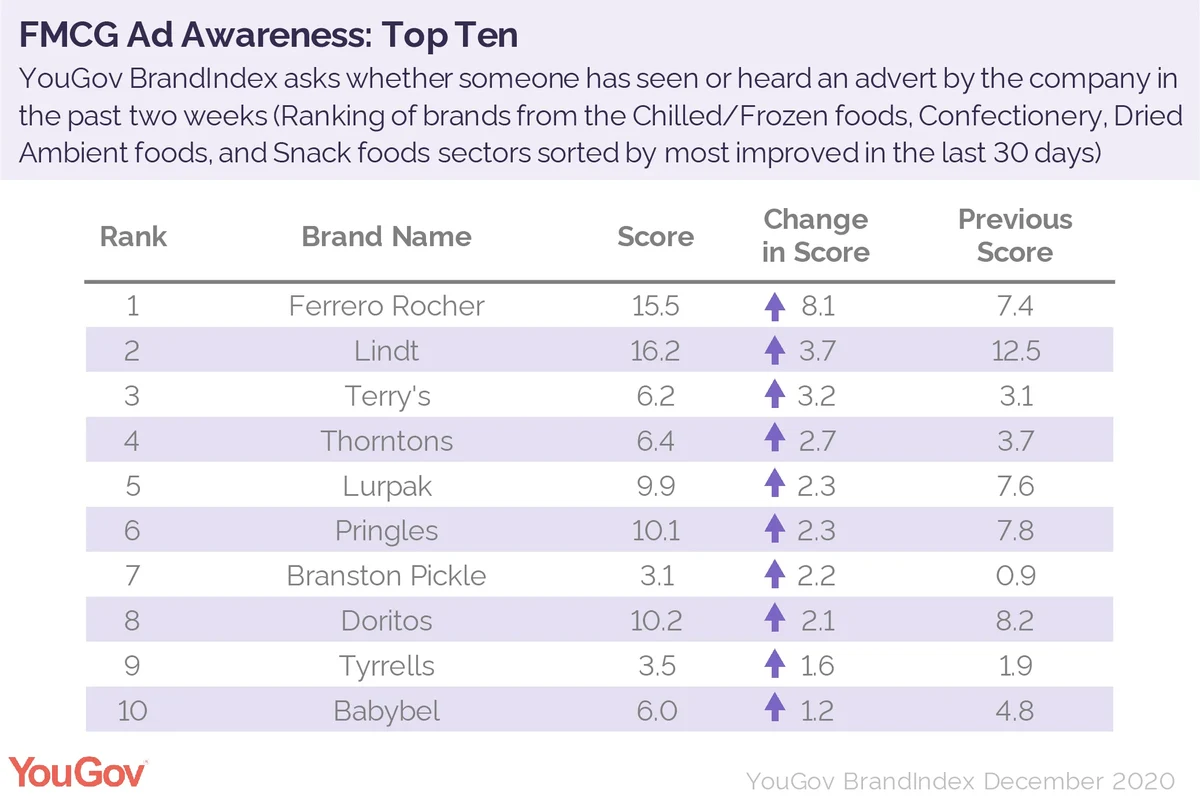 Second on the list is a brand that is closely associated with Christmas, Lindt. The Swiss chocolatier has seen its Ad Awareness score increase 3.7 points to 16.2, closely followed by Terry's (of Chocolate Orange fame) which increased its score by 3.2 points. Thorntons took fourth place by improving its score by 2.7 points.
The highest ranking non-confectionery brand is Lurpak, which has seen a 2.3 point increase in its Ad Awareness score, as has Pringles. Other brands making the top ten include Branston Pickle (+2.2 points), Doritos (+2.1 points) and Tyrrells (+1.6). In tenth place is Babybel with a +1.2 point increase in Ad Awareness.
Learn more about YouGov BrandIndex here