242-year-old British retailer Debenhams is set to close all of its 124 stores after last-ditch attempts to rescue the ailing department store chain failed. The store was set to be purchased by JD Sports, however this fell through after retail empire Arcadia also went into administration.
Debenhams' current situation is a far cry from the store's heyday in 1950, when the chain was the largest department store group in the UK. Over the last decade Debenhams has struggled to pay debts as profits have fallen, and has fallen into administration twice over the last two years alone.
Considering that for the majority of Debenhams' history the store was a retail success, what went wrong? New YouGov BrandIndex data shows that while Britons are affectionate towards longstanding British brands, they will struggle if they don't provide value for money.
Over the last decade, Debenhams' Index score (an average of Impression, Value, Quality, Reputation, Satisfaction and Recommend scores for the brand, and a measure of brand health) has declined from 30.9 in 2010 down to 21.8 in 2020.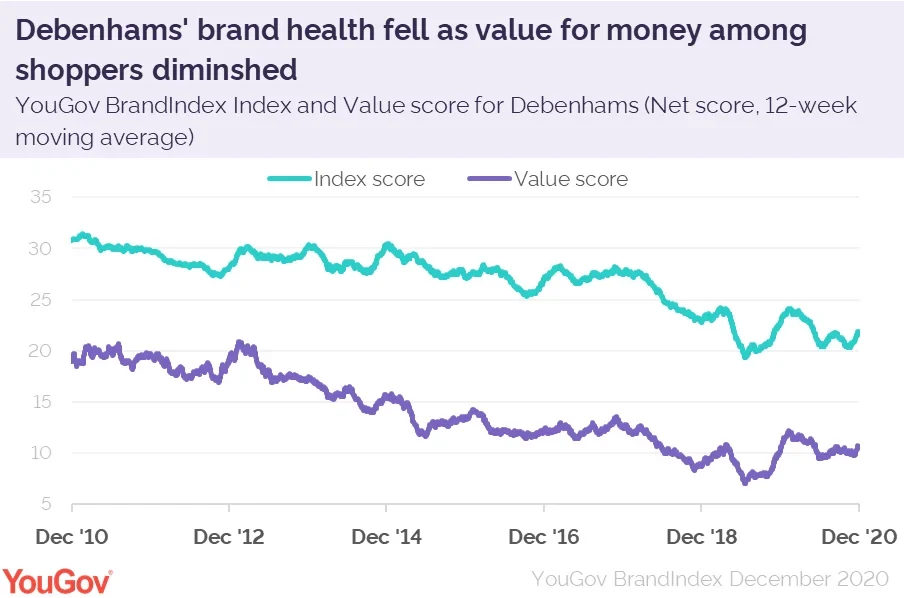 Although the Quality, Impression and Customer Satisfaction components of the Index score have remained relatively stable up until the point Debenhams entered administration, its Value for Money scores has dropped significantly, falling from an already low 19.0 to 10.8. Likely as a result of this, Debenhams' Recommend and Reputation scores also fell 11.9 points and 12.8 points respectively.
Looking at how other brands score among former Debenhams customers shows that Marks & Spencer, Next and TK Maxx have seen the most improvement. M&S's Index score among lapsed Debenhams shoppers has increased by 7.4 points since December 2019, while Next is up 3.8 points, and TK Maxx has risen 3.3 points. Rival chains John Lewis and House of Fraser saw their scores decline, however.
It's too late for Debenhams to be saved by another rescue deal and, as the data shows, the Debenhams brand had declined significantly over the past decade. This undoubtedly exacerbated the impact of the coronavirus pandemic on the store chain. Other department store brands hoping to fill the gap and encourage former customers to shop with them, such as John Lewis and House of Fraser, should focus on providing value for money as this was where Debenhams failed to perform.
Image: Getty