Garden centres and pub gardens top the list
The national lockdown currently in place in England is set to end on 2 December and return to the tier-based system. With many public spaces reopening, where will adults England feel comfortable visiting again?
Where do adults in England feel comfortable visiting after the lockdown ends?
With the festive season on the horizon, many people will be hoping to get their Christmas shopping done, and high street retailers are among the top places people feel comfortable visiting. Two thirds (68%) of adults in England who normally visit high street shops say they will be comfortable doing so when the lockdown ends. People are more wary of shopping centres, with 52% of those who visit them normally saying they would be comfortable going back post-lockdown.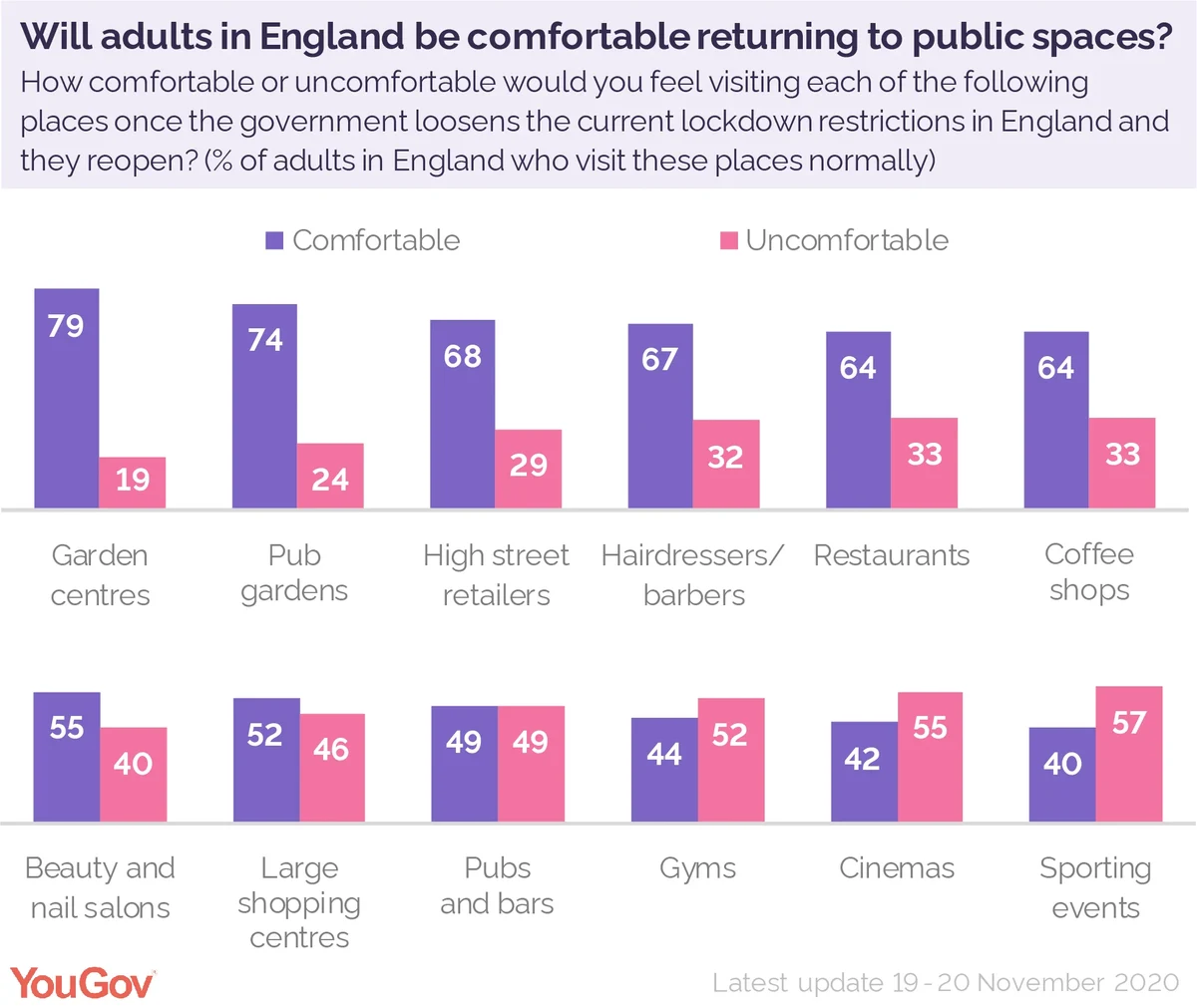 In Tier 2 areas, pubs will also be allowed to reopen as long as they serve a substantial meal with alcohol, and 74% of pub-goers say they would be comfortable in the pub gardens. However, they are split 49%/49% on whether they'd be comfortable they would be going inside the pub itself.
Gyms can also reopen in all of the new tiers, however only 44% of gym-going adults say they will feel comfortable working up a sweat again compared to 52% who would be uncomfortable doing so.
Other changing rules mean that up to 4,000 fans can attend some outside sports, however adults who would normally attend sporting events in England are more likely to feel uncomfortable here than not (57% vs 40%).
English adults are feeling more comfortable about returning to public places compared to the last lockdown
Compared to previous editions of this survey in April and June, people are much more comfortable with the prospect of returning to public places this time around.
Coffee shops have seen the biggest change since April, with a 28 percentage point rise in regulars now comfortable with going in store for their caffeine fix (36% in April compared with 64% now) after the lockdown. Restuarants have seen a similar improvement, up 27 percentage points from 27% to 64%.