That the British love tea is a well-known stereotype. But are we truly unique in our love for the boiled herb drink?
According to the latest YouGov EuroTrack study, Britons are not, in fact, the most likely tea drinkers on the continent. That honour goes to the Germans, of whom only 13% say they don't drink tea. Britons come in third, behind Swedes (19%), with 22% of us saying we never have a drop.
The French (29%) and Danes (28%) are the most likely to say they don't take tea.
Of course, there are many different types of tea, and Brits are far more likely to be drinking our own national blend – the English breakfast tea. Most Brits (54%) say that this is one of their teas of choice. Sweden are the next biggest breakfast tea drinkers at 35%, with 22% of Danes also fans. Just 15% of German and 13% of French adults drink English breakfast tea, however.
When looking across the channel to mainland Europe, Britain comparatively seems to have the least diverse taste in tea. After breakfast tea (54%), the most common teas amongst Brits are Earl Grey (18%) and Green tea (18%). In contrast, the country with the most diverse taste in tea is Germany, with seven different teas being drunk by more than a fifth of the population. The most popular tea drank in this country is peppermint (50%) closely followed by fruit tea (48%). Overall, the least popular tea across our Eurotrack countries seems to be Assam, a particular type of black tea named after its native Assam, India, with only 2%-14% of Europeans enjoying it.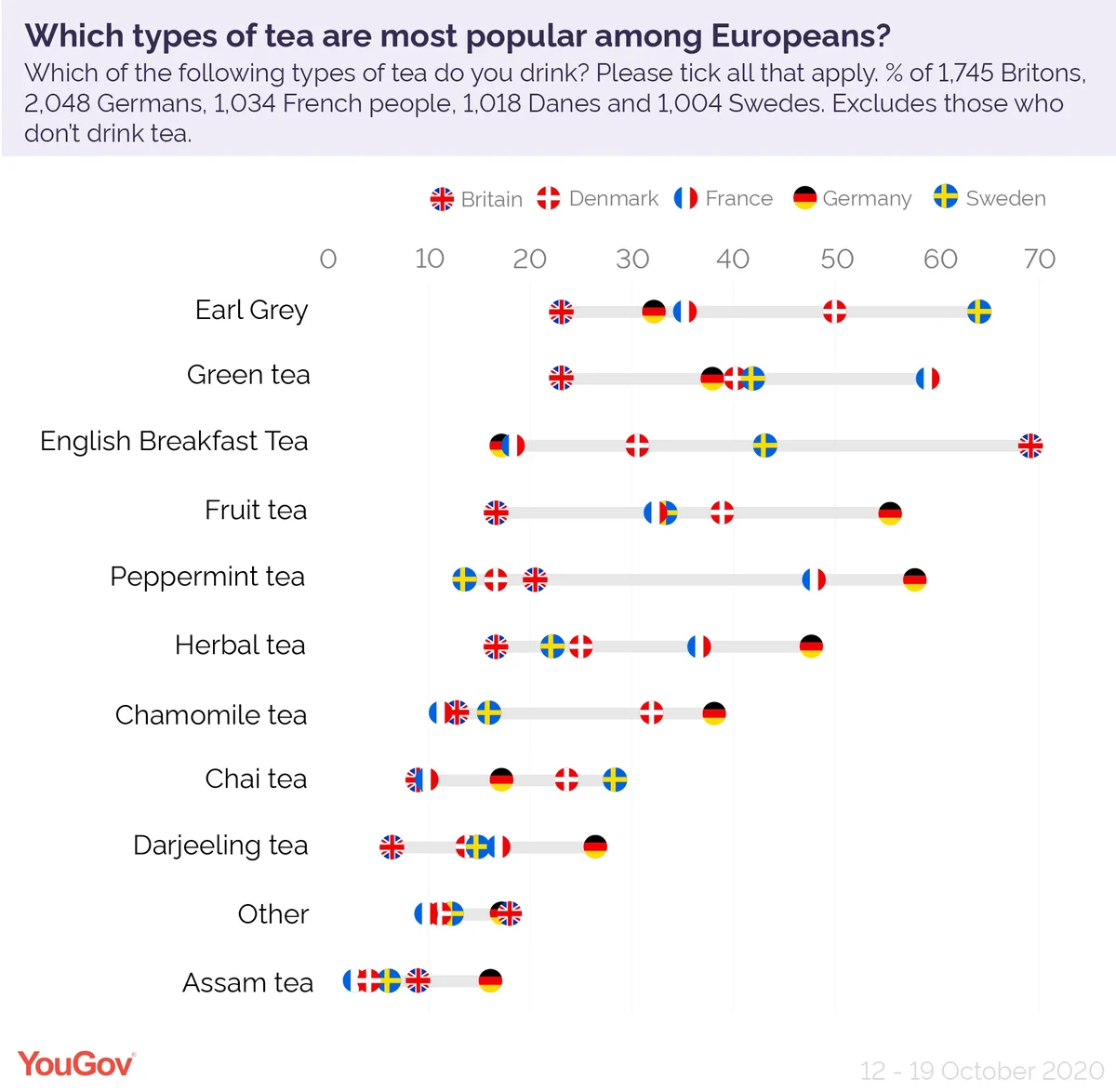 Milk and sugar? Britons are the biggest fans of milk in their tea, while Germans have the sweetest tooth
When it comes to how drinkers of English breakfast and Earl Grey take their tea, Brits favour a milkier brew than their European counterparts. A massive 85% of British Earl Grey and English breakfast tea drinkers have their tea with milk. Brits are definitely in the minority here, with the next milkiest country being Sweden, where just 32% take their Earl Grey/English breakfast with milk. Danes and the French who sup these teas are the most likely to have them black, at 73% and 77% respectively.
Whilst Brits love a milky brew, Germans seem to have the sweetest taste when it comes to their cuppa, with 45% taking their Earl Grey or English breakfast with sugar, compared to only 23% of Swedes, the least likely to do so.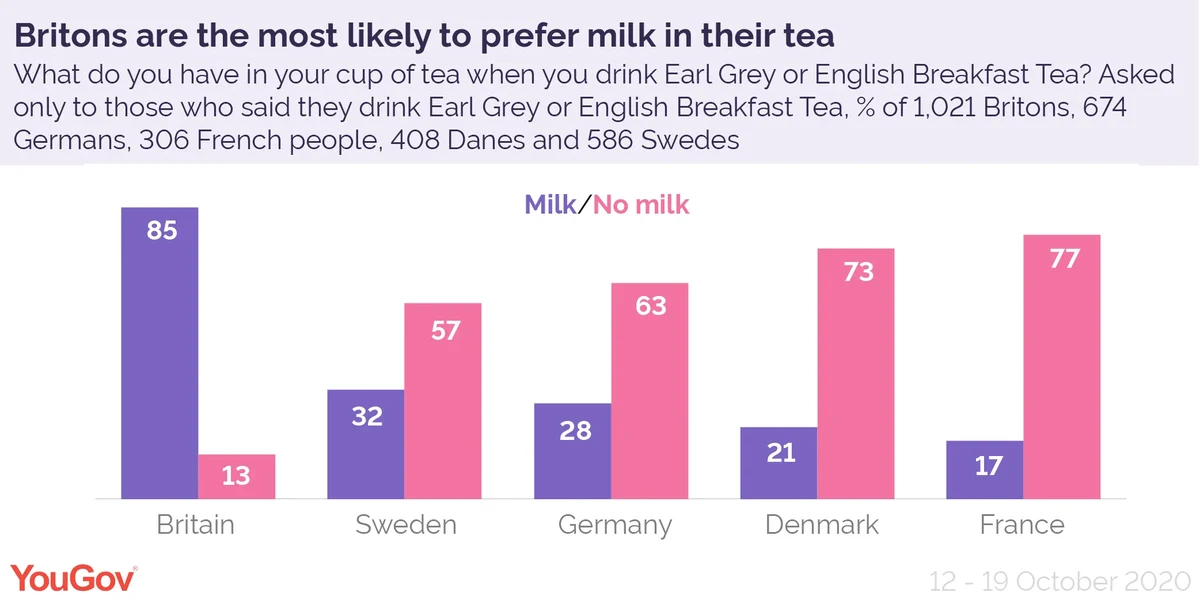 Brits are however the most likely to use sweeteners in their tea in place of sugar (7%), with the French (1%) being the least likely. A sizeable number of Swedes (13%) say that they are adding honey and lemon to their Earl Grey/English breakfast.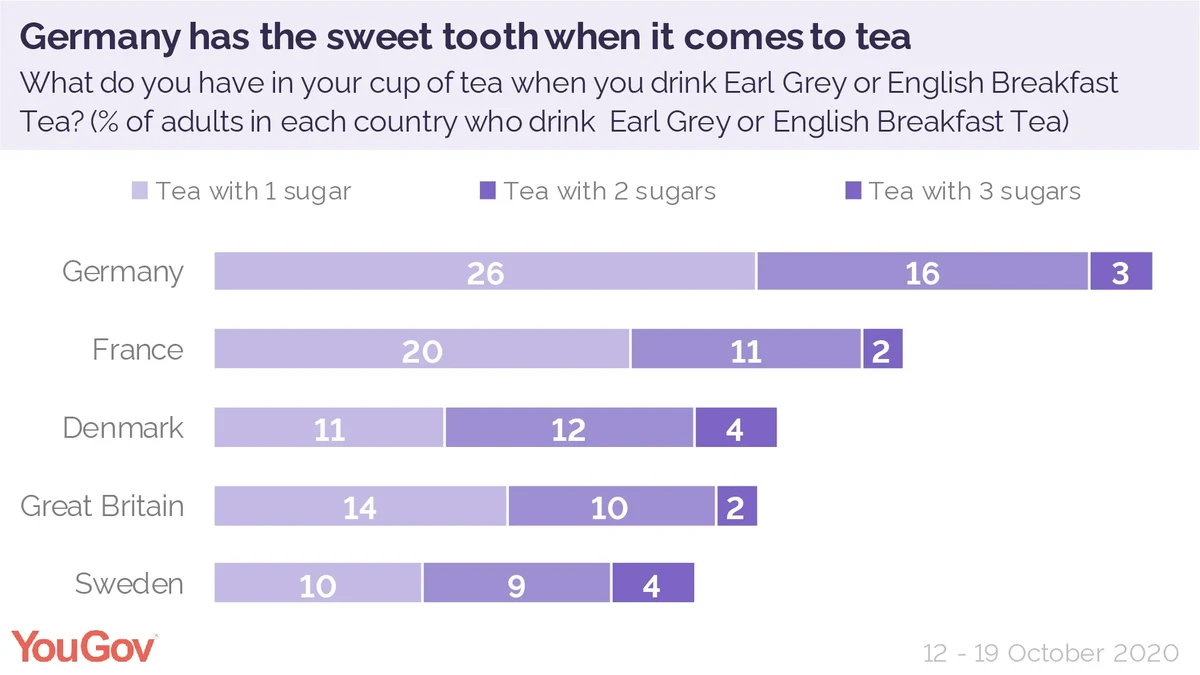 British tea habits: women and older people are more likely to have a brew
In Britain specifically, taste in tea seems to vary by both gender and age. Women are overall more likely to drink tea, with only 19% saying they do not drink any type of tea compared to a quarter (25%) of men. While they are also more likely to drink breakfast tea compared to men (57% to 51%) they are more likely than men to deviate from this classic. Women are twice as likely as men to enjoy fruit tea (by 17% to 9%), herbal tea (by 17% to 8%), and peppermint tea (by 21% to 10%).
Younger Brits are the least likely to drink tea, with one third of 18-24 year olds (33%) answering they don't drink tea at all, compared to just 19% of those aged over 65. Of those younger Brits who do drink tea, they are also the least likely Brits to drink English breakfast tea, with only 38% drinking English breakfast compared to 56-57% of older age groups.