Half say its unfair for larger retailers still open to promote offers on non-essential goods
With Christmas on the horizon, many Brits will be thinking about starting their festive shopping. However, many retailers remain shut due to the national lockdown in place in England. Despite the restrictions, some larger stores are able to remain open due to selling both essential and non-essential items.
YouGov asked Brits whether its fair or not for these larger retailers to continue to advertise and promote offers on non-essential items during the lockdown, and half (50%) of adults say it's not fair to do so.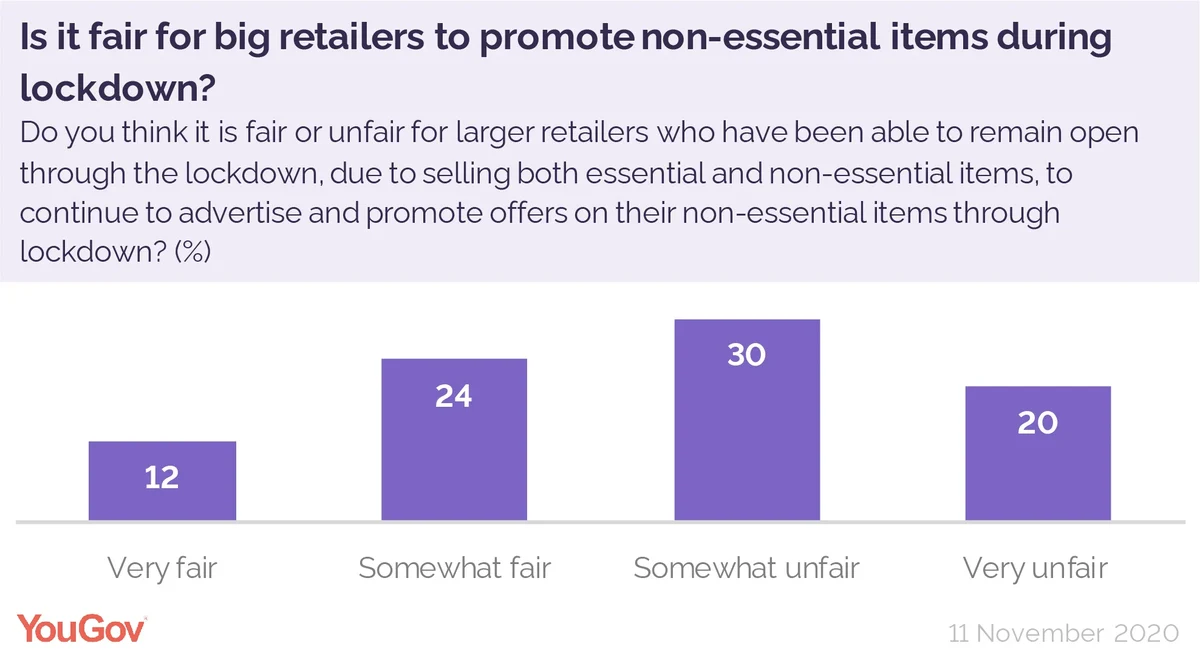 One in five (20%) of adults think it's very unfair for larger retailers to promote these non-essential goods during lockdown, and 30% think it's somewhat unfair. There is a split between ages on whether this is fair for retailers still open to do: those over 65 are most likely to think doing so is unfair (61%) compared to less than half (45%) of adults aged between 18-24 who say the same.
But this is not to say that Brits think buying non-essential goods is not acceptable during lockdown. YouGov research during the first national lockdown found that three quarters of Brits believe it's either fairly (50%) or very (25%) acceptable to buy non-essential items online.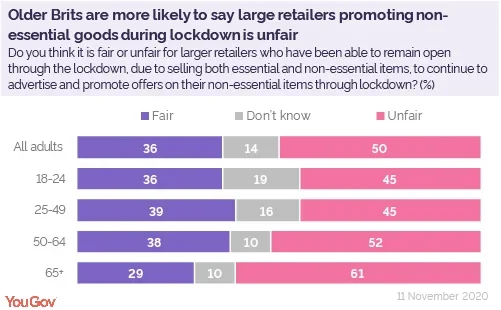 At the other end of the scale, 36% think it's fair game for larger retailers to advertise and promote offers on their non-essential items. Adults in the North of England are the most likely to think it is fair for larger retailers to promote and advertise as they please (43%), compared to 32% of Adults in the South who are the least likely to think the same.