Yorkshire Tea and Nescafé dominate their competitors
Best tea brand: PG Tips vs Tetley vs Twinings vs Typhoo vs Yorkshire Tea
Yorkshire Tea sweeps the board, leading across all five top BrandIndex measures, although Twinings comes a close second in the Quality category. On this measure Yorkshire Tea scores 44.3 to Twinings' 42.0 – both far ahead of the next closest rival on 28. 9.
That increased Quality score clearly comes at a cost for Twinings, with their Value score a comparatively low 11.0. Yorkshire Tea, by contrast, manages to invoke an air of quality at no cost to their Value score, at 26.8.
Typhoo consistently comes last on all measures.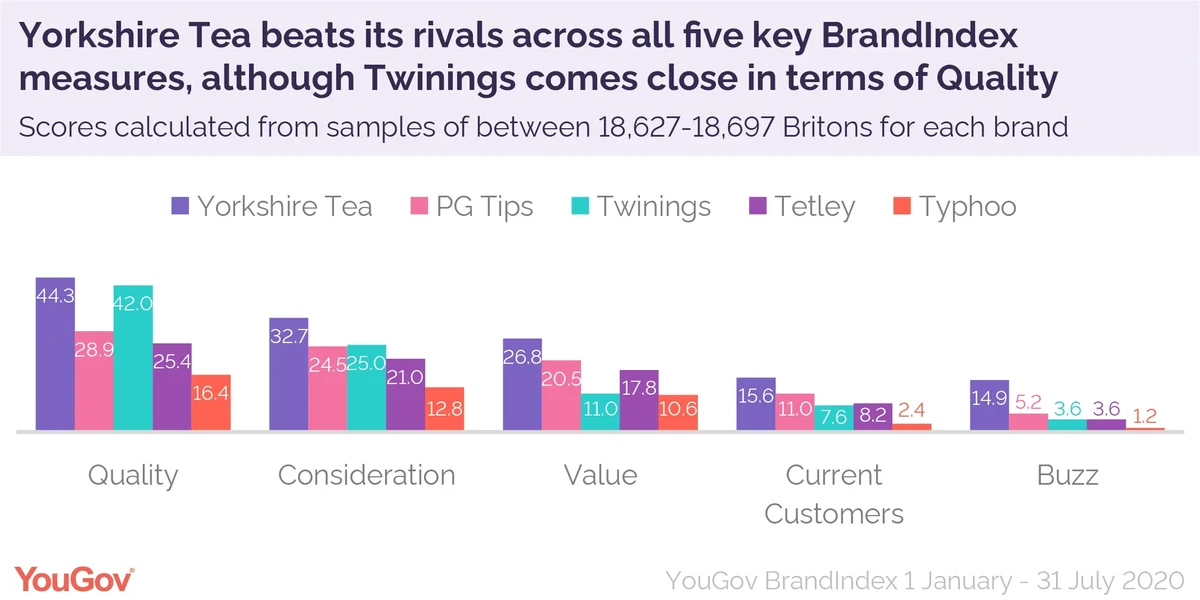 Best coffee brand: Nescafé vs Kenco vs Douwe Egberts
Nescafé wins in four of the five top BrandIndex categories: Buzz, Consideration, Current Customer and Value.
Nescafé's lead is particularly strong in the Consideration category (i.e. how many people will consider purchasing the brand's products) and in the related category Current Customer.
However the Quality award goes to Douwe Egberts, on 34.4 to Nescafé's 29.4. As with Twinings in the tea rankings, that high Quality score comes at the cost of the brand's perceptions of Value, sitting at just 6.2 compared to Nescafé's 14.2.