They're on the fence about Feasts too
YouGov is no stranger to controversy.
When in 2018 we revealed the nation's five favourite ice lollies – and every time we have talked about the results since – social media filled up with people proclaiming many of the entrants shouldn't even have been eligible in the first place.
It's time to put the issue to bed, so YouGov has asked the public which of 12 candidates they consider to actually be an ice lolly.
The results show that those who dispute the Magnum's right to take part in the ice lolly contest are in the majority. Almost six in ten (59%) say the ice cream covered in chocolate – famously 'invented' by James Bond actor Roger Moore – is not an ice lolly, compared to 41% who disagree.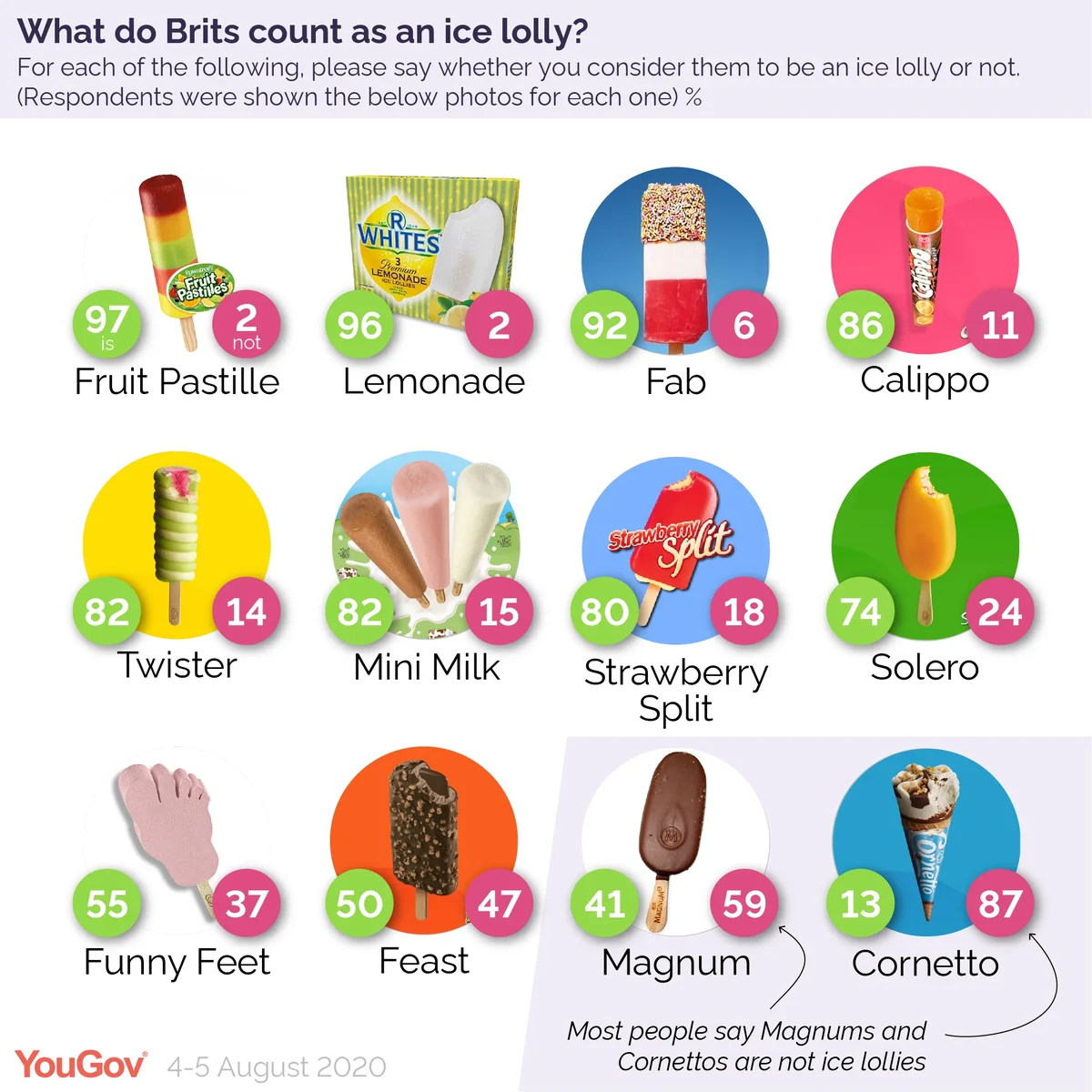 This means that the Magnum has the unusual distinction of being both Britain's favourite ice lolly (it romped home on 28% of the vote in 2018) while also not being seen as an ice lolly at all.
The similarly ingrediented Feast is also divisive, but comes down just on the other side of the line: 50% of Britons consider Feasts to be ice lollies versus 47% who don't. The remaining 3% aren't sure.
Britons are most emphatic that Cornettos are not ice lollies, at 87%. This is unsurprising, given the fact that they clearly imitate an ice cream in a cone. Nevertheless, one in eight Britons (13%) still say a Cornetto is an ice lolly.
The archetypal ice lolly is the Rowntrees Fruit Pastille lolly, according to the results. Fully 97% of Britons took one look at the quint-coloured treat and granted it ice lolly status. A similar number (96%) gave the same honour to R Whites lemonade ice lollies.
In third place came Fabs, at 92%. Fabs proved to be the nation's second favourite ice lolly in the 2018 survey.
In fourth place are Calippos, at 86%. It is noticeably that this strongly suggests that the presence of a wooden stick is not necessary in the minds of the nation for qualification as an ice lolly.
What connects all of the top four candidates for ice lolly status is that they are all composed of frozen fruit juice, or in other words "ice". Many of those who had complained about some of the other candidates had suggested that this was the distinction between what was and wasn't truly an ice lolly.
The public does not seem to agree. For instance, 82% Mini Milks as ice lollies, despite the fact that they are made from milk rather than juice. Twisters (82%), Strawberry Splits (80%) and Soleros (74%) score similarly highly, despite being made mostly from ice cream.
The generations differ on their definition of ice lolly
While older Brits are split 48/51 on whether a Magnum is an ice lolly, younger Brits are far more convinced that it is not, with 72% saying it doesn't count.
Younger people are also far less likely to say that a Solero is an ice lolly, at 53% of 18-24 year olds compared to 81% of those aged 65 and above.
They are, however, more likely to consider Calippos (97% vs 78%) and Twisters (87% vs 72%) ice lollies than their older brethren.
Photos via: Walls, Fab, Britvic, Nestlé