Our latest research suggests Brits are keen to shop on the local high street rather than heading to crowded shopping centres
The COVID-19 pandemic has placed a huge strain on British retailers and those in the hospitality business – many of whom will now be breathing a sigh of relief as pubs, restaurants, and hairdressers reopen the July 4th. However, the high street has long been under threat from bigger businesses, and it turns out that while lockdown may have been a hard time for smaller retailers it may have got British adults reconsidering how, and where, they shop.
Are Brits shopping locally because of Coronavirus?
Our latest polling shows that approaching two fifths (38%) of Brits have shopped locally to some degree for food and drink, due to the lockdown restrictions.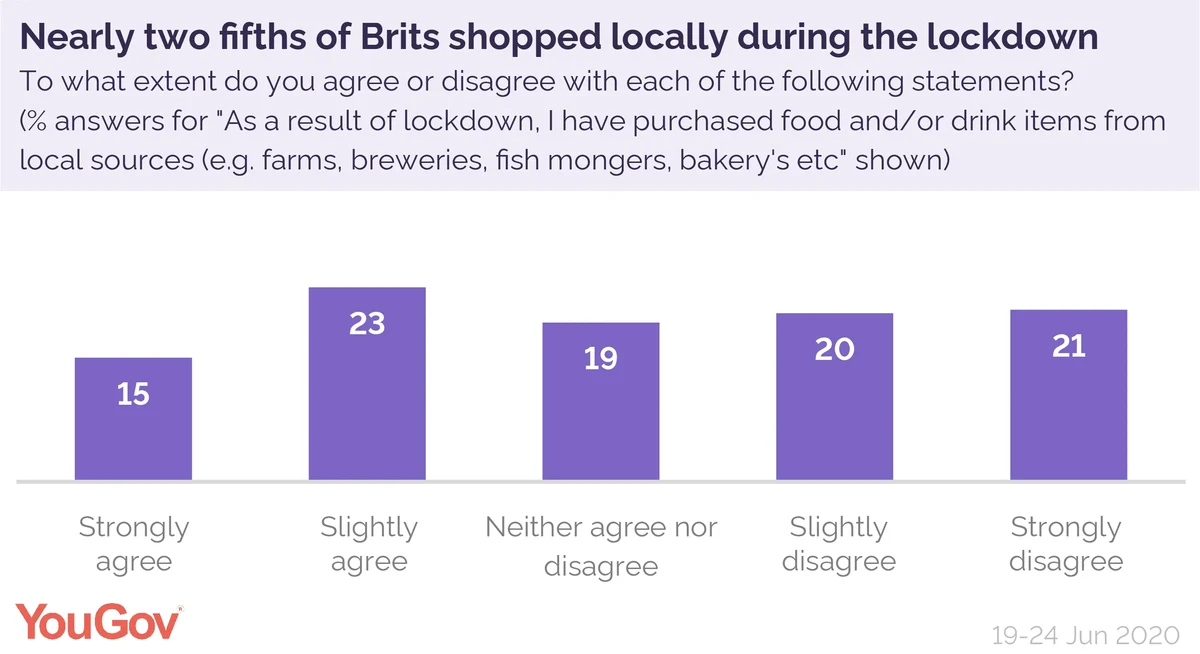 It's not just local grocers getting a boost either, we also asked Britons about their purchasing habits for non-essential goods now that a greater range of shops have reopened. Of those adults who have been shopping since lockdown restrictions were partially lifted, 62% say they've been shopping on their local high street for non-essential goods, compared to only 25% and 19% who said they've been to retail parks or shopping centres respectively.
When it comes to what's important to shoppers following the lockdown, sales and discounts are not high on the priority list. The vast majority of adults say that after making sure the store they visit has the item they want (87%) the most important factor in deciding where to go shopping for non-essential goods is that stores promote social distancing (81%).
Potential shoppers are also thinking about whether or not they can avoid public transport (63%) when considering a shop for non-essential, and whether the shop is a short distance away (60%) from home. Only 46% of adults by comparison said sales and promotions were important in forming their decision.
How will shopping habits change in the long run?
The pandemic will eventually come to an end, however, so are Brits going to slip back into their old routines? Our data suggests that those who have switched to shopping locally for food and drink on the high street don't intend to stop. Overall, 70% of those who shopped locally say they will continue to do so to some extent, even when lockdown is fully lifted.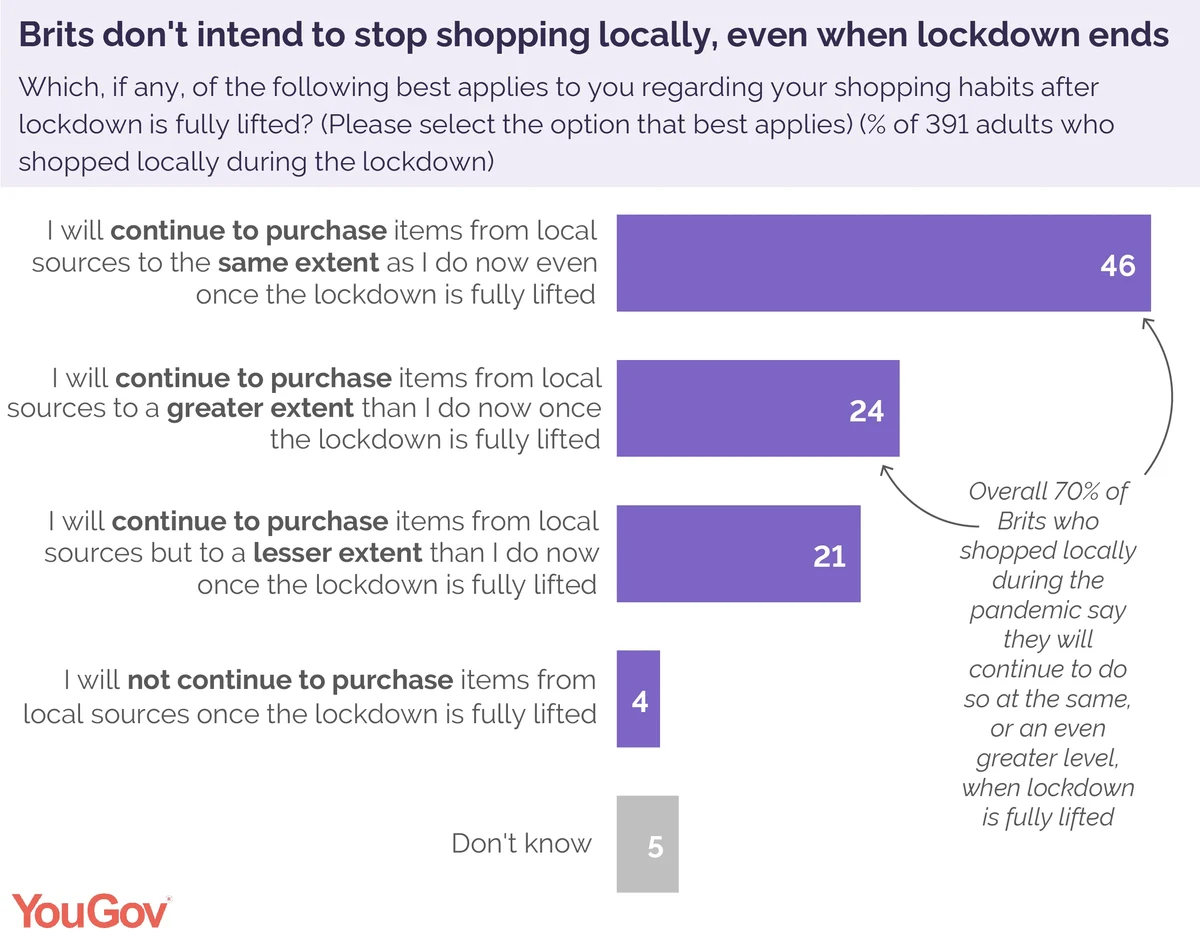 Breaking this down, 46% say they will continue to purchase from local sources to some extent when lockdown ends, however almost one in four (24%) say they will actually increase their spending with local producers. Only 25% said they would either reduce or stop shopping for groceries locally once the lockdown fully ends.
Brits in general are also thinking about switching up their shopping habits when lockdown ends, with 20% of all adults strongly agreeing that they will shop from local sources where possible after the pandemic and another 32% slightly agreeing.
On the flipside the same number (20%) agreed that they will still do their weekly shop in the supermarket, but would shop locally when they needed top ups.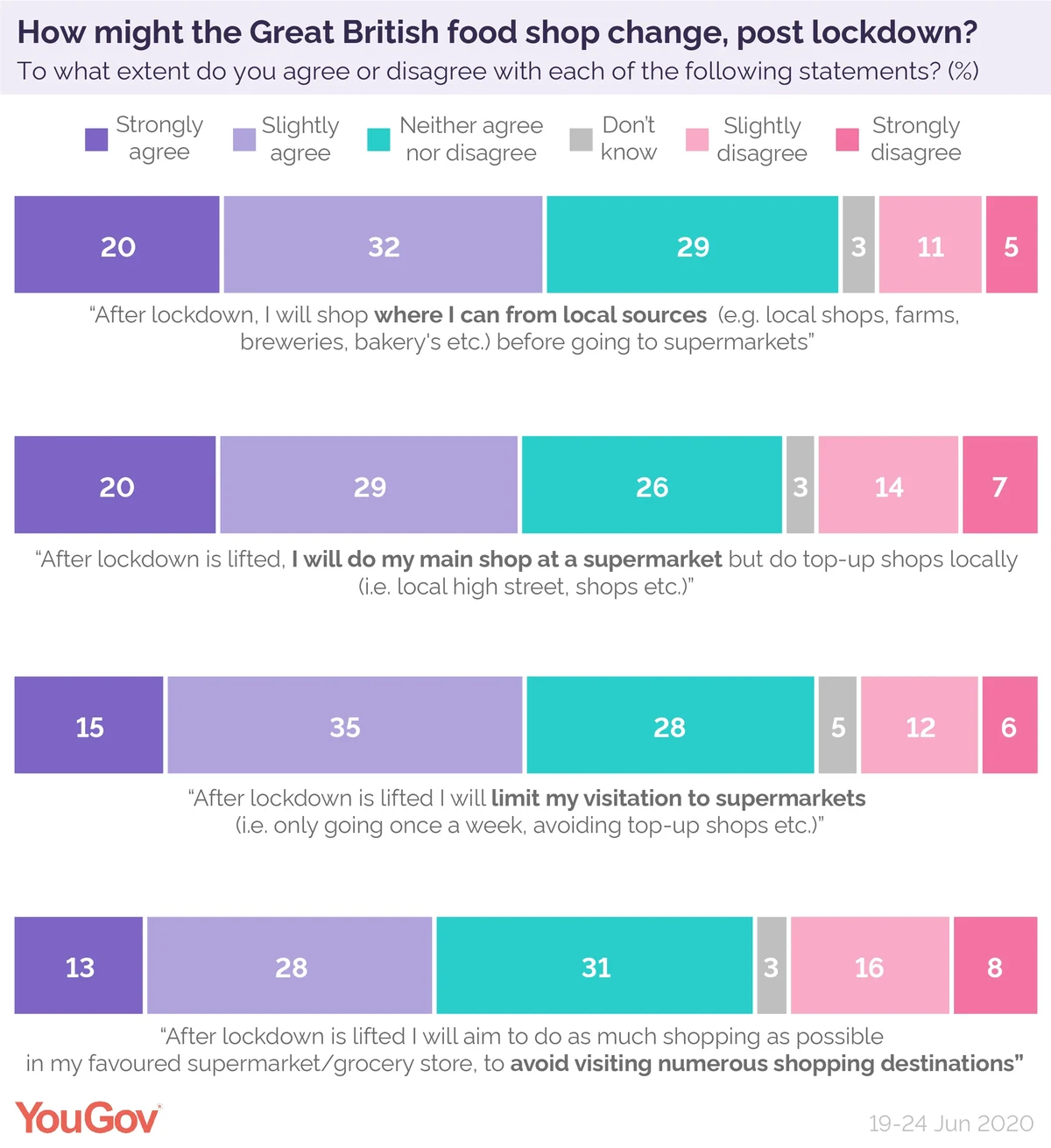 Another 15% of British adults say they will be limiting the amount they visit large supermarkets when the lockdown restrictions are lifted – unsurprising given that 48% of Brits say they would feel uncomfortable visiting an enclosed retail space like a shopping centre, whereas the same proportional (48%) said they would be comfortable visiting high street stores for non-essential goods.
Another change to shopping habits could be the end of the top-up shop, overall 41% of Brits agreed that they would be avoiding visiting numerous shopping locations and instead trying to do all their grocery shopping in one fell swoop at a single location.