The iPad 3 is the most popular choice for consumers looking to invest in a digital tablet

A recent survey has shown that the iPad 3 is the most popular choice for prospective tablet consumers - even prior to it's launch.
Research from a recent YouGov study reveals that just over a quarter (26%) of all tablet prospects, that is people looking to buy a tablet over the next 2 years, plan on buying an iPad 3 - even before the upcoming product is launched or named.
The study found that 16% of the British population are keen to purchase a tablet within the next two years. However, just 8% of prospects expect to get a tablet within the next three months.
The iPad remains the tablet of choice amongst British consumers with two thirds, of those that expressed a brand preference, planning to purchase either an iPad 2 or 3.
By contrast, just 6% of prospects overall plan on getting an Amazon Kindle Fire (also not yet launched in the UK but beginning to build some anticipation and traction) and 5% a Samsung Galaxy Tab.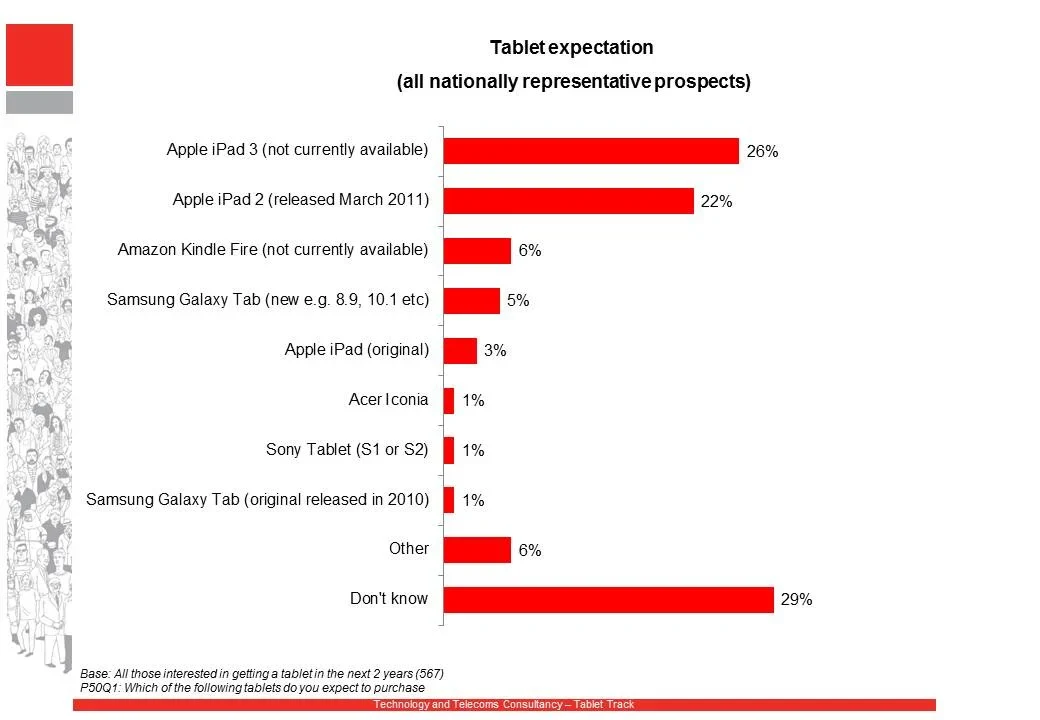 Just under half of all prospects (48%) favour a tablet with Wi-Fi and 3G capability in advance of purchase, whereas only 27% want a Wi-Fi only tablet. Previous research from YouGov's Tablet Track Wave 7 has found that despite prospects aspiring to get a Wi-Fi and 3G tablet, the majority end up buying a Wi-Fi only tablet due to price concerns about the cost of the hardware and the overall ownership cost of 3G devices.
Russell Feldman, Associate Director in YouGov's Technology and Telecom's team says: "The tablet remains synonymous with the iPad and Apple continues to dominate the market with nearly three quarters (73%) of the owner base. Whilst a plethora of Android tablets are trying to compete, success has been limited outside of Samsung. Our view is that there are opportunities here for both Amazon and Microsoft to challenge in the future.
Total sample size was 4,119 nationally representative respondents. 567 of the representative respondents were tablet prospects.
About YouGov's Tablet Track
Since August 2010, YouGov has been tracking the tablet market. Now in its seventh wave of research, the study interviews 1500 tablet owners and 2000 respondents representative of the national population to understand their views towards tablets. The project is a syndicated study produced every quarter (next wave due March 2012).
Learn more about YouGov's Tablet Track
See the full details and original Press Release here
For more information please contact YouGov's press office or call on +44(0)20 7012 6015