Many Brits will be flocking to charity shops with donations as they reopen this week, but COVID-19 has also made many shoppers and volunteers wary of returning
Many Britons took the opportunity during lockdown to spring clean their homes, and YouGov research shows that 55% have gathered books, clothes and other items that they intend to donate to a charity shop as soon as they reopen.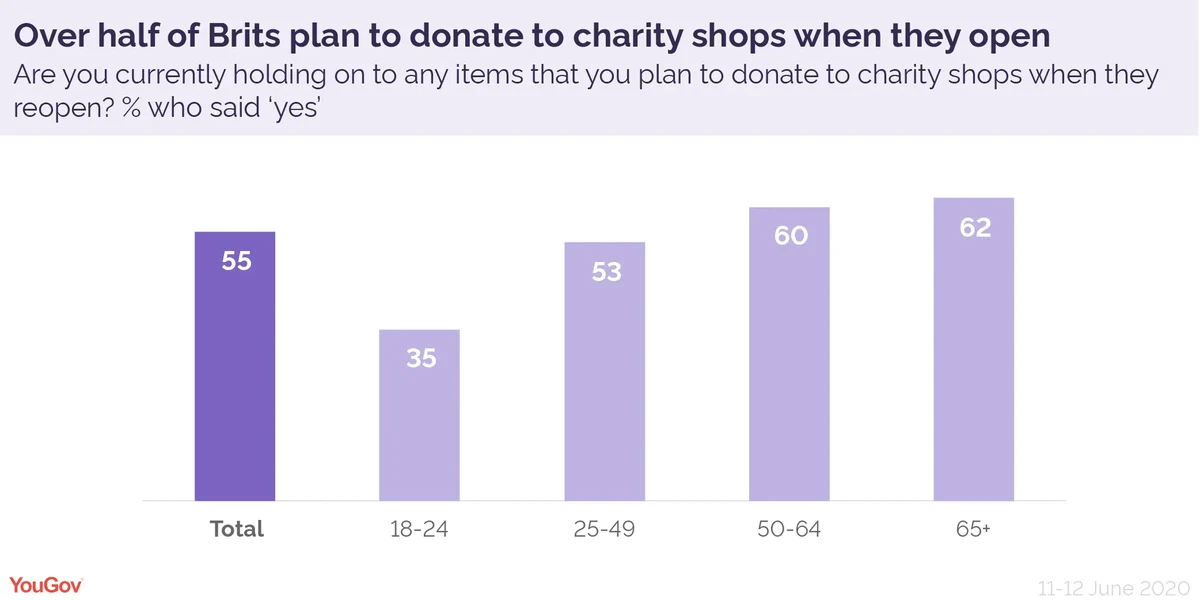 Older people in particular have been clearing out their homes. Three in five Britons aged 65 and over (62%) say they have items to donate once charity shops reopen. In contrast, only about a third of 18- to 24-year-olds (35%) will be donating.
Most people plan to donate clothes (85%) and books (51%). A quarter are also getting rid of furniture and homeware (25%) and old DVDs, CDs and records (23%).
But the flood of preowned clothes, books and furniture could present a logistical struggle for charities, as they will reportedly have to quarantine donations for 72 hours as a protection against COVID-19.
More donations, fewer customers
Charity shops are facing other challenges too. Over a third customers say they'd feel uncomfortable purchasing from one as they reopen (36%). The figure includes 12% who say they'd feel very uncomfortable.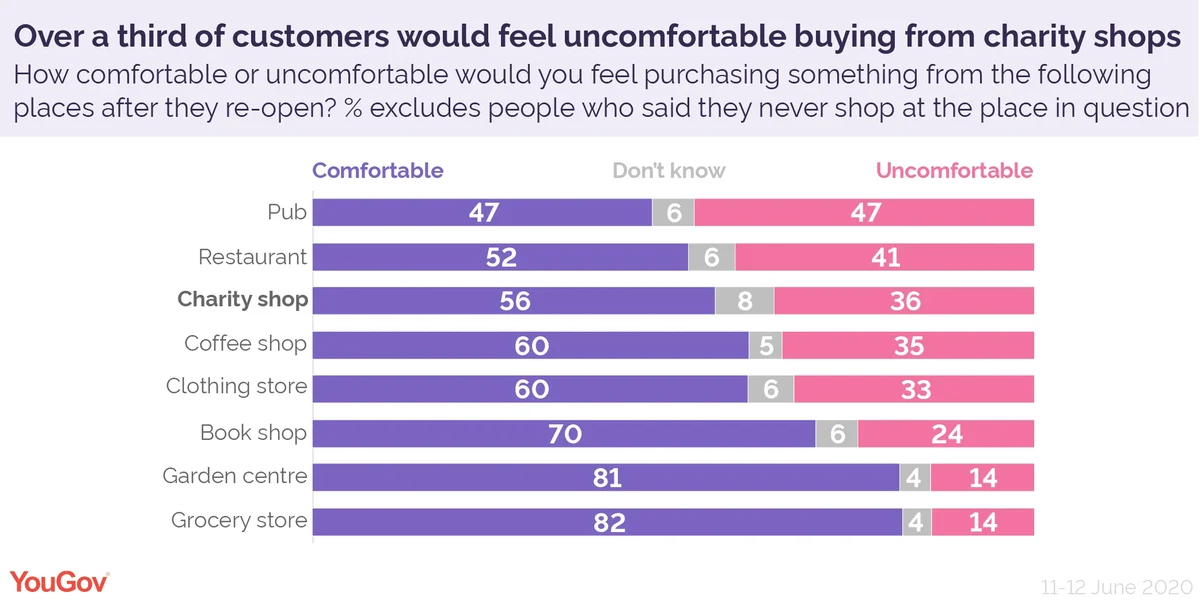 The numbers are roughly in line with how Brits feel about new clothing stores, with a third of customers saying they'd feel uncomfortable making a purchase (33%).
A slightly higher number of people would feel at ease in a clothing store (60%) than a charity shop (56%). The small difference suggests most customers are not specifically worried about buying preowned items. The concerns may have more to do with the ability to socially distance in-store and touching clothes, as a higher number would feel comfortable in a book shop (70%).
People aged 65 and older are the keenest charity shoppers, with only 11% saying they never shop in one. But as high streets reopen, two in five (39%) say they'd now feel uncomfortable buying from a charity shop – the highest of any age group.
The numbers show charity shops are facing a perfect storm as they open their doors after nearly three months in lockdown. Over a third of customers are likely to stay away, while more than half of Brits have been holding on to donations that will need to be quarantined. And on top of that, many volunteers are unlikely to return as they are in high-risk groups.