Shops are reopening today after months of lockdown, but our data shows that Britons are cautious about returning
Today is a major milestone on the long road back to normality for the UK, as non-essential shops open their doors for the first time since March 23rd. But with the COVID-19 pandemic still present, will shoppers be willing to return to shopping in person?
Where do Brits feel comfortable visiting?
Of the high street shops opening today, clothing stores are the place Brits will feel most comfortable returning (40%). But this is some way off garden centres (64%) which opened on the 13th of May. These take the top spot as the place Brits are most comfortable returning to, possibly due to their open-aired nature.
Click to enlarge
Another two fifths (40%) of Brits say they would also be comfortable returning to indoor shopping centres and malls, with 9% very comfortable doing so – however half (50%) of Brits say they wouldn't be comfortable heading into their local indoor shopping centre just yet.
Looking at other locations up and down the high street which haven't opened just yet - approaching two fifths of Brits (37%) say they will feel comfortable returning to restaurants when they eventually reopen. Around the same (34%) say they are comfortable with returning to coffee shops, some of which have already begun to offer takeaway services. The 38% of Brits who feel comfortable enough to return to their barber or hairdresser will have to wait however, with these outlets remaining closed until the 4th of July.
We also asked Brits how they feel about returning to the gym. Considering 74% of Brits told YouGov they were exercising during lockdown, how many are heading to gyms when they reopen? Around a quarter (27%) of regular gym goers say they feel comfortable returning.
In this an age issue?
In April, economic researchers from the University of Warwick made a case for ending lockdown for young adults, who are less at risk of developing serious cases of COVID-19 and could breathe life back into the economy – however our research shows that in many of the scenarios we asked about, the difference in comfort between age brackets is low, and in some cases older Brits are more willing to return than their younger peers.
The biggest difference between age groups (not including the workplace) is for restaurants, where 48% of Brits aged 18 to 24 feel comfortable visiting, compared to 38% of those aged over 65 - a 14 percentage point difference.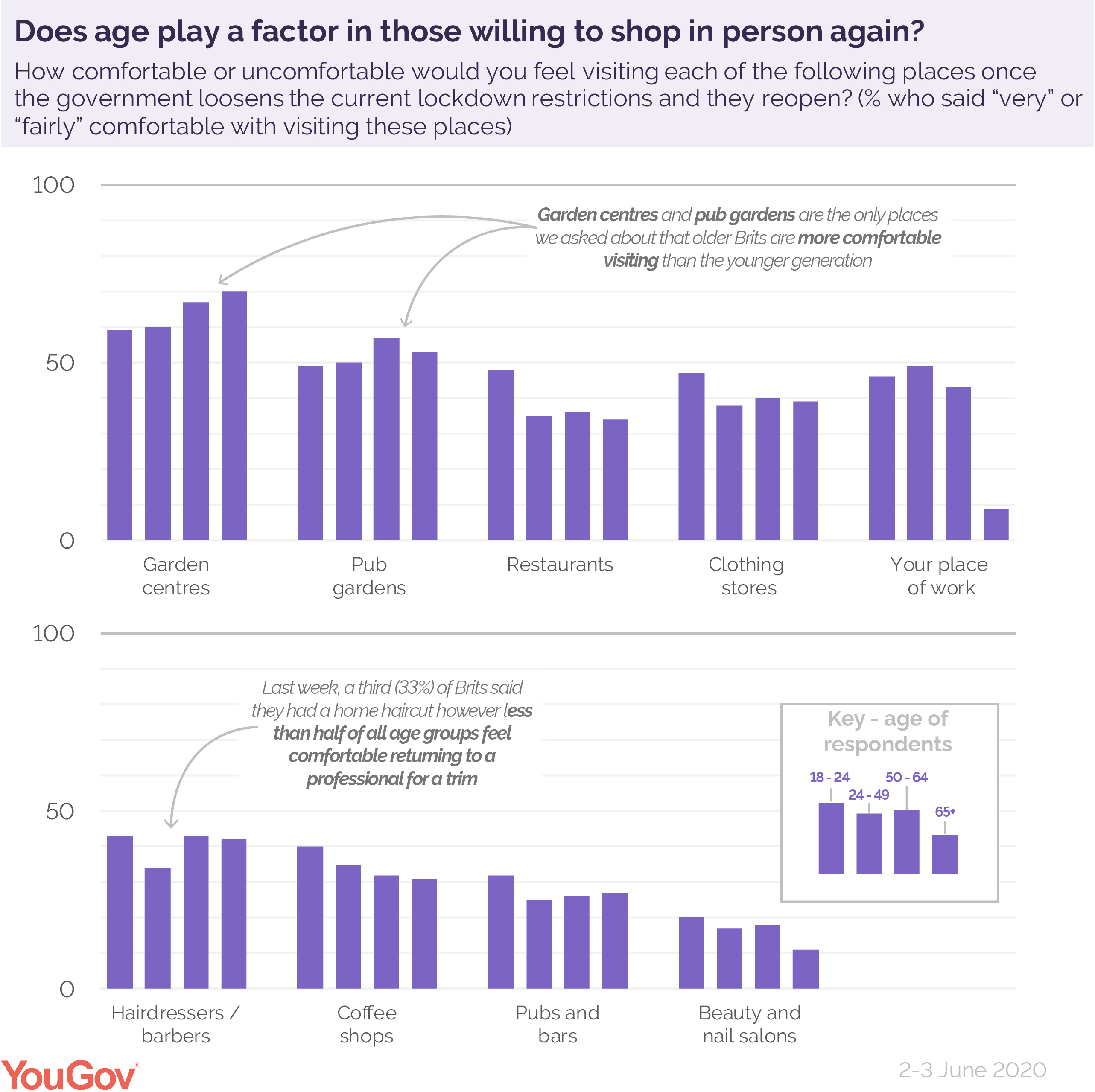 Click to enlarge
In the case of of garden centres and pub gardens, the larger, open-air nature of these places may explain why older Brits are more comfortable returning to these places than younger generations. These places are also where most Brits think they will be able to adhere to social distancing guidelines.
Are feelings of comfort in returning to the high street tied to social distancing?
The majority of Brits think they can keep to rules when visiting garden centres (71%) and pub gardens (60%) however these are the only places where the majority think they can do so. Despite retail workers' best efforts to prepare stores with plastic shielding, one-way systems and two-metre floor markers, just 48% of Brits think they will be able to keep two metres away from other shoppers in clothes shops.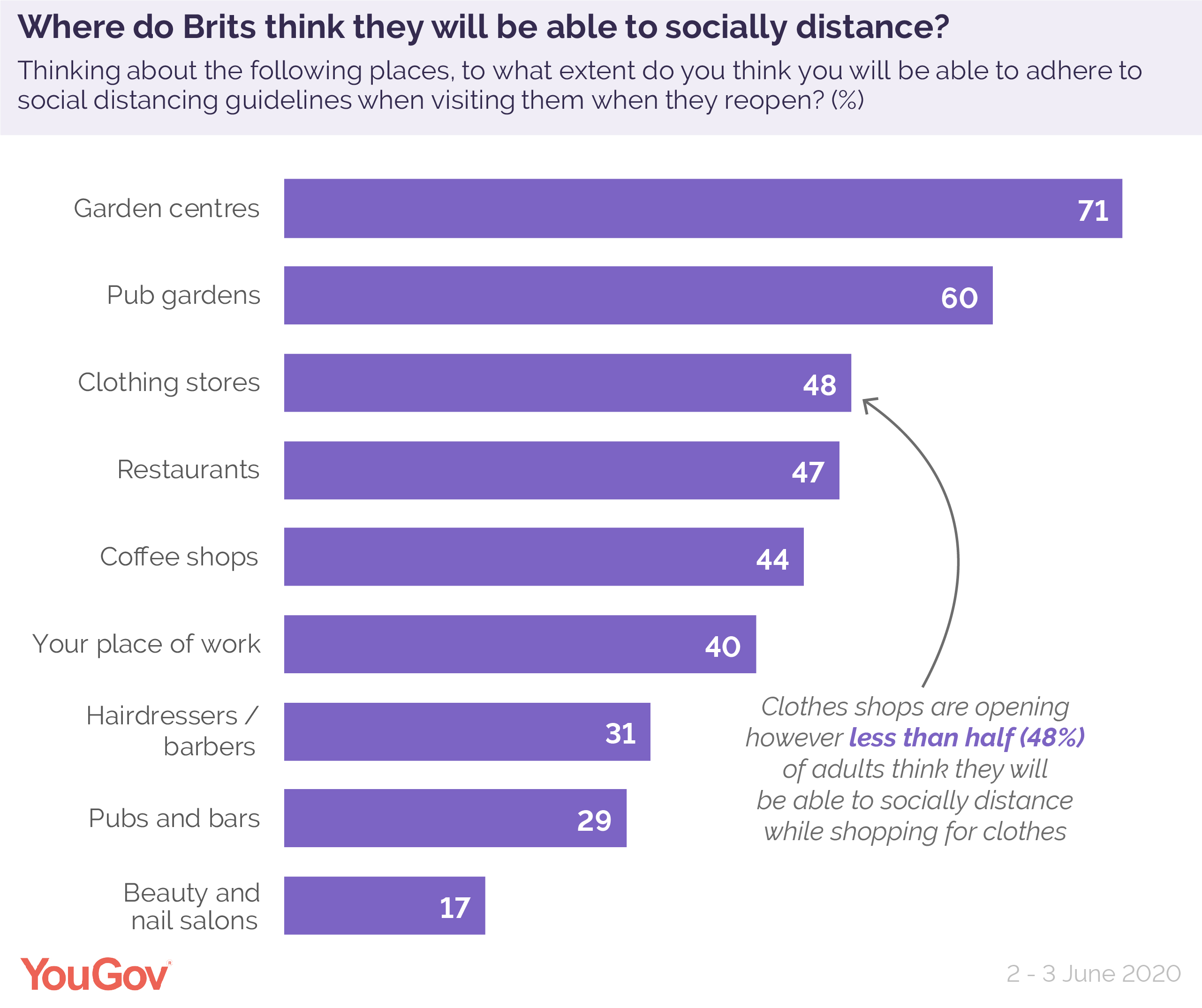 Click to enlarge
What this data suggests is that how comfortable people feel returning to these locations is related to how well they think they will be able to socially distance from others while they are there. For example, Brits are twice as likely to feel comfortable returning to pub gardens (53%) than indoor pubs (26%), and are also twice as likely to think they could socially distance in a pub garden (60%) than inside a pub or bar (29%).
Interestingly, the perceived ability to socially distance does not follow the same age-related pattern as we saw in comfortability to visit places – for example 37% of over 65s think they could socially distance at the hairdressers, compared to 29% of 18- to 24-year-old Britons. However, this younger age bracket are then more likely to think they can socially distance in coffee shops (51%) compared to the over 65s (39%).
Could shops take precautions other than the two metre rule?
Following on from this, what other precautions are Britons willing to take to return to the high street? We asked whether Britons would be willing to wear a face mask if required (something Britons have been historically opposed to doing voluntarily), and if they would be willing to have their temperature taken before visiting places.
Interestingly, Britons are most willing to take these extra precautions in the places where they say they are least confident at maintaining the two metre social distancing rule. Approaching three quarters (72%) of Brits say they would be willing to both wear and mask and have a temperature check before shopping in clothes shops, and similar numbers say the same (68% and 72%) for barbers and hairdressers.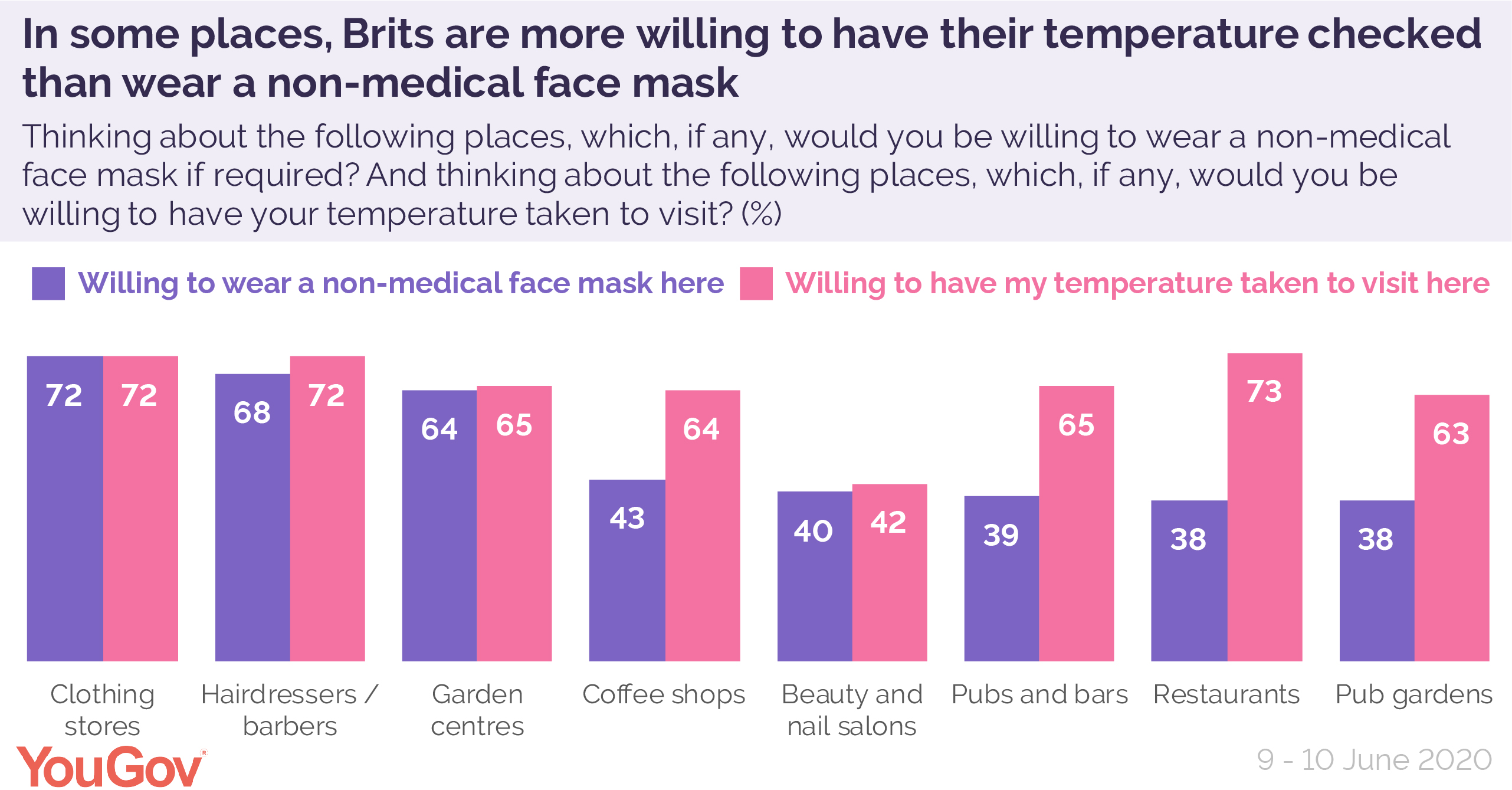 Click to enlarge
YouGov recently reported that a mere 21% of Brits were donning face masks when they left the house, which makes it unsurprising that in some scenarios (pub gardens, restaurants, and pubs and bars) Brits are more willing to have a temperature check than wear a mask. The biggest disparity is in the restaurant scenario, where Brits are almost twice as likely to be willing to submit to a temperature check (73%) than wear a non-medical facemask (38%).
Simply, is it too soon for us to be out shopping?
This all begs the simple question: is it too soon for non-essential shops to open their doors? The public as a whole is split, with 39% saying it is, and 41% believing it's about the right time for shops to open. Just 6% of the public think non-essential retail shops should have already reopened.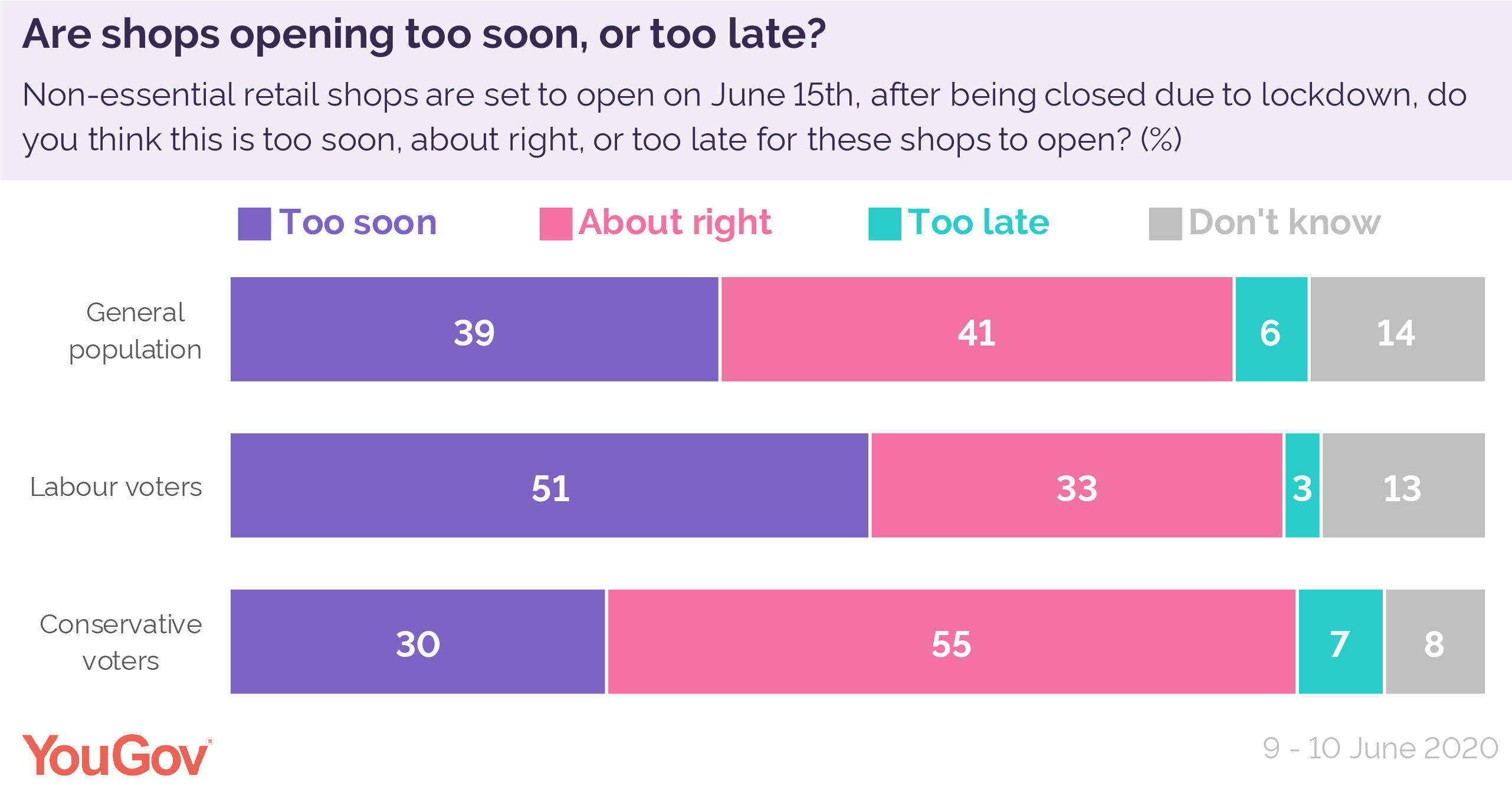 Click to enlarge
There is a significant difference between Labour and Conservative voters on the issue, with Conservative voters more likely to back the Government, with 55% saying it's the right time, and three in ten (30%) who think it's too soon. This is compared to half (51%) of Labour voters who say it's too soon, and 33% who are pleased to see the shops reopen.
See data on comfort and social distancing here