In the week after announcing its return, Cineworld consideration hit its lowest point since lockdown began
The COVID-19 pandemic has hit the movie industry hard: filming has been postponed for many significant productions, major theatrical releases have moved to streaming platforms in the middle of their runs, and franchises such as James Bond and The Fast and the Furious are pushing new entries in their series to later on this year, or even 2021.
However, with the Government announcing that cinemas can reopen next month – and with releases such as Mulan and Tenet coming out over the summer – some chains are tentatively planning their next steps. Cineworld (which some experts estimate may be set to lose up to £185m thanks to coronavirus) has gone as far as to announce that it intends to welcome customers back to all of its UK cinemas in July.
But evidence from YouGov BrandIndex suggests that a number of consumers might not be ready to return. The week after Cineworld announced its comeback (28/05 – 04/06), consideration scores declined from 24.8 to 18.5: their lowest point in 2020 so far. As of this writing, they seem to have recovered, but it is unlikely to have been the snap reaction the brand was hoping for. Over the same period, reputation scores almost halved (8.4 to 4.6) and purchase intent fell from 9.8 to 7.8.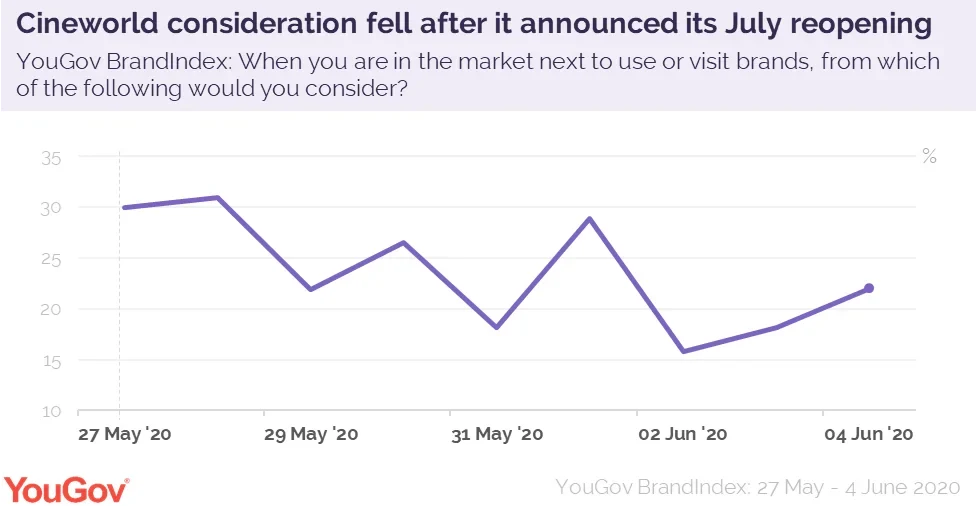 Cineworld's buzz has particularly suffered during the coronavirus pandemic: it peaked early in the year – hitting 8.3 on January 24th – and has fallen precipitously since. After hitting its nadir shortly after lockdown on April 1st (-2.9), its scores haven't exceeded 3.5 and have occasionally dipped back into the negative zone.
Though the Government says the UK is past the pandemic's peak, cinemas may have a tough road ahead. While strict social distancing measures have made it possible to reopen, the public's willingness to sit in a confined space with a number of other strangers will ultimately define the short-term future of movie theatres. Judging from our data, they're not quite ready.