Takeaways and retail therapy are not off the menu for many Brits, despite very real concerns for staff safety
Despite the potential for spreading the virus unnecessarily, two weeks into the coronavirus lockdown two thirds of Britons (67%) told YouGov that they thought it was acceptable to buy non-essential items online. Fast-forward to early May and half of Britons (53%) have done just that. This figure is notably higher among those in ABC1 households (58%) than C2DE households (46%).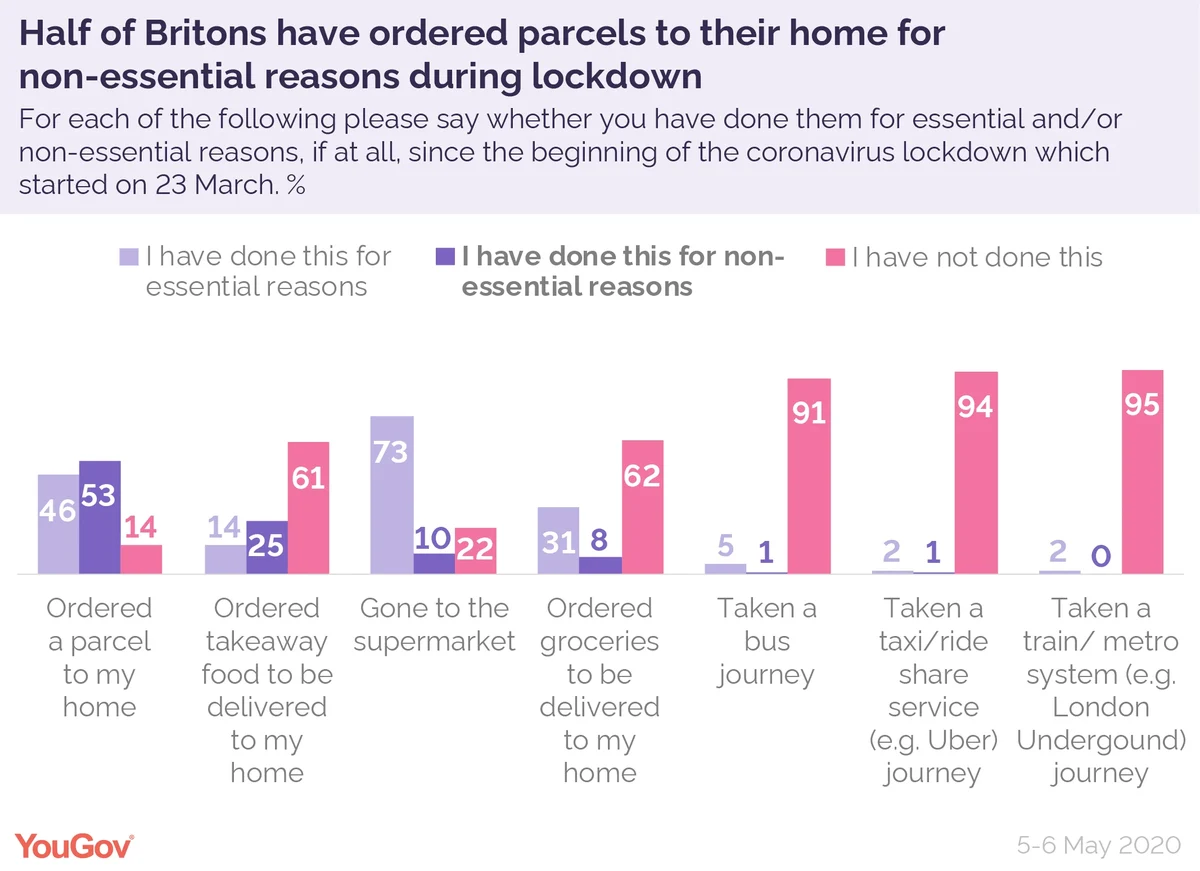 Most of those indulging in a spot of retail therapy seem to be doing so despite thinking that parcel delivery workers are vulnerable to catching COVID-19.
Most of those ordering non-essential packages (59%) think there is at least a 50-50 chance that parcel delivery workers will catch COVID-19, a figure which equates to 31% of the British public as a whole.
Among the quarter of the population who have ordered takeaway food to their homes for non-essential reasons, 62% think that takeaway delivery workers stand an even chance or worse of catching coronavirus. This equates to 16% of all Britons putting such workers at risk without good reason despite thinking they are in harm's way.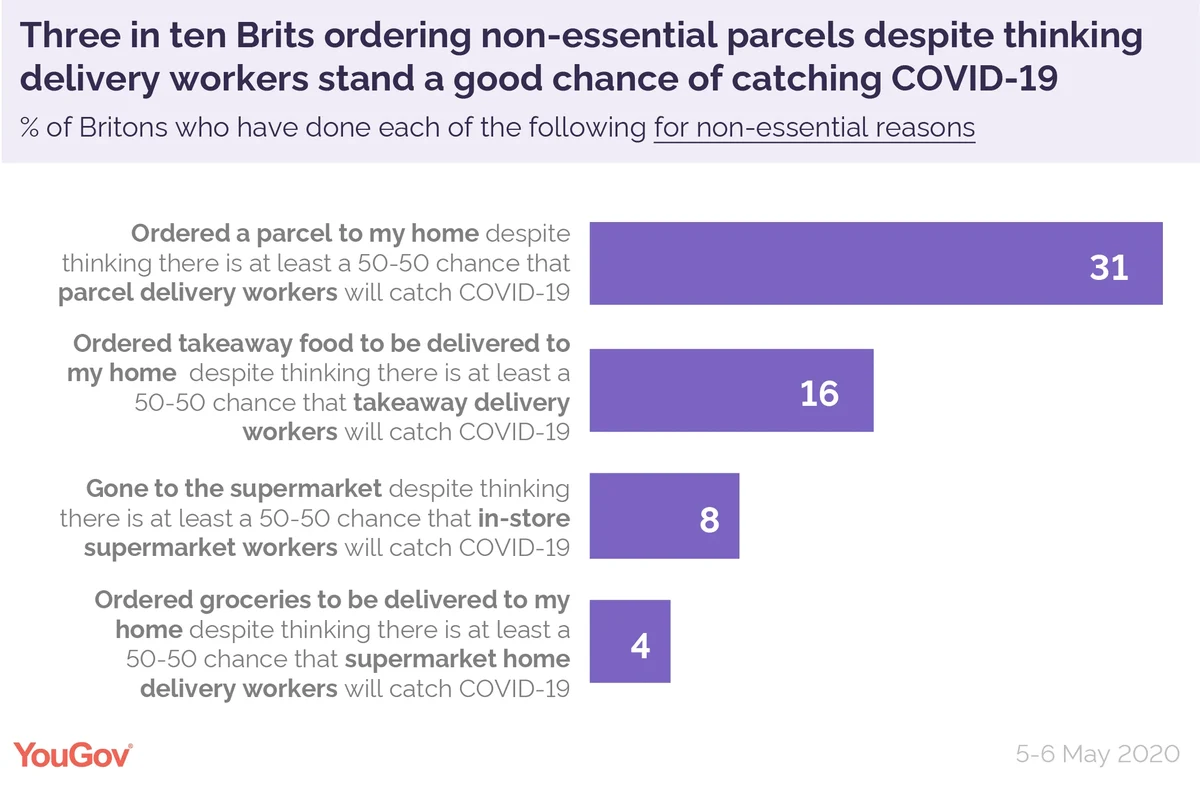 Additionally, 8% of Britons have been going to supermarkets for non-essential reasons, despite thinking that staff have an even or worse chance of catching the disease.
Public see taxi and bus drivers as most vulnerable
The survey looked at seven occupations providing services that all Britons can still make use of should they so choose: train, bus and taxi drivers; grocery, takeaway and parcel delivery workers; and in-store supermarket workers.
Taxi and bus drivers are seen to stand the highest risk of catching the disease, with 84% and 83% of Brits respectively saying they think people in these occupations stand at least a 50-50 chance of catching COVID-19. The ONS has shown that men in these occupations are the most likely to have died from coronavirus.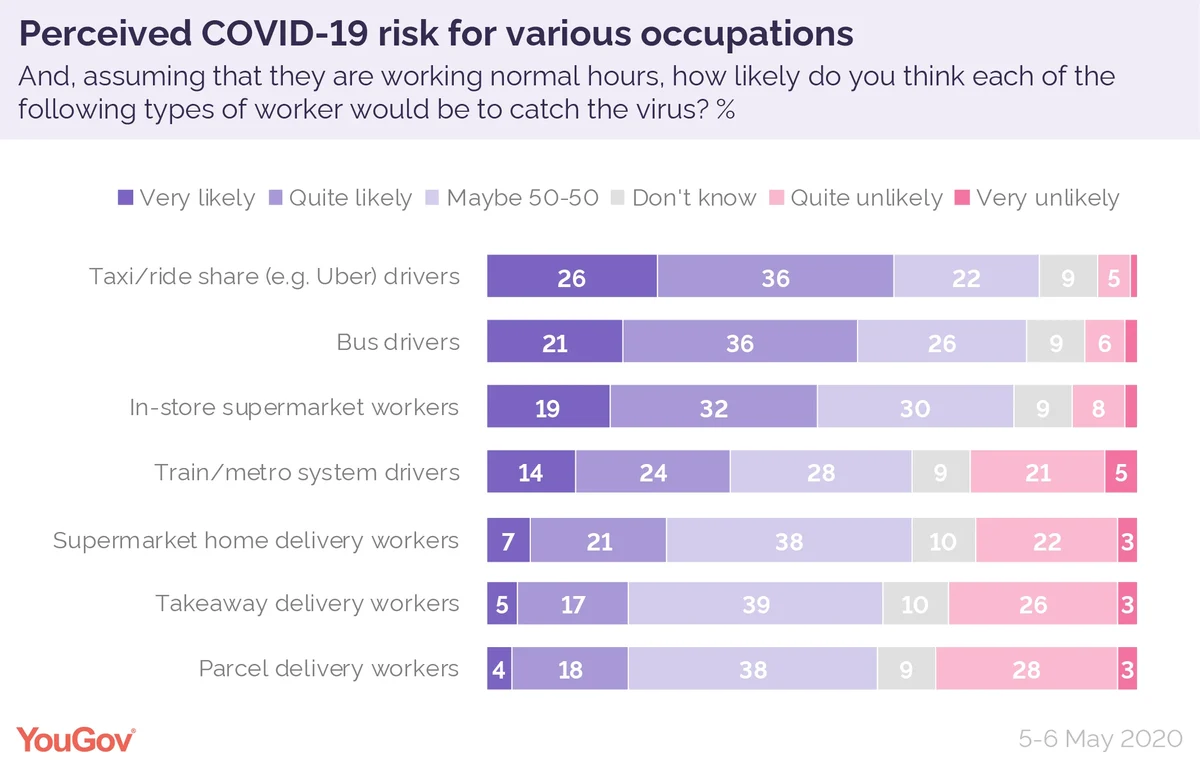 In-store supermarket workers are also seen as vulnerable, with 81% believing such staff are a coin toss or worse in their chance of catching the affliction.
The various types of delivery staff are seen as less exposed, but nevertheless 60-66% still think these workers stand a likelihood of 50-50 or more on catching the disease.