The consumer electronics industry hasn't been insulated from the COVID-19 crisis. Retailers are thinking about how to survive – and thrive – in a period where consumer confidence has cratered, high street mainstays are going into administration, and even companies that appear robust are facing great uncertainty.
Dixons Carphone, for example, recently decided to permanently close all of its 531 standalone Carphone Warehouse stores on April 3rd. Citing changes in the mobile market as well as coronavirus, the organisation announced that all services would be sold at the group's Currys PC World locations. So how has this change gone down with customers?
Data from YouGov BrandIndex suggests that bad news for Carphone Warehouse has been good news for Currys. Current customer scores – which gauge whether customers have purchased from a retailer in the past three months – for Currys' annual April Easter sale showed clear year-on-year improvement: reaching a month-high of 15.4 on the 29th (compared to a high of 10.4 in April 2019).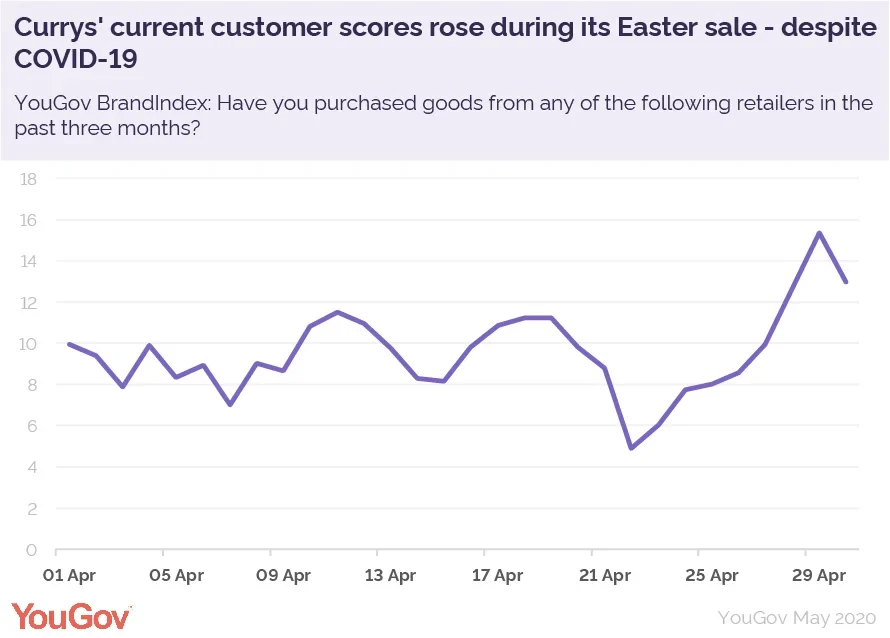 Over the course of April, consideration scores dipped to 31.7 on the 6th before surging to 47.0 on the 19th. Customer purchase intention demonstrated a similar pattern: crashing to 2.3 on the 16th and recovering to 10.6 on the 20th.
Positive headlines surrounding Currys' Easter sale and its assorted discounts – some products were on offer for up to 50% off, and several publications wrote about it – no doubt contributed to its success across these metrics. By April 20, buzz scores hit a year-high of 8.0.
What's more, evidence suggests that these high scores correlate with strong sales. Dixons Carphone reports that Currys' online sales almost doubled in the five weeks leading up to April 25. It's not necessarily a blueprint for success across every business: a spate of well-timed Easter deals certainly helped, and not every company can absorb large parts of its sister brand like a strong twin devouring a weak one in the womb.
Nonetheless, Dixons Carphone's strategy appears to be paying off. With plans to roll out drive-through and contactless shopping ahead of a phased reopening, it's clear that – even if the UK remains some way off returning to normal – it's looking to build on this success in the near future.