Most people in all countries we surveyed have something from IKEA – but unsurprisingly we Britons are some way off the Nordics
A new YouGov EuroTrack survey of seven European countries shows that 60% of Brits own an item from IKEA. While few other brands can boast such figures, IKEA products are even more common in Swedish homes, where 90% of the population own one.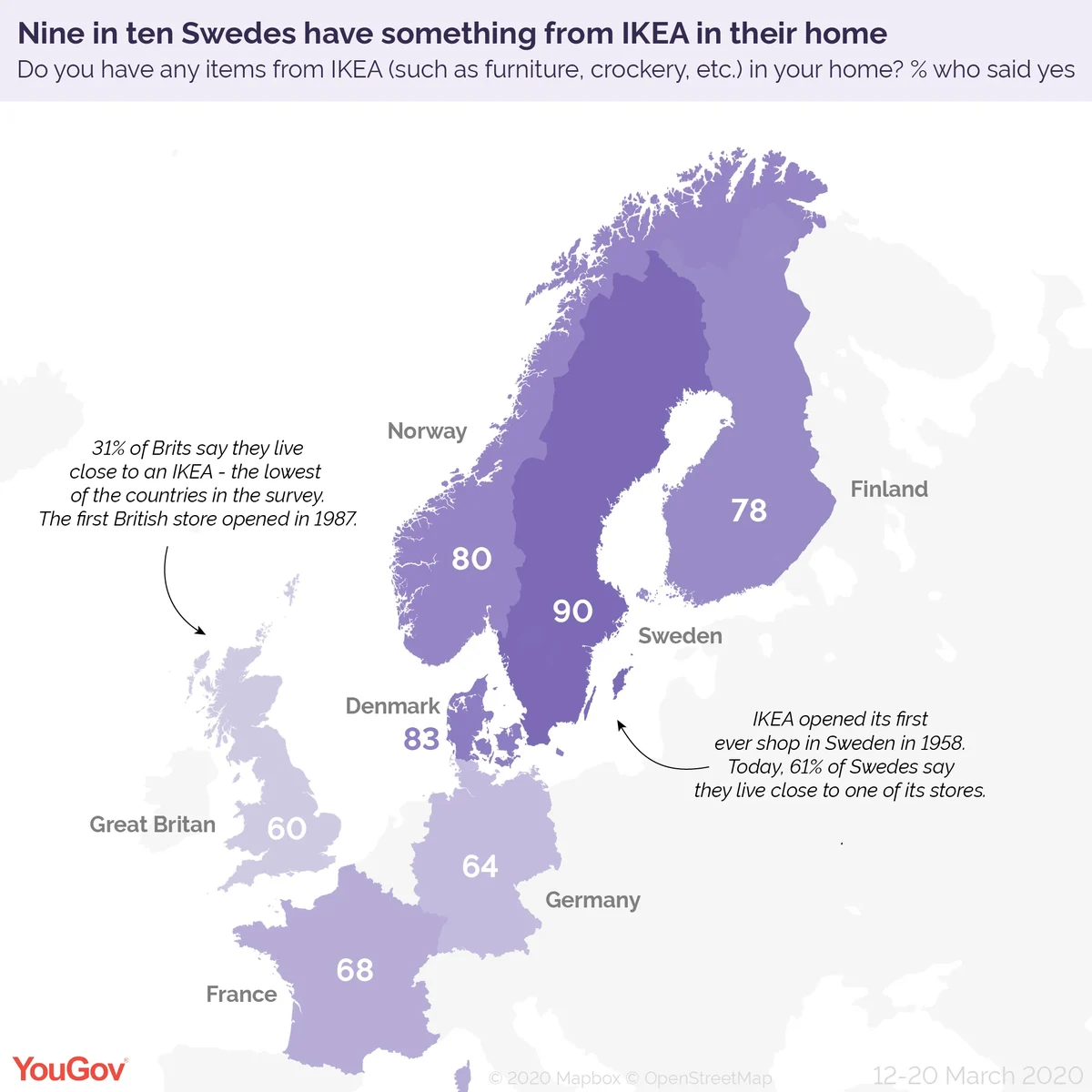 The other Nordic countries are not far behind Sweden, with Denmark at 83%, Norway at 80% and Finland at 78%.
A majority of French people and Germans also own something from IKEA at respectively 68% and 64%.
How many things do people buy?
The data suggests that it's not uncommon in Swedish homes that most things are from IKEA, with one in seven Swedes (14%) saying this applies to them. Only 6% of Swedes don't own any IKEA products.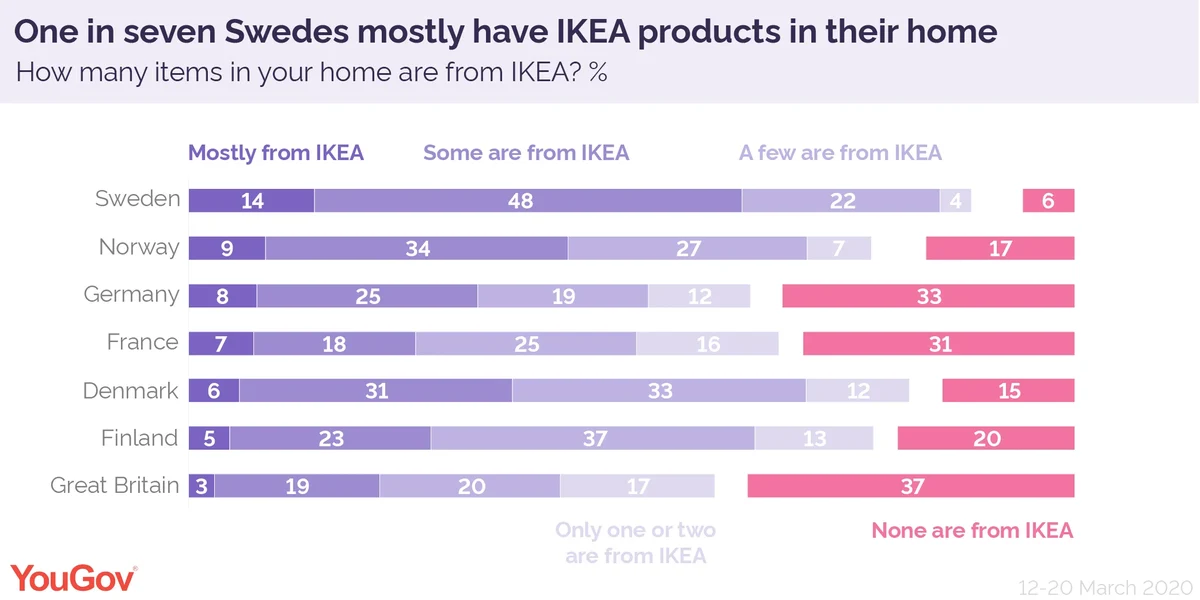 In Britain, only 3% of people say most things in their home are from IKEA. In contrast, 37% of Brits don't have any IKEA items – the highest among the countries in the survey.
Why are IKEA items less common in British homes?
The most obvious reason is that Brits are simply less likely to have an IKEA nearby. Only about three in ten Brits (31%) say they live close to one compared with 61% of Swedes and 48% of Danes and Norwegians. The only exception are Finns who despite being keen IKEA shoppers are less likely to be in close proximity to a store (35%).
As one would expect, Brits who live near an IKEA are more likely own its products (85%). But a surprisingly high number of people who don't live close to a store still have something from the furniture maker at 52%.
Another factor is that IKEA has a much longer history in the Nordics. The first ever store opened in Sweden in 1957, and a few years later it expanded to Norway (1963) and Denmark (1969). Germany's first store opened in 1974, France in 1981, while the UK had to wait until 1987. Finland is again the exception with its first store opening relatively late in 1996.
The meatballs are great, but Brits mainly want help with organising
The most popular products in Britain are storage and organisation items – like shoe racks, cupboards and other creations to help keep the mess at bay.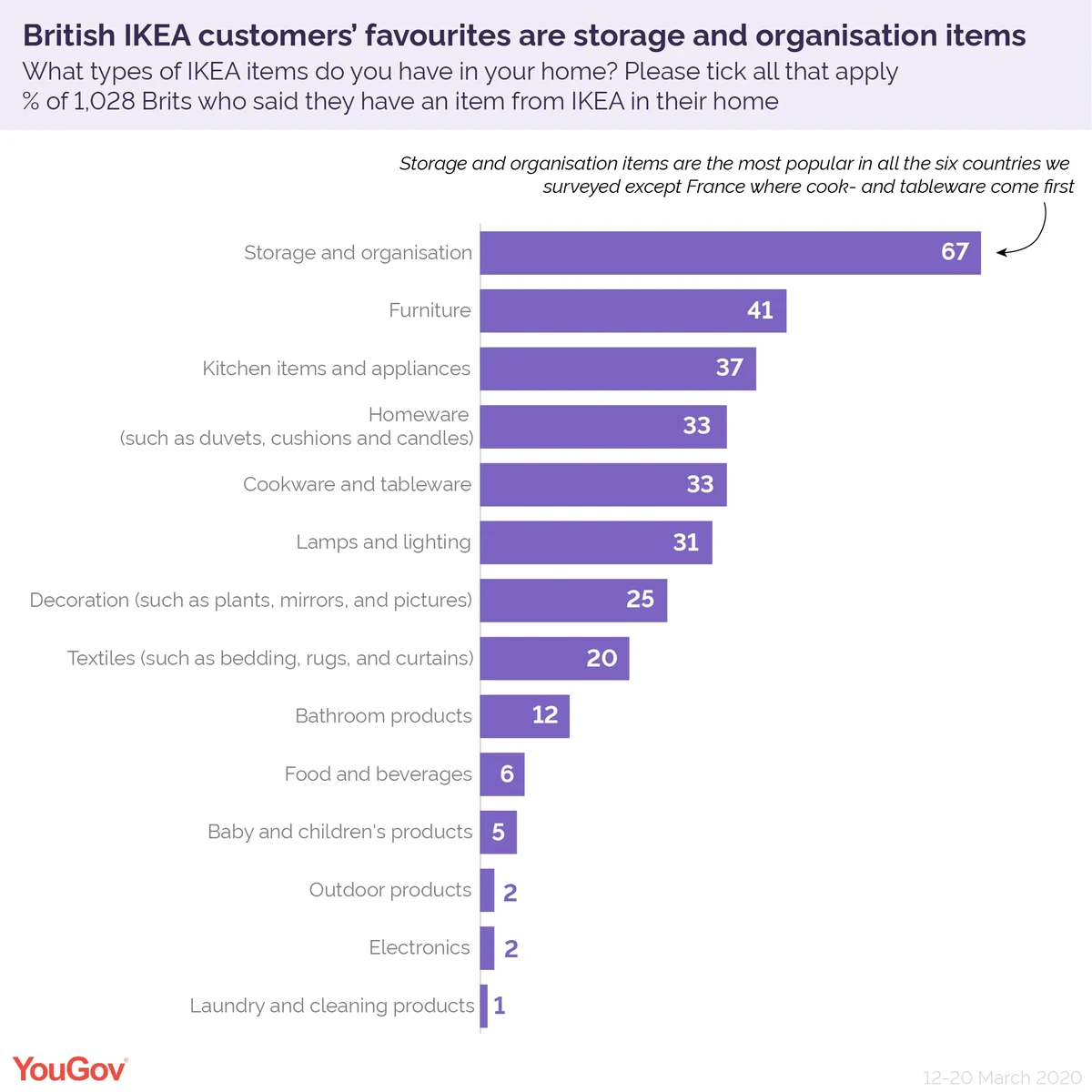 Two thirds of British IKEA customers have bought products for storing and organising their possessions. Overall, it is also the most popular category in all of the other countries except France where cook- and tableware rank highest at 55%.
British customers are also keen on furniture (41%), kitchen items (37%) and homeware products such as candles, duvets and cushions (33%).
IKEA has been successful in promoting Swedish foods around the world such as the classic meatballs, lingonberry jam and Daim, and the UK is no exception. Among British customers, 6% say they have foods from IKEA at home.